Zooey Deschanel, a.k.a. Zooey Claire Deschanel is an American actress and singer-songwriter best known for her comedy in the films like The Good Girl, The New Guy, Elf, The Hitchhiker's Guide to the Galaxy, Failure to Launch, etc. The Fabric of My Life singer, 38-year-old Zooey is also the co-founder of the female-focused website HelloGiggles, which was acquired by Time, Inc. in 2015.
Besides being successful in her professional career with the net worth around $16 million, Zooey is successful in her love life as well. But the initial phase of her life was not as simple. She went through quite a rough time in her life as she had to divorce her first husband Ben Gibbard. However, things got smooth after she got married to Jacob Pechenik. Currently, the couple lives happily sharing lovely moments with their 2 children.
Zooey Deschanel and her husband Jacob Pechenik
Source: Zimbio
Scroll down to know more about Zooey's married life, relationships, past affairs, and children in this section.
Married life of Zooey and Jacob, Their relationship
We are aware that Jacob is the second husband of Zooey. Zooey and Jacob met in 2014 on the set of the film Rock the Kasbah, starring Bill Murray, Danny McBride, and Bruce Willis.
The couple, however, has not given the details of their datings. But probably, the couple's chemistry worked up soon after their first encounter and started dating. In August, Zooey and Jacob were spotted having dinner at Cafe Aroma in Studio City, Calif., and later in that month, the couple revealed themselves as the couple after they were spotted kissing passionately while on hiking in LA.
After few months of dating, the couple not only announced their pregnancy, but the lovely duos also announced about their engagement in January 2015. Have a look at the diamond engagement ring and baby bump of Zooey.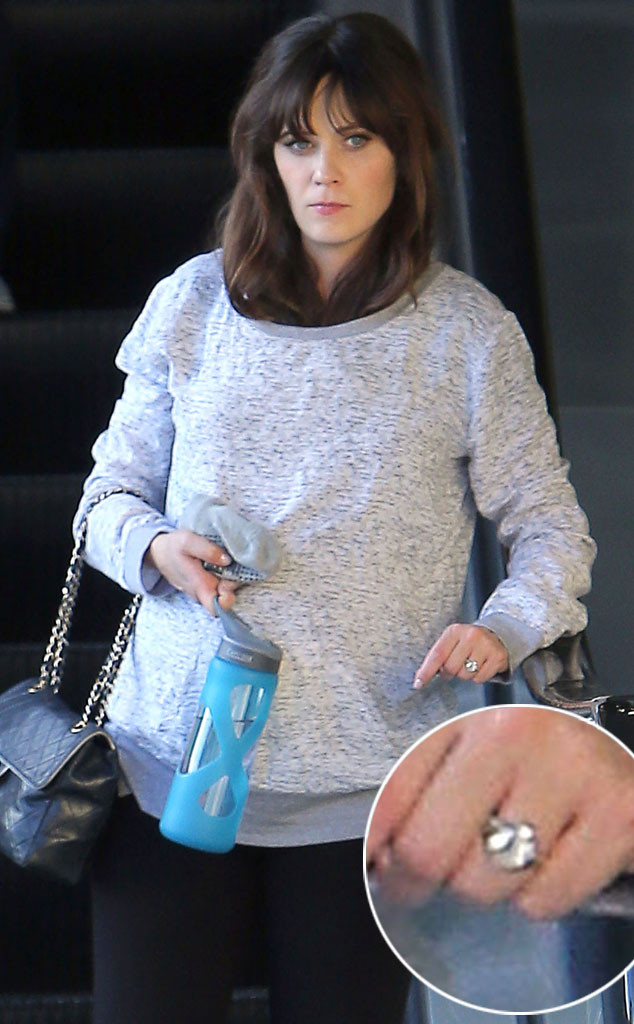 Zooey Deschanel showing her engagement ring and baby bump
Source: E Online
After 5 months of their engagement, the couple took their relationship to another level. Yeah, Zooey married her fiancee Jacob on June 21, 2015, in a private ceremony. Sadly, the detail of their wedding is not disclosed yet.
It's been nearly 3 years since their marriage, and the lovers are still going strong in the relationship. No reports of mishaps or divorce have arrived till date.
Zooey Deschanel and Jacob Pechenik in Los Angeles
Source: US Magazine
It seems the couple's bond has become even stronger after the birth of their daughter, Elsie, and son Charlie. Curious about the detail of the children? Let's know.
Children of Zooey and Jacob
Zooey and Jacob are the lovely parents of their son and a daughter. As mentioned above, the couple prior to their marriage was pregnant with their baby girl. Zooey took maternity leave from the 5th season of New Girl while she was 7 months pregnant with her daughter Elise.
Later in July 2015, Zooey gave birth to Elsie Otter Pechenik in Austin Texas, a month after their wedding.
Family outing: Zooey Deschanel and Jacob Pechenik with their daughter Elise
Source: Daily Mail
Well, regarding the unusual middle name of her daughter, Zooey on her Interview with the Today Show said that the creatures are very sweet and they are also smart, so she kept the middle name.
It was not more than a couple a of years, the happiness again knocked the door of the lovely duo. Yeah, the couple welcomed their son, Charlie Wolf Pechenik in May 2017 in Los Angeles, California.
Zooey Deschanel and her son Charlie Wolf Pechenik
Source: People
As reported, the happy family is enjoying a lot together. We wish the happy family a lot of happiness.
Zooey Deschanel's Past Marriage and affairs
Jacob is not the only one Zooey has been in a relationship with. Prior to her marriage with Jacob, Zooey was married to her first husband, a musician Ben Gibbard. The former couple has not disclosed about their dating detail, however, they hit the limelight with the announcement of their engagement in December 2008.
As reported Ben proposed Zooey with a three-carat diamond and platinum Neil Lane ring, and after 9 months of their engagement, the couple got married on September 9, 2009.
Zooey Deschanel and Ben Gibbard in their wedding
Source: robinlaytonweddings
But, not every marriage become successful. Ben and Zooey announced their split after 2 years of marriage and filed for divorce on December 27, 2011, which was finalized on December 12, 2012.
Well, the couple didn't share any children during their relationship. Talking about the reason for their divorce, it is still a mystery. However, it is reported that the couple separated on mutual and amicable understanding.
Past affairs and Relationships
Zooey seems to be an experienced person in the matter of love. Back in 2000, she dated American actor Matthew Davis for a year. After their break up, Zooey was in a short-lived relationship with multi-instrumentalist Hunter Burgan from 2002 to 2003.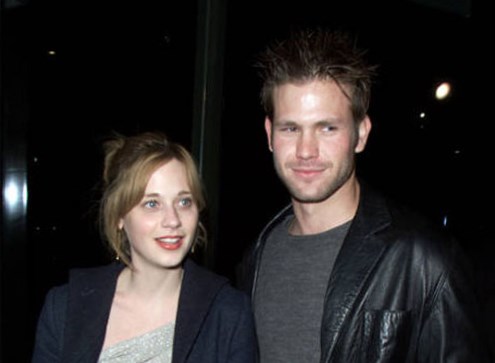 Zooey Deschanel and her former boyfriend Matthew Davis
Source: Star Changes
Soon after that, Zooey dated American actor and screenwriter Jason Schwartzman in 2003, but without any disclosed reason, the couple called quits to their relationship in 2005. Later, she found her first husband in Ben Gibbard, but the marriage didn't last long.
After her divorce, Zooey got engaged in a relationship with American screenwriter Jamie Linden, but the future had some other things to offer. You guessed that right, after dating for 2 years, Jamie and Zooey broke up in 2014.
Zooey Deschanel and Jamie Linden
Source: She Knows
Finally, Zooey found her soulmate Jacob, and currently lives a happy family and married life with him.
Yeah, life is a road filled with struggles, we just need to walk through it.