One of the cutest Hollywood couples, Avan Jogia and Zoey Deutch are no more together. Yes, you read that right, guys!! They have already ended their long-term relationship which has created a wide attention and curiosity in regards to their love affair and unsuccessful relationship.
Avan Jogia is a popular Canadian actor who is widely known for his appearance in the popular Nickelodeon's series Victorious. He is one of the biggest names on Instagram and has 90 percent females fan followers.
His ex-girlfriend, Zoey Deutch, meanwhile is an American actress who is best known for her role in Vampire Academy, Everybody Wants Some!!, Why Him?, Before I Fall and Flower.
Let's get into their personal lives and find out all the details about their dating life and break up. Just stay with us.
Avan Jogia and Zoey Deutch Broke Up After Five Years of Dating
It has been over six months that the news of Zoey and Avan's separation surfaced and the news was a hard pill to swallow as the couple was in an amazing relationship for five long years. However, a strong source revealed their non-existence relationship as;
they broke up four months ago and remain friends.
Though the fans and media got very aware about the split of the most loved couple, Avan preferred to stay quiet about his break up with his long-term girlfriend Zoey Deutch.
Former boyfriend and girlfriend: Avan Jogia and Zoey Deutch
Source: justjared
Here is a statement by Avan on the whole Break up issue;
Maybe I've been lucky, but I think that it's mostly a choice. I think if you continuously choose to court the public's attention to your relationship, you run the risk of asking them to pry more out of it, but it would also be a bit strange to totally ignore your significant other's existence in public as well.
He further added;
So just trying to find the line that's most comfortable is important. If you don't want to be a spectacle, don't make it show, and hopefully, mostly you'll be left alone.
Meanwhile, Zoey followed the similar footstep of boyfriend and remained quiet on their break up issue.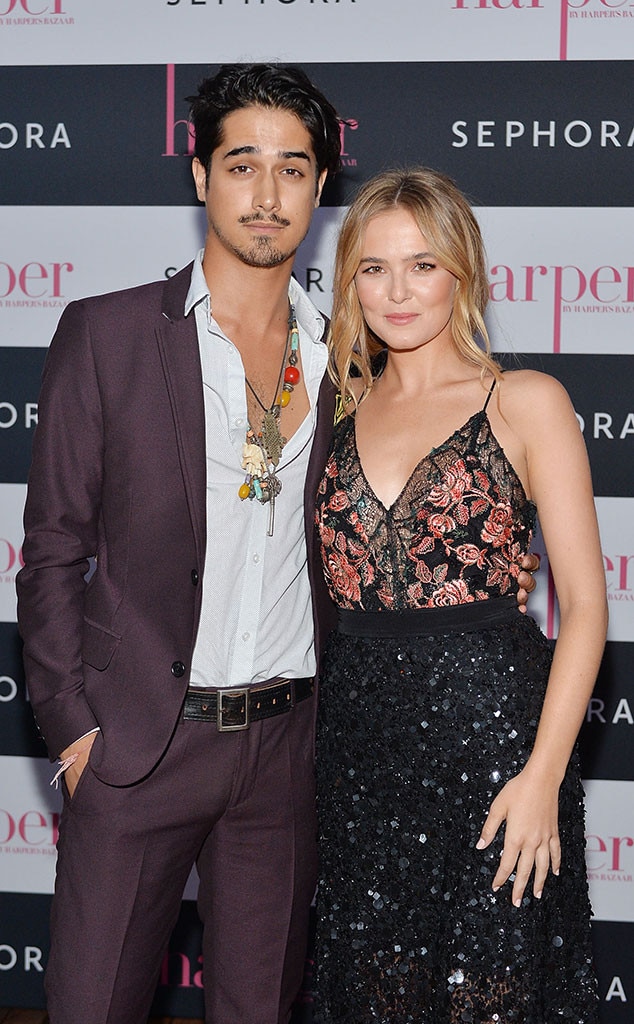 Former boyfriend and girlfriend: Avan Jogia and Zoey Deutch
Source: eonline
It's still a question that exactly when and how the pair first met and began dating, however, they made their relationship public in the year 2012 while attending the Kid's Choice Award.
Here's a video of the interview of the pair at the 2012 KCA. Enjoy watching!
At the time the 25-year-old Ten Thousand Stinst actor even shared a picture on his Instagram claiming Zoey to be his perfect match. Here's that post, guys, check it out.
Their relationship seemed to be so amazing and their fans were pretty sure that they were never going to separate, however, the unexpected happened. Besides, the couple often shared romantic moments they spent together through Instagram.
Here's one of them, check it out.
Wow! what a beautiful couple they were!!
Past Love Affair And Relationship of Avan Jogia
Prior to Zoey, Avan previously dated several other celebrities. He firstly dated and American actress Victoria Justice, however, both of the actors adamantly denied being more than friends.
Former boyfriend and girlfriend; Avan Jogia and Victoria Justice
Souce: teen
Later, his dating rumors with Ariana Grande spread all over the world after the pair shared a passionate kiss on a television show.
Former boyfriend and girlfriend: Avan Jogia and Ariana Grande
Source: teen
Besides, Avan Jogia also had an affair with other celebrities which includes Liz Gillies, Daniella Monet, Keke Palmer and Miley Cyrus.
Boyfriend Avan Jogia with his ex-girlfriend Miley Cyrus
Source: Instagram
After the break up with Miley, Avan started an affair with Zoey. Unfortunately, after five long years of dating, they are no more together.
We wish the couple all the very best for their future and we hope them to be reunited soon.
For more updates, stay connected with Frostsnow.