The gorgeous actress Zoe Saldana never failed to amuse people with her intoxicating beauty and glamorous looks. She grabbed the attention of millions with her extreme talent and effort that she puts on her acting career. Zoe Saldana has given notable roles to many Hollywood movies that rose her to fame.
The stunning actress who made her screen debut in an episode of Law & Order recently announced the birth of her third child together with her husband of four years Marco Perego.
Let's learn more about this story. Here you will also know about the personal stuff like the love affair and married life of this amazing couple. Just stay with us.
Zoe Saldana Welcomes Third Child Together With Husband Marco Perego
A few weeks ago on 18 February 2017, the 39-year-old actress, Zoe Saldana revealed on her Instagram account that she and her husband Marco Perego who is an Italian artist, have welcomed their third child, a baby boy.
Here's that Instagram post, check it out.
In the post, she has also mentioned the name of their third son and that is Zen. Saldana also included her twin sons Cy and Bowie, whom she gave birth two years ago in November of 2014. Cy and Bowie can be seen playing with their new brother; however, none of the children's faces are seen clearly.
Mother of three children Zoe Saldana strolling alongside her twin sons
Source: dailymail
After a day of the announcement of their third child, Saldana and Perego were spotted leaving the Cedars-Sinai Hospital in Los Angeles on February 13, with their newborn child.
Zoe had an enormous gleaming smile on her face while walking outside the hospital with the newly born child to her little family safely tucked away in the carrier.
Here's that picture, check it out.
Zoe Saldana strolling outside the hospital with her newly born baby boy
Source: dailymail
When Zoe Saldana became a parent for the first time in 2015, she frankly revealed to Us Weekly that everything 'feels uncomfortable' months after giving birth.
Zoe Saldana's pregnancy picture with husband, Marco Perego
Source: Pinterest
She disclosed:
You have to remind yourself that everything takes time. I feel bad for those women who are desperate and want to bounce back three months after having a baby.
Love Affair And Relationship Between Happily Married Husband And Wife: Saldana And Perego
It's still a question how the couple first met and started their relationship, however, they were reportedly dating since March 2013 and just after three months of their romantic love affair, they eventually tied the knot in June of the same year.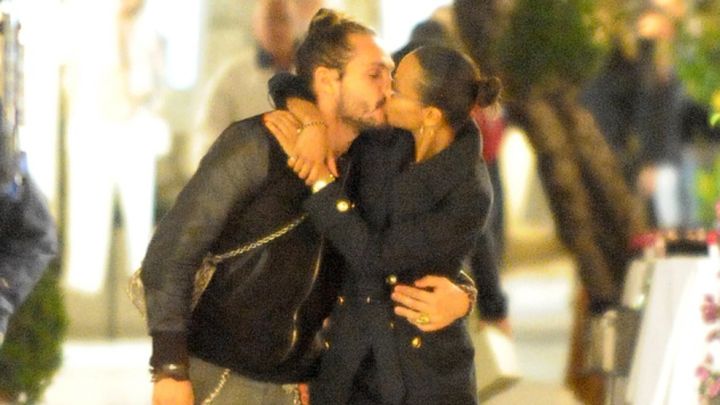 Husband and wife: Marco Perego and Zoe Saldana sharing their kisses
Source: cosmopolitan
Looking at their powerful bond, we hope the couple will make each moment count, and we hope we never have to hear any divorce news of them ever. We wish this adorable couple all the very best for their future.
For more updates, keep in touch with Frostsnow.