Zendaya Maree Stoermer Coleman, popularly known as Zendaya is an American actress and singer who knows how to steal the spotlight; not just by flaunting her designer dress and talent but also by her long list of rumored boyfriends.
Zendaya 21, rose to fame instantly at such an early age after featuring on popular Disney sitcom "Shake It Up" that marked her glamorous image and her popularity made everyone envy her, mostly because of all the gorgeous men she's been with.
There is something hot and spicy cooking on her relationship with American singer, Trevor Jackson and has been rumored to be dating each other. So, let's dig out all the details about their affairs and dating history.
Also Read: 'I have fired my publicist over her black girl remark she made during the photoshoot' claims Zendaya.
Zendaya and Trevor are in a relationship?
The fashion diva and a teen sensation, Zendaya along with her talent, is well known for flaunting her boyfriends and dating. On the list, Trevor is one of the guys who is spotted with Zendaya several times.
A fashion diva Zendaya and Singer Trevor
Source: Daily Mail
Don't they look cute together? It would be even better if the duo makes it real as a couple. Sad, but yes the pairs have just titled their relationship as 'Best Friends.' Zendaya, 21, and Trevor, 21, have never actually addressed the rumors that they are dating but has termed their relationship as best friends.
In an interview with HipHollywood, Zendaya told:
There's going to be those [rumors], But he's my best friend in the whole world. I love him to death. I'm always going to be there. I'm always to be the homie.

I'm always going to be there supporting him. That's all it is.
Trevor and Zendaya at Trevor's birthday
Source: Daily Mail
Talking with Trevor on his 18th birthday bash, he revealed that they are just friends. Trevor said:
We're so close so I understand why people think that cuz we are really close but she is my freind.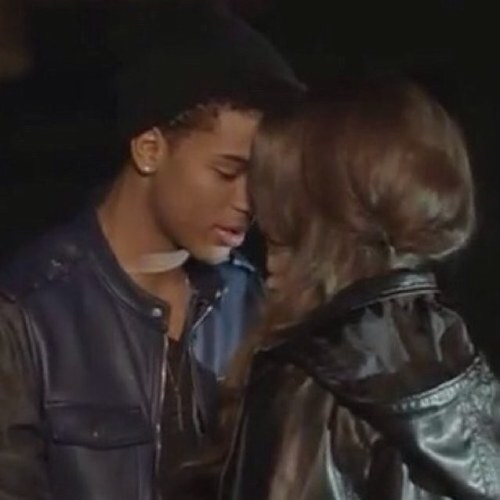 Zendaya and Trevor kissing each other
Source: Youtube
Who said girl and boy couldn't be best friends? Zendaya and Trevor are the perfect examples for this. But in case if these two ever wants to date, we would just be behind them backing them up - they are just cute together.
Here we also have Zendaya's love history. Find out her rumors and boyfriends.
Zendaya's Past Love Affairs
Getting into Zendaya's love affair, we can find her hook-up rumors with American football player, Odell Beckham in February 2016. But both the pairs denied their relationship and hooked-up rumors.
Zendaya and American football player, Odell Beckham
Another bond of Zendaya came into highlight with her co-star of Zapped, Spencer Boldman (an American actor), back in 2014. The bond between them was magical, and both were supportive of each and were rumored girlfriend and boyfriend couple, but the pair remained as a friend only.
Also Read: Former 'Shake It Up' actress Zendaya shuts down a Twitter troll who made an inconsiderate rape meme.
Zendaya with American actor Spencer Boldman
Source: Daily Mail
It looks like Zendaya has not found her Mr. Right yet as her relationship status is still single. We wish good luck for this beautiful young lady and hope she will find her love soon!
via GIPHY
For more information on your favorite stars, stay tuned to Frostsnow.