The formal One Direction star Zayn Malik has always been popular amongst the ladies, and now this handsome hunk is dating someone new which has caught everyone's eyes. We will be talking about all his relationship in the past and the current relationship he is in.
Currently, this ladies man is dating Supermodel Gigi Hadid and they are very close to one another and love each other a lot which is not a surprise now. But the thing is that Zayn Malik's love relationship with Gigi was just after a month of his break up with Perrie Edwards which is a big surprise to everyone since Perrie and Zayn were engaged and they had a great bond together.
Also read: Zayn Malik reveals the real reason behind leaving One Direction and it's far from what you think
What's gone is gone now let's talk about the past relationships of Zayn Malik.
Zayn Malik and Gigi Hadid Relationship
The relationship of Zayn Malik and Gigi Hadid started just after Zayn and Edwards split. Zayn and Gigi are very close to each other and they seem to take as much time as they can for each other.
When Gigi had some work in Paris, Zayn also had some work there. During that time they used to see each other by taking some time from their shoot.
Zayn Malik and Gigi Hadid
Source: playbuzz.com
It is said that Zayn went on his knees, but unlike other girls who would definitely say yes, Gigi rejected the proposal which shocked everyone. When Gigi was asked why she did so, she answered that she does not want to be like her mother who made a decision in a hurry and was caught on two divorces.
Recently, this duo had some issues in twitter about Gigi being racist. Check out the tweet.
This is this handsome hunk's present now, let's take a look at his past relationship.
Zayn Malik Past Relationships
Talking about Zayn Malik's past relationships, there are many girls in his life but most of them are from where he got recognized, the Britain's X-Factor. We have listed The former One Direction Star, Zayn Malik's girlfriends.
Check out Zayn Malik's recent Instagram post, you can also follow him on Instagram.
Neelam Gill
It is said that Neelam Gill and Zayn Malik were in the relationship just after Zayn split from his fiance, or shall we say ex-fiance.
Zayn Malik and rumored girlfriend Neelam Gill
Source: dailymail.co.uk
But this is just a rumor, people might have thought that they were in a relationship because Neelam Gill said something good about Zayn in the past. We cannot say that people are in a relationship just because they say good things about each other.
Perrie Edwards
Perrie Edwards is the longest relationship that Zayn had in the past. It is also said that the bond between them was very great but due to many issues in the past the relationship ended.
Perrie Edwards and Zayn Malik
Source: mtv.com
Perrie Edwards and Zayn Malik did not just have a love affair but they were also engaged. They both were in X factor and it is the place where Zayn got recognition and lucky enought he got this girl. This relationship started in the year 2013 and after a year they got engaged. But within 2 years, the relationship ended.
Carlyn Bryan
Carlyn Bryan knew Zayn before he joined One Direction and before he gained recognition. Carlyn was not like other girls that Zayn dated. Carlyn was studying at the moment she dated Zayn.
Carlyn Bryan and Zayn Malik
Source: tv3.com
After the relationship between Carlyn and Zayn ended, Carlyn continued her studies and graduated in LMU and now she is a PR as an account manager for CBS Interactive.
Courtney Webb
Courtney Webb and Zayn Malik had the relationship or what shall we call it, One Night Stand? Ya, you can say that, because when the photo of Zayn was released with Carlyn, he was in a serious relation with Perrie Edwards.
Courtney Webb and Zayn Malik
Source: unrelitytv.com
If we take some time to look at Courtney Webb profession, she is a waitress/stripper with whom Zayn would not end up. This gained a lot of attention for a week or twice and due to this incident, there was some problem in Zayn and Perrie relationship too.
Rebecca Ferguson
The relationship between Rebecca Ferguson and Zayn Malik goes back to the year 2011, she was also an X Factor contestant. The 24 years old Rebecca and 18 years old Zayn dated after they became close friends.
Rebbeca Ferguson and Zayn Malik
Source: mirror.com
They did not just jump into the relationship since it was not love in the first. But as the time went on, they started seeing each other in a different way. There was a six years difference between this couple. Eventually, the relationship ended. But after the break-up, Rebecca said positive things about Zayn.
Stephanie Davis
Stephanie Davis and Zayn Malik dated for five months back in 2011 following Zayn's split from Rebecca Ferguson.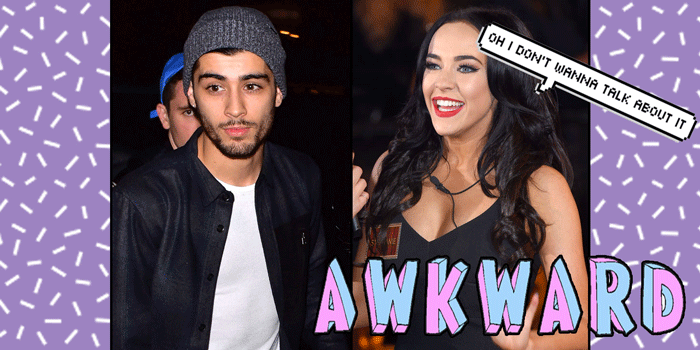 Stephanie Davis and Zayn Malik
Source: scoopnest.com
The relationship between this duo ended due to various reasons which have not been disclosed to the public but we do know that the even when the relationship ended to this day the two are still really good friends.

Geneva Lane
The relationship of Zayn with Geneva Lane was also in the year 2011, and the relationship only lasted for a month.
After the break-up, Geneva Lane had a lot of negative things to say about Zayn such as Zayn is a heartbreaker and she also mentioned that she felt numb.
Geneva Lane and Zayn Malik
Source: mirror.com
If you ask us we would like to say that Zayn had something to do with the X Factor contestant since he dated most of the contest. It was like they were the targets of Zayn and he even took them down.
Cher Lloyd
The relation between Cher Lloyd and Zayn was in the year 2010 when they both debuted in X Factor, but they never made the relationship public.
But everyone had made some guesses about these two 17 years old. There were strict rules in X Factor about romance in the mansion that might be the reason they did not made any thing public.
Cher Lloyd and Zayn Malik
Source: pintrest.com
The relationship lasted for five months and they broke up. The relationship was conformed after they were spotted making out.
Check out a video made for Cher Lloyd and Zayn Malik
Besides this relationship in the past, Zayn Malik is also said to be in a relationship with Ariana Grande but this was made up by the fans. There name was connected together and a trend started calling them Zariana.
Another rumored relationship that this One Direction star is with Taylor Swift but rumors are that Zayn turned her down. It was a great surprise to all the fans and followers of Taylor Swift.
Also, check out the video of Zayn with Gigi
We hope that Zayn Malik and supermodel Gigi Hadid get along and be together for the rest of their life. May both of them have a great career ahead. Best of Luck!!