It hasn't been long since Yvonne Strahovski debuted in Hollywood. But her acting skills and alluring beauty has made her a mainstream actress. Making the recent headlines, this Aussie has landed the lead role in the suspense thriller drama movie He's Out There.
As per Deadline, Yvonne plays a mother in the movie who comes to visit a remote lake house and soon finds herself fighting for the lives of herself and her two daughters after falling into a terrifying and bizarre nightmare conceived by a homicidal psychopath.
The film is going to be directed by Dennis Iliadis. The script is written by Mike Scannell and the producers are Bryan Bertino and Adrienne Biddle of Unbroken Pictures.
Production on the film begins in July. The release will likely be scheduled for early 2017.
Talking about her roles, this talented charmer recently told Metro US: 'There's a sense of freedom in scenes that require those kinds of heightened emotions. It's a little hard to find those roles. There's a lot of stuff out there that's bland, then you find these little gems, roles you can sink your teeth into and explore something interesting.'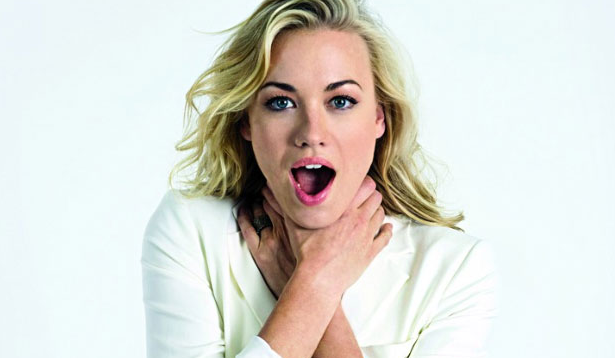 However, this is not the first time the Australian beauty has starred in a dark movie. She was previously cast in psychological drama-thriller All I See Is You and fantasy horror I, Frankenstein.
33-year-old Strahovski's other credits include The Guilt Trip and Killer Elite. Her TV work includes 24, Dexter, and Chuck. Her TV performance for Dexter as the twisted girlfriend of a serial killer and in Chuck was much appraised.
Even after establishing herself in Hollywood, she continued acting in Australian projects and went to star in a number of Aussie films including "I Love You Too" and "The Canyon".
Strahovski is repped by Paradigm, McKeon Myones Entertainment, and Sue Barnett & Associates in Australia.
Yvonne has also voiced the character of Miranda Lawson in the video game "Mass Effect 2". She voices Aya Brea in the English version of the Parasite Eve spin-off, The 3rd Birthday. She also appeared in a CollegeHumor sketch in April 2011, parodying the music styles of Katy Perry, Ke$ha, Lady Gaga, and Justin Bieber.
Strahovski started acting during her schooling years. She appeared in film and television roles in Australia, including a turn on satirical show Double the Fist and as Freya Lewis in the Australian drama series HeadLand. She has also appeared in Channel Nine's Sea Patrol.
Yvonne Strahovski portrays herself as a fitness fanatic. Her hobbies include a lot of outdoor activities like camping, hiking, and rock climbing. She has also starred in a fitness video for SELF Magazine. Also an avid animal lover, back in 2010 she hosted a charity tennis tournament to benefit the animal shelter Ken-Mar Rescue Society from which she adopted her dog Chazzie. She is a supporter of PETA and appeared in an ad for their "Adopt, Don't Buy" campaign.
She dated Matt Doran for about a year. They broke up in 2007. In 2009, this damsel was again in the news for dating actor Tim Loden. The pair met on the sets of "Chuck" after Loden was cast as the Polish rocker in the episode "Chuck Versus the Honeymooners".
As of 2016, Strahovski has a handsome salary in the industry with an estimated net worth of $8 million.