How do you remember Ted Vernon as? A singer? An actor? Or a wrestler? There is a long list of Ted's profession, but did you know that he is a millionaire auto dealer as well?
During the late 1970s and early 1980s, Ted was one of the most amazing and controversial fighters in South Florida.
He had so many hobbies, such as doo-wop singing, boxing, racing, vehicle trading, acting, etc. He was a man with exception personality and a distinct eye-catching look. Super-talented Ted had an amazing love life as well. He is a very sincere and devoted man. This is one of the reasons he is still married to his wife, Robin Vernon. Ted and Robin's story is quite unbelievably cute.
TED VERNON AND ROBIN'S STORY
They actually met on a blind date in the late 1990's. The couple shares a love at first sight kind of story, just like a typical romantic high school affair. That's why Vernon asked Robin to marry him on the first date. Soon after two months from their first date, they decided to live together, and later, they even got married within two years.
Husband-wife couple: Ted Vernon with his gorgeous wife, Robin Vernon
Source: FrostSnow
Despite having a huge age difference, this couple is dealing with each other's good and bad things and living with deep love and mutual understanding for quite a long time.
Neither Ted nor Robin has been rumored to have any extramarital affairs. But if we believe recent rumors on tabloids, the couple are having some problem in their married life. In the fourth season of South Beach Classic (SBC) aired in 2017's Robin stopped appearing in the show which points towards their possible separation.
Before marrying Robin, Vernon was a divorcee with two children from his former spouse.
ROBIN AS VERNON'S LUCKY CHARM
Robin is Vernon's business partner as well. Ted's department is the front end of the vehicle dealership company whereas Robin looks after the office's back end and company's everyday operation. In the late 1990's, it was Robin who decided to move to website trading from physical auction. This turned out to be a very successful decision for them.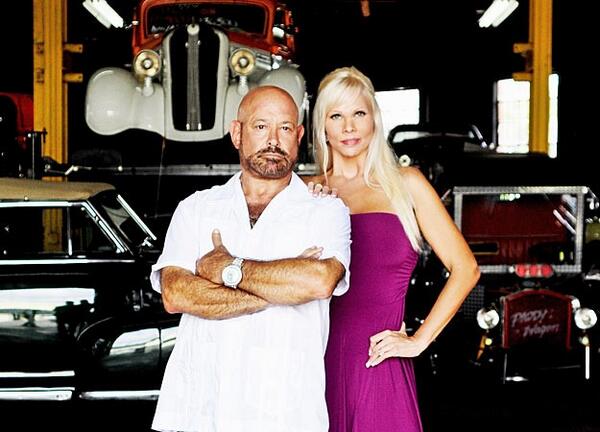 Ted Vernon and Robin Vernon
Source: FrostSnow
Therefore, we can agree that this lovely couple is definitely made for one another as they have always got their back for each other. We hope they remain strong for many coming years.