Singer and actor Yook Sung Jae is an MBC Entertainment Awards winner, who was seen having quality time with Park Soo Young in the set "We Got Married". Let's find out the truth about it.
Yook Sung Jae is a Korean actor/singer well known for his lead role in " Who Are You: School 2015", graduated from Hanlim Multi Art school. His father is the CEO of an IT company that deals with semiconductors and Sung-Jae also has a sister with whom he was raised with. After his graduation, Yook went to Dongshin University with a major in Practical Music. Now let's get personal.
Yook Sung Jae relationship
Talking about Sung-Jae's relationship, he was seen with his co-star Park Soo Young but Sung-Jae denies about having any relationship with Park, according to Sung-Jae, Park is just a friend with whom he was doing his work.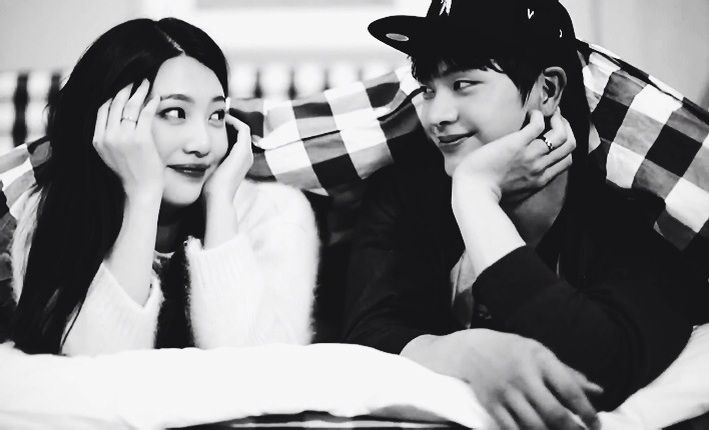 CAPTION: Yook Sung Jae and Park Soo Young
SOURCE: Amino
Whenever he is asked about his girlfriend in any of his interviews, Sung-Jae answers he is busy with his work and not dated much but once a friend of Sung-Jae posted a video on Instagram about Sung-Jae's mysterious girlfriend. Later, as expected it was just a prank.
Here's the video.
Till now there is no any official news about his girlfriend neither to his friends nor to his fans so, we can assume he is single. Since he is not in a relationship let's find out what kind of girl does he wants.
Yook Sung Jae Ideal Girlfriend
Even though Sung-Jae has no time to date girls or has any experience he has a strong view about his ideal girlfriend. In an interview, he mentioned that, he wants a girl who is very thoughtful, cute, sexy, and active and who has big eyes, a good looking belly button, slim body and long black, straight hair along with that the girl has to be glamorous and she has to pretend to be cute in front of him.
But in another interview, he explained his ideal girlfriend should resemble his mom who is a good cook and very beautiful not just that, he also mentioned that if there is any girl as he has explained that she should call him.
Korean celebrity who resembles his ideal type of girl, according to him is SUZY (Miss A) is very direct and not fake also Shin Minah is cute, thoughtful and enthusiastic.
CAPTION: Shin Minah
SOURCE: Soompi
Yook Sung Jae Ideal Dating situation
Since Sung-Jae is single let's see Sung-Jae's ideal dating situation. Even though he has not opened up about his dating, according to Sung-Jae in one of his interviews he mentioned that he is ok with dating woman who is older than him and on his date he would put his arm around his girls waist and walk along the beach together, eat and watch movies, so that sums it all.
Quick facts about Yook Sung Jae:
Who is Yook Sung Jae's girlfriend?
Yook Sung Jae doesn't have any girlfriend.