"I'm living proof you can reinvent yourself."- Steve Harvey.
A funny man and a motivational powerhouse, Steve Harvey has become one of the richest TV personalities and his shows are viewed by millions worldwide. After facing many hurdles in his life and even being homeless for more than three full years, Steve Harvey is someone to look up to for inspiration in this messy town of Hollywood.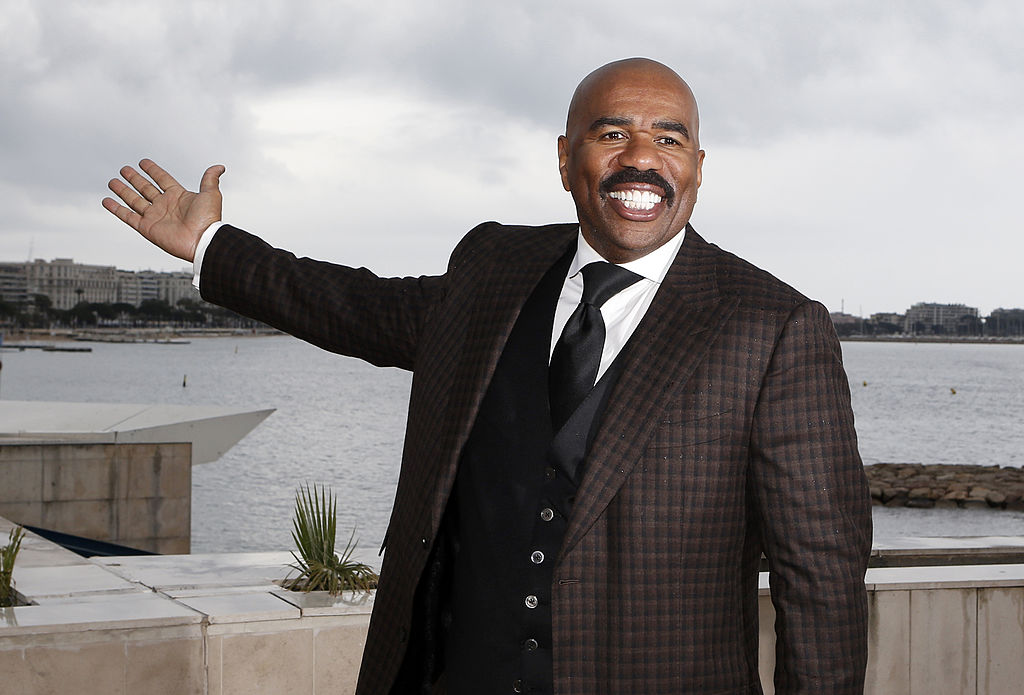 Image: Steve Harvey
Source: Pinterest
Steve Harvey's Net Worth is more than $120 million as of 2018
With more than three full decades in the industry, Steve Harvey is estimated to have a net worth $120 million as of 2018. In the year 2013, he had earned approximately $30 million. Then in 2015, Harvey hosted the Miss Universe pageant, which (despite his major slip-up) earned him an estimated salary of $70 million that year.
This comic host of The Steve Harvey Morning Show, the Steve Harvey talk show, Family Feud and Little Big Shots reportedly makes more than a million bucks in an average per show. In 2017, Steve made $42.5 million, most of which he grabbed with his show, Family Feud, and Little Big Shots.
Steve Harvey is worth estimated $120 million
Source: TopRichests
Steve Harvey himself had admitted to being homeless for three years back in the early 1980s. It is hard to imagine such a transformation in someone's career and life as a whole, isn't it?
Video: Steve Harvey Messes Up On Miss Universe 2015!
Steve Harvey's Career Highlights
After flunking out of his university before graduating, Steve Harvey (the current millionaire) held various jobs, including toiling on an assembly line in a Ford auto plant and cleaning carpets and even selling insurance.
He eventually went on to doing stand up comedies in his hometown and a few other places.
The turning point in his success was brought about by starring roles in two sitcoms, Me and the Boys (1994–95) and The Steve Harvey Show (1996–2002).
Steve Harvey quotes
Source: Pinterest
But his defining career move was him deciding to focus on the radio after his second series ended, which many in the industry viewed as a comedown.
But every step of this master comedian and host turned out for the best for him. His skills eventually led him to be recognized in the international platform. He hosted the Miss Universe 2015 and made the blunder of announcing the wrong name of the winner. That should have potentially ended his career. But his expertise was not taken lightly and the misfortune was swept under the rug as he was roped in for hosting the Miss Universe 2016 too.
Image: Steve Harvey
Source: The Sun
Steve Harvey Awards
Starting from 1999, Steve Harvey has won several awards as a comedian and a host. He is a three-time Daytime Emmy Award winner and a 13-time NAACP Image Award winner in various categories. In 2013, he also won BET Humanitarian Award.
Steve Harvey's Controversies
Steve Harvey's slip up in the Miss Universe pageant is more than well known to the world. Some forgave him and some made a ridicule of him. Even when Harvey tried to apologize he didn't do it properly and tweeted misspelled names of the countries. But everything fell back into place and was smoothened when Steve Harvey was made the host of the upcoming Miss Universe pageant too.
But back when Harvey was going through his second divorce, he was accused of child abuse by his second wife Mary Vaughn Woolridge. However, he was cleared of all charges in 2013.
He has currently been married to his third wife Marjorie Bridges-Woods since 2007.