Possibly your one of the favorite stars, Arianne Zucker who is widely known for her role as Nicole Walker on American television program Days of Our Lives, has been on the headlines a number of times with her personal affairs.
After working on hit daytime soap opera, Days of Our Lives for nearly two decades, she left the show last month, in March. Despite this fact, you have now something great to be happy about her.
After divorce with Kyle Lowder, Arianne Zucker was secretly dating her former co-star, Shawn Patrick Christian. We can clearly see their amazing chemistry and adorable pictures on Instagram which has been boosting the temperatures all around the world and no one denies both look perfect together.
Let's learn more about their relationships. Just stay with us.
Arianne Zucker has an affair with boyfriend Shawn Patrick Christian after the divorce with husband Kyle Lowder
Initially, we thought this adorable pair was just a good friends. But admit the fact guys, no one shares their kisses and hugs with their 'so-called friends'.
Arianne and Shawn did start off their relationship just as good friends back in 2008. At that time, they didn't fall in love because Arianne was still married to her former husband Kyle Lowder. However, after years of separation, Arianne and Shawn reunited and were dating each other.
Boyfriend and girlfriend couple: Shawn Christian and Arianne Zucker
Source: Instagram
The couple is dating since early 2016 and was spotted a number of times together in events and parties. They used to love spending times with one others' family and friends and they seem to be madly in love.
Furthermore, Arianne's daughter Isabella and Shawn's son, Kameron both from their previous respective spouses live together as a family and often seen going out together and do family gatherings. Check it out.
The pair still keeps on sharing their pictures via their social networking sites. Have a look at one of the latest Arianne's Instagram post.
Now, let's talk a little bit about the married life of Arianne Zucker with her ex-husband Kyle Lowder.
Aged 42, beautiful actress, Arianne got married to her co-star of Days of Our Lives show, Kyle Lowder on 3rd August 2002.
They were just an onscreen couple, however, they eventually fell in love off screens and started a romantic affair. Then the couple exchanged their vows in a private ceremony.
Former husband and wife couple: Kyle Lowder and Arianne Zucker
Source: Pinterest
After seven years, the couple welcomed their first child, daughter and named her Isabella Reese Lowder back in December 2009.
However, their marital relationship started having troubles and after living together for eleven years, the couple got divorced in 2013, however, their divorce was finalized in March 2014.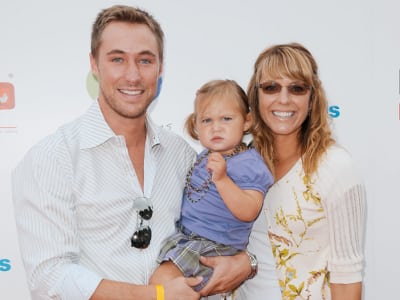 Former husband and wife couple: Kyle Lowder and Arianne Zucker with their child, daughter Isabella
Source: soap opera network
Currently, Arianne is sparking a romance with Shawn. We wish them all the very best for their future and we hope none of them leave each other's hand.
For more updates stay connected with Frostsnow.