Tobias Alistair Patrick Kebbell, professionally known as Toby Kebbell, is an English actor best known for his works in films like Dead Man's Shoes, Gold, A Monster Calls and many others. The handsome actor has a reputation for moving on quite quickly. He was previously in a relationship with Ruzwana Bashir but at the same time, was also rumored to be dating actress Gemma Arterton.
Toby was born on 9th July 1982 and is 35 years old. He made his debut in the acting field back in 2000. As of 2018, he is all set to appear in five upcoming movies. The first movie to be released is The Hurricane Heist starring Maggie Grace. In the following months, four of his other films The Angel, Becoming, Destroyer and Here Comes the Grump (voice acting) will be released.
Toby Kebbell
Source: Hollywood Reporter
Here, we are going to share some information about Toby's current relationship status and his affairs with Ruzwana Bashir and Gemma Arterton.
Is Toby Kebbell married? Who is he dating?
Toby is not married yet and shocker alert, he is single and is not reported to be dating anyone at the moment.
The actor seems to be not a big fan when it comes to commitments and settling down. While he was in a relationship with Ruzwana Bashir, he shared that he was not in a hurry of getting married. In fact, he wanted to establish himself and also own a house before deciding to settle down.
Toby Kebbell
Source: AOL.co.uk
So, for all the ladies who are a huge fan of the actor, he is currently single and is not going to tie the knot anytime soon. He has not gotten married or engaged beforehand and does not have any children.
Toby Kebbell's relationship with ex-girlfriend Ruzwana Bashir
Toby was previously in a relationship with Ruzwana Bashir, an entrepreneur and also CEO of Peek.com.
Toby Kebbell with ex-girlfriend Ruzwana Bashir
Source: Desmond O'Neill Features
According to sources, they met back in 2009 during a Christmas party hosted by Andrew Neil. They seemed to have hit off very nicely as they started dating soon and even became a hot couple of the year.
During the year, they attended numerous events together including 2009s BAFTA Awards, in London.
Toby Kebbell with ex-girlfriend Ruzwana Bashir
Source: Pinterest
As we have mentioned above, Toby is not a huge fan of commitment and soon after he shared the information during an interview, he was reported to have broken up with his girlfriend.
There are many theories on why the couple split. Some claim that it was because of Toby's commitment issues and others claim that it was because of Toby's alleged affair with his co-star Gemma Arterton.
We are unsure of the reason, but it is apparent that it was a good move for both of them.
Toby Kebbell's alleged affair with Gemma Arterton
Toby met actress Gemma Arterton on the sets of 'RocknRolla?', starring Tom Hardy and Gerard Butler. They seemed to have gotten close. Many rumors claimed that they were dating even when Toby was in a relationship. Toby openly shared a lot of times that there was nothing between them and that the rumors were very hurtful to his girlfriend.
Watch Toby and Gemma in the trailer for RocknRolla
Know more about Gemma's relationship status after divorce
But many insiders shared that they were dating and got close after they worked together on film RocknRolla, which raised many eyebrows. Moreover, after Toby split with his girlfriend, they were spotted getting closer which created even more drama.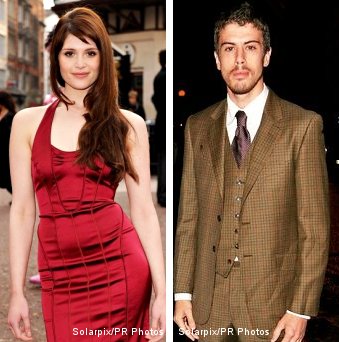 Toby Kebbell and alleged girlfriend Gemma Arterton
Source: AceShowbiz
However, Gemma dated other men like Stefano Catelli while the rumors circulated which eventually meant that they were not exclusively dating.
Despite the heating chemistry, things seemed to have not really worked out for them.