25-year-old Thibaut Courtois is a professional football player. The full name of the famous goalkeeper of the Belgium national team is Thibaut Nicolas Marc Courtois. The Belgian goalkeeper plays for Premier League club Chelsea and helped the club win the League Cup and the Premier League title in 2014.
Though Thibaut is currently enjoying his singlehood, he is notoriously known for his love affairs. Formerly he dated American model Brittny Gastineau. Their relationship started off in July 2017, and the two parted their way in February 2018.
The goalkeeper's name is always in the headlines because of his impressive career and extravagant lifestyle. To find out more about his current relationship status and affair with Brittny and others, keep on reading.
Relationship of Thibaut Courtois with Brittny Gastineau
Brittny is a reality television personality. She is also a friend to Kim Kardashian. Brittny dated Olympic star Michael Phelps before her affair with Thibaut began.
Courtois had his first encounter with the Filthy Rich: Cattle Drive star on June 27, 2017, at the Sunset Tower bar where they were reported to have spent three nights before heading off together.
Brittny alongside famous goalkeeper Courtois
source: sports.naij.com
Later on, the photo of them kissing each other emerged on the Internet. The photo was posted by Gastineau on her Snapchat account which was later made private.
After the split with girlfriend Brittny, Courtois is reported to be single till now. But who knows he might be secretly dating a beautiful lady.
Past affairs of Thibaut Courtois
The Belgian goalkeeper has been in several relationships in the past but never has been married. His longest relationship was with girlfriend Marta Dominguez, whom he met when he played for Atletico Madrid.
Courtois with his ex-girlfriend Marta Dominguez
source: playerwags.com
Courtois is the father of his long-term girlfriend's daughter Adriana, who is 1-year-old. His ex-girlfriend is currently pregnant with his son.
Courtois split with Marta even though she was pregnant with his child stating that the two do not have the romantic relationship anymore. He said,
"We still love each other and we get along very well, but we don't have a romantic relationship anymore."
Within one month of the amicable split of Thibaut and Marta last September, Thibaut was spotted enjoying on a yacht with an unknown woman off the coast of Spain. The identity of his female companion still remains a mystery.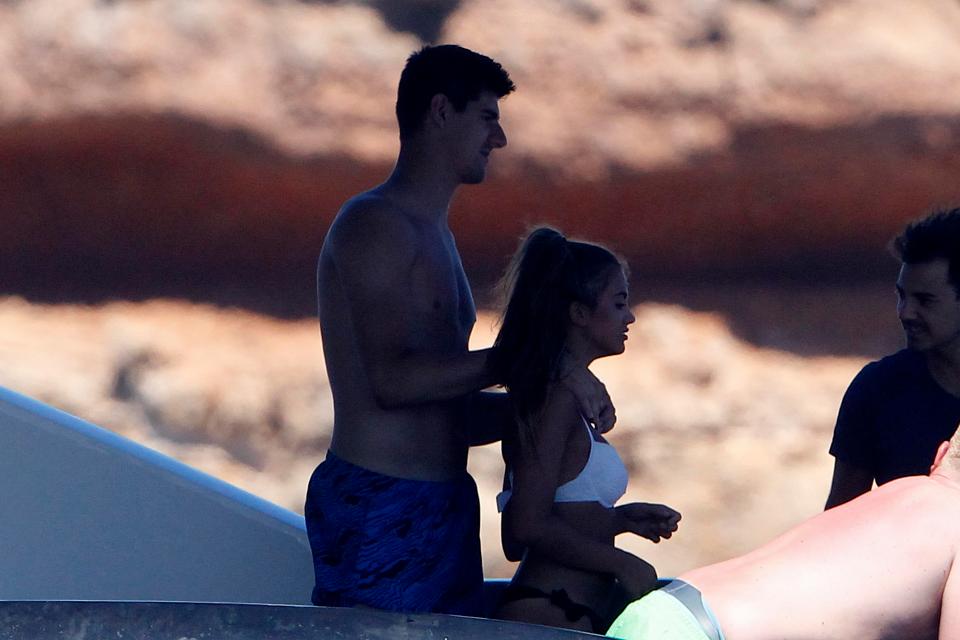 The ace goalkeeper was also linked with an attractive young teenager who is apparently his dog sitter before being linked with Gastineau.
He was also rumored to be dating Emily Vanhoutte, a Belgian model, while he was still in the relationship with Marta.
Hope the handsome goalkeeper soon finds the love of his life to whom he will get married. We wish him luck for his future.