Have you ever heard the name, Missy Peregrym? If no, then let us first tell you that she is one of the most renowned Canadian actress and fashion model, famous for her role on the ABC and Global Television Network series Rookie Blue as Officer Andy McNally. She was also nominated for that role in Canadian Screen Award in 2016.
Nowadays, people are being interested towards her personal life. All of her fans are craving to know, whether the actress is dating someone or already married or engaged?
Let's squeeze out, all the details regarding her private life. Just stay with us.
Missy Peregrym previously married husband Zachary Levi and got divorce within a year of the announcement of marriage
Yes, you read that right. Missy Peregrym was once a married woman. She was previously married to an American actor, Zachary Levi. The couple exchanged their vows in a private ceremony in Maui, Hawaii, however, they revealed their marital relationship back on 16 June 2014.
Unfortunately, nearly after a year of their marriage, Missy filed for divorce against her husband in April 2015 which was finalized on 3rd October in the following year.
Former husband and wife couple; Missy Peregrym and Zachary Levi
Source: Dailymail
The reason behind their separation was pretty odd. As Missy's divorce papers mentioned that neither of them had any belongings together nor any party was demanding spousal provision which is odd and points towards busy schedule, differences in view and booming career to be the reason for the couple's separation as per TMZ's report.
Zachary once opened up how difficult it was living in a marital relationship with Missy, rather than a love affair. He said;
With dating, you can be, "Hey, it's not working out," and you're out. But marriage, you make a commitment. The easy outs you don't have anymore. You're responsible for another person's life as they are yours.
Zachary is believed to be happy with his single life.
In addition, Zachary Levi had been dating his girlfriend Caitlin Crosby since 2008, before getting engaged with Missy. Their relationship was going well as they were often seen spending their private times with one another.
In fact, they once even went on a great vacation in Turks, Caicos, and Puerto Rico. However, the couple broke up in 2010 without sighting any reason behind their split.
Former boyfriend and girlfriend couple: Zachary Levi and Caitlin Crosby
Source: Persona
Besides Zachary, Missy was involved in several relationships including the celebrities Ben Roethlisberger and Brandon Countee. She was having an affair with Ben in 2007, however, their relationship was not last for long and the couple split up in 2008.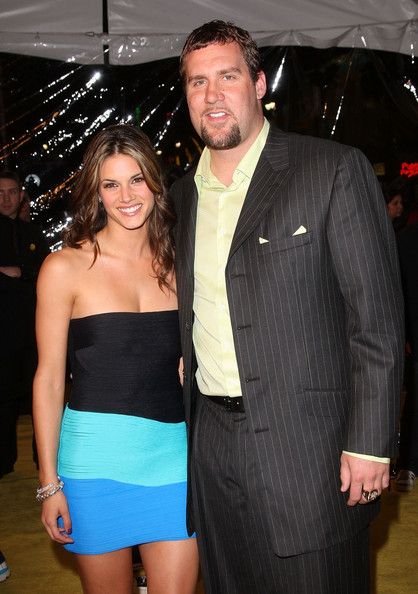 Former boyfriend and girlfriend couple: Ben Roethlisberger and Missy Peregrym
Source: whosdatedwho
34 Year old actress Missy is currently single and is super focused towards her career. We wish the $3 million dollars' net worth's actress Missy, all the very best for her future and fortune, and we hope she finds a perfect match soon. For more updates, stay connected with Frostsnow.