Good Bones' Mina Starsiak is a household name in HGTV Network. Starsiak won the hearts of million people around the globe with her irresistibly silly talks and immense talent. Although many men have a secret crush on Starsiak, she is officially off the market.
Starsiak tied the knot with her husband Stephen Hawk in 2016. Starsiak and her beau will be celebrating their wedding anniversary in a few days. Let's find out more about their plan of having children:
Mina Starsiak married life with Stephan Hawk
Mina Starsiak married husband Stephan Hawk on 11th June 2016 in Indianapolis. Their wedding ceremony and reception took place in 164 Steeples Blvd, Indianapolis, IN, the United States. Only their friends and family members got a chance to attend their special day.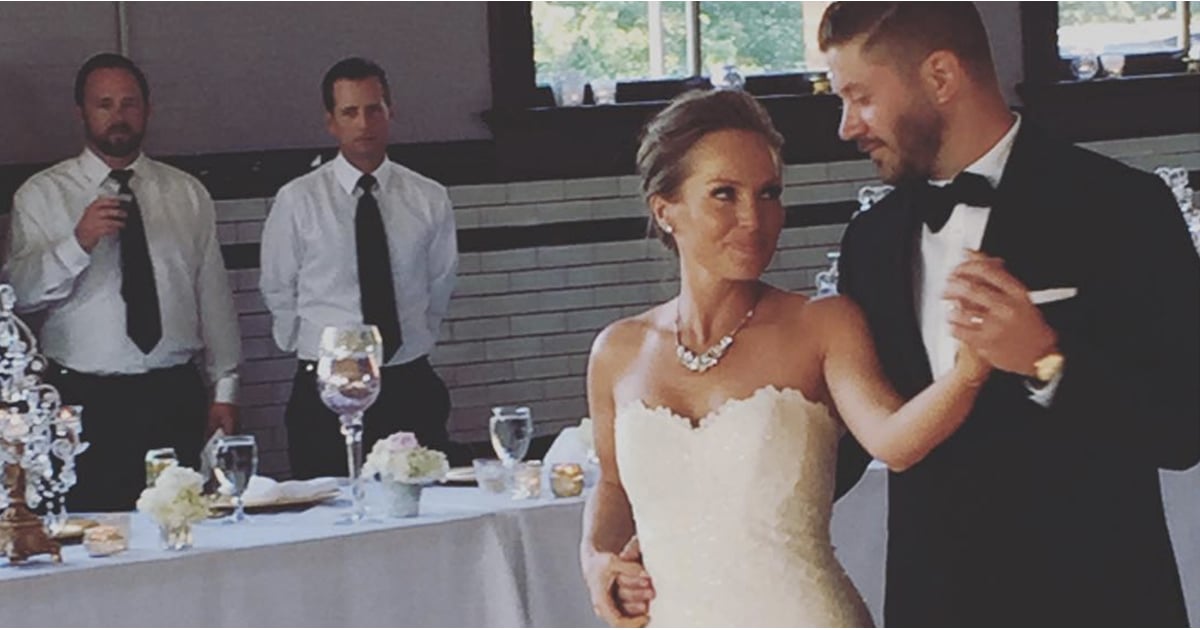 Mina Starsiak with her husband Stephan Hawk on their wedding day Source: Pop Sugar
Most have been a day to remember with all your close friends and family around in the special day.
Stephan Hawk's Interesting Proposal
The way Starsiak's husband proposed her is rather interesting. He formed a scavenger hunt for Starsiak leaving eight clues.
All the evidence took her to the places that mattered most for the pair such as their first meeting spot, the place where they went on a date for the first time, their favorited restaurants and so on.
Mina Starsiak with her husband, Stephan Hawk Source: Starcasm
The last clue let Starsiak to the Colts Complex, a training field where they live. When she reached there, Hawk was waiting for her on the field with a gorgeous diamond. He proposed her with lovely words and Starsiak said 'Yes.'
Mina Starsiak and Stephan Hawk's Children
Starsiak is quite close to her nephew and niece who fills most of her Instagram posts. There is a little girl name Juliet in their lives.
Baby Juju is not Starsiak and Hawk's biological daughter, but the couple is her foster parent. Neither Starsiak nor her husband has revealed if they are planning to adopt her, but it is really so generous of them to be taking caring of Juju who looks like an angel.
Nobody knew about the little girl until Hawk revealed about her a few months ago through social networking. In his long captioned he mentioned:
"Finding a new level of respect for my own parents for raising me and my siblings in an era that was much different than today. It has also solidified to me that I know Mina Starsiak Hawk is going to be an unreal Mom to our own kids. (Someday)"
He has also encouraged other people to become a foster parent to experience an unconditional love of a child.
Watch 'Good Bones' #1:
It is great to see how Starsiak and her husband is taking care of Juliet as a foster parent. Such an act of them has changed the life of the little girl, and it also seems to be strengthening the bond between the fantastic couple.
Besides being a foster parent, the couple has welcomed their first child, son Jack after being married for two years. Mina gave birth to their first child in August 2018.
We hope God has planned more success for Starsiak and her husband. We believe that they will welcome their own child soon and without any doubts, they will be a great parent.