Many men are jealous of Marshall Trenkmann as he is the lucky guy whose wife is Karla Souza. How to Get Away with Murder's star Souza is a renowned Mexican actress.
Trenkmann and his wife have been married for two years now. Their married life is going well without any rumors. Let's find out more.
Marshall Trenkmann and Karla Souza's wedding
Trenkmann and Souza have been dating for a very long time. They got engaged in December 2013. Five months post their engagement, Trenkmann married Souza in a beautiful wedding ceremony in May 2014.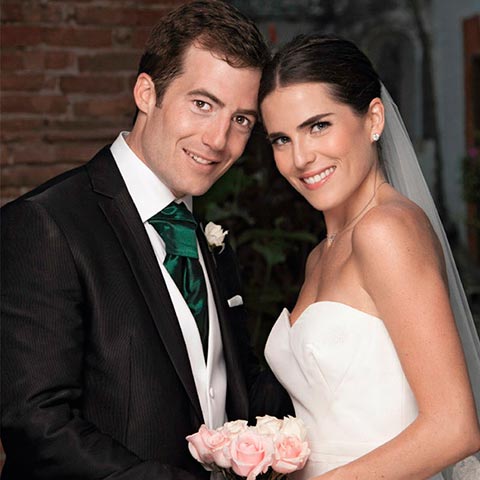 Image: Husband Marshall Trenkmann and actress Karla Souza
Source: Liverampup
They tied the knot in Hotel Hacienda Vista Hermosa in Tequesquitengo. It was a very intimate religious ceremony which was attended by their family and friends.
Marshall Trenkmann leaves notes for Karla Souza
Trenkmann's relationship with his wife is amazing. They do not just look perfect together but they are actually a perfect and adorable couple. They get along with each other really well. That's why the bond between them is really strong.
Despite being a husband of such gorgeous and busy lady, Trenkmann has handled his relationship with his wife perfectly. He knows how to make her wife happy as he leaves complimentary notes on her bag often.
Image: Marshall Trenkmann and Mexican Actress Karla Souza
Source: Latina
During an interview with US magazine, Souza revealed her husband's cute habit. She said,
"My husband leaves me articles he wants me to read about something we were talking about, like Latino culture. Or he'll drop a little note in my bag saying, 'I hope your day goes well! I love you.' It's super sweet!"
Marshall Trenkmann is a supportive husband
Souza's husband seems to be really supportive and understanding as well. She credits a large part of her success to her husband Trenkmann. Many of Souza's fans and media observers also agree that Trenkmann is a man with patience.
You might be unaware that Souza's ABC drama 'How to Get Away with Murder' started filming soon after her marriage. If Trenkmann was unsupportive, she might not reach up to where she is today.
Trenkmann and Souza's are a perfect example of a happy and understanding couple. Trenkmann has not cheated his beautiful wife till date. Similarly, Souza has also been very faithful towards her marriage. That's why there are no rumors of divorce between this pair. We hope not to hear any such rumors as well.
That's why there are no rumors of divorce between this pair. We hope not to hear any such rumors as well.
Do Marshall Trenkmann & Karla Souza Have Kids?
Trenkmann doesn't have any child with Souza, but hopefully, they will have one soon in the near future.
Image: Mexican actress Marshall Trenkmann
Source: Frostsnow
What do you guys think about Marshall Trenkmann and Karla Souza's relationship? Please leave your opinions in the comment box below.
For more information, stay updated Frostsnow.