The Guardian: The Lonely and Great God (2016-17) star Lee Dong Wook is undoubtedly one of the sexiest South Korean TV stars alive. Many of us may be known about the actor who recently won the 2017 5th Annual Drama Fever Award for Best Supporting Actor for his performance in The Guardian.
Although his fans know about his successful career and achievements, they barely know about the actor's personal life. Well, in this section, we will provide you with exclusive information about the actor's love life, marriage, and affairs.
Also Read: South Korean Actor Lee Dong Wook Kiss With Yoo In Na, See What He Has To Say.
Let's zoom on.
Lee Dong Wook Talks about his Marriage and Relationships: Know about his Relationships
In a candid interview, Lee mentioned that although he is getting a lot of attention for his role in The Guardian, his life hasn't changed. Lee admitted that his life is just like a common person even after he started working in dramas.
Every day is the same. I wake up at 10am and go eat breakfast then work out with my manager. And then I will either have a late lunch or early dinner, and then I will head out if I have an appointment.
The Guardian: The Lonely and Great God (2016-17) star Lee Dong Wook
Source: Pinterest
As Lee went on talking about his personal life, the interviewer took the opportunity to ask, "whether he has ever dated on-screen lover in real life?" Instead of answering the question Lee took a roundabout way and talked about his relationship with his sister.
He mentioned that he could be nothing but all over the moon for his sister was getting married.
During our childhood, our family didn't do well financially, so we lived in the rural area. This makes me feel sorry for my sister. It's been ten years since I debuted my acting career in high school.

I didn't look back and worked really hard. I'm so happy to hear that my sister is getting married.
Well, a lot of his fans were looking for him to reveal about his possible girlfriend and relationship, but Lee seemed aware of too much publicization of a relationship. We are not sure if the actor is dating anyone but we are very sure that he prefers to keep his love life out of the spotlight.
Also, see: South Korean Actor Lee Min Ho Together With His Girlfriend Suzy Bae For Two Years; Past Affairs
Well, in case he is dating anyone, looks like we will have to wait to know who the lucky girl is. Besides these, there's a thing about his personal life, we guess many of his fans are unaware of.
Lee who shared on-screen chemistry with actress Yoo In Naa in The Guardian admits that he is close to his co-star from the same show Gong Yoo. As per Soompi, Lee and Gong displayed their bromance during their Asia Tour in Seoul.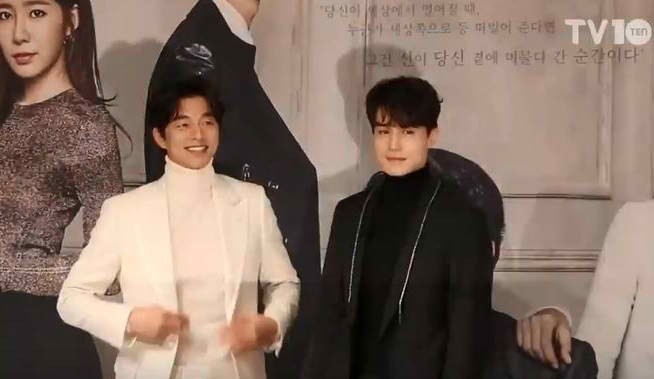 Lee Dong Wook with his co-star Gong Yoo
Source: Koreaportal
In an interview with "The Guardian", Lee mentioned that he never had an opportunity to work with such an actor before.
I've never met an actor who can work off my ad-libs. I'm actually re-watching the series now that we're done filming it. I've watched up to episode six.

Also, see: Bae Suzy relationship with Lee Min-ho and getting married actor's enlistment
As per the Korean Portal, Lee even mentioned that he finds Gong handsome which eventually sparked dating rumors. But nothing has been revealed by both of the actors about what exists between them.
So, moving on who actually is Lee Dong Wook dating? Want to find out?
Who is Lee Dong Wook Currently Dating?
In March 2018, a South Korean actors agency, King Kong by Starship confirmed that Lee Dong Wook and Bae Suzy are dating. The couple was reportedly spotted dating in Gangnam District in Seoul.
Also, see: New Relationship: Korea Actor Lee Dong Wook and Singer Suzy Are Officially Dating
Lee Dong Wook and Bae Suzy are dating
Source: YouTube
King Kong by Starship revealed,
They met at a private, casual gathering. They recently started to get to know each other with good intentions and have feelings for each other.

Because it's still the beginning and we just learned about it, there's not much we can say about them dating or being a couple.
Quick facts about Lee Dong Wook:
Who is Lee Dong Wook dating?
Lee Dong Wook is currently dating Bae Suzy.
For more updates keep on visiting Frostsnow.