It is easy to fall in love but hard to maintain a stable relationship. Some stay together for life. Others part ways after sometime. But Hollywood is filled with those who belong to the latter category. From Brad Pitt and Angelina Jolie to Kaite Holmes and Tom Cruise, we have seen love blossom and marriages fail.
The same is true for American actor/singer Ezra Miller, who has been in the news recently for his upcoming science fiction/fantasy film Justice League, in which he portrays the superhero Flash. He has dated a number of blond beauties in the past, but like most of his peers, he hasn't been able to sustain a single one.
Watch Miller in the trailer of Justice League here.
So, who is he dating currently? Does he have a new girlfriend?
Does Ezra Miller have a new Girlfriend? Who is he Dating?
Ezra, who earlier dated a number of girls, seems to have become tired of it. Well, at least for a while. The actor's name hasn't been linked to anyone since his last breakup in 2016.
Ezra Miller
Source: Instagram
So here's the deal. By all possible means, Miller is currently single and seems to be focused solely on his career.
via GIPHY
It should be good news for some of his fans, while for others it is a puzzle waiting to be deciphered.
Ezra Miller's Love Affairs and Dating History
In 2014, Miller started dating an American actress Erin Urb, known for Port City P.D.
Miller started dating an American actress Erin Urb in 2014
Source: whosdatedwho
The couple shared a romantic relationship for two years before backing out of it in 2016. They were even reported to have been engaged in May 2014.
After Erin, Miller's name cropped up with Shailene Woodley, also in 2016. Before that, he was in a relationship with Lauren Noltin in 2011 and Zoe Kravitz in 2010.
Also Read: Shailene Woodley is in Love, Who is her Boyfriend?Know about her Affairs and Dating History.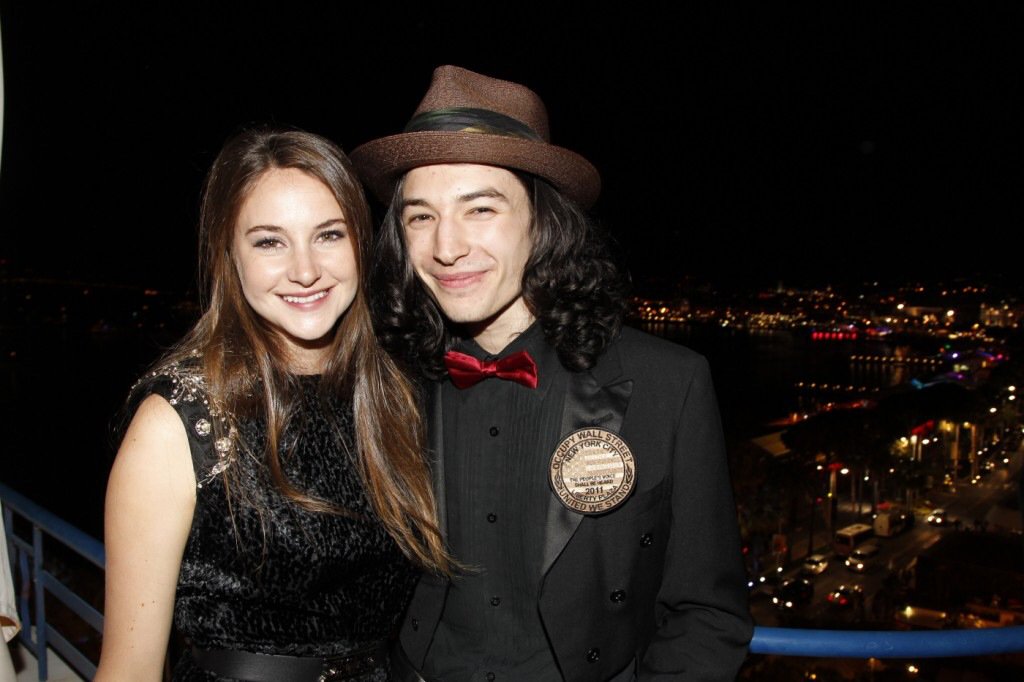 Ezra Miller dated the gorgeous Shailene Woodley in 2016
Source: Twitter
Also Read: Chris Pine dated Olivia Munn and Zoe Kravitz in the past but does he have any girlfriend now?
In addition to his linkups with Hollywood hotties, Miller has in the past created a buzz with rumors of him being gay. So, is he really gay then?
Is Ezra Miller really gay? Or is it a Rumor?
The rumors of Miller being gay, took the web by storm in 2012, when he stated that he tried kissing boys during his time in school. The actor/singer told the Out Magazine,
I was trying to kiss boys in school," he says, and then the best friend he fooled around with turned on him. "He had some macho realization that led him to believe that I was the problem. So I went from having a stutter to being a totally gay little opera singer to being, like, a really confused queer adolescent.
In addition to the rumors, on July 27, 2017, TMZ published a video of Miller kissing one of his fans. You wouldn't want to miss the video.
Miller has also said openly that he prefers to be called a "queer".
I'm queer, I have a lot of really wonderful friends who are of very different sexes and genders. I am very much in love with no one in particular. I've been trying to figure out relationships, you know? I'm just trying to make sure my lack of responsibility no longer hurts people. That's where I'm at in the boyfriend/girlfriend/ zefriend type of question.
He added,
I think there are a lot of people who fall on this open spectrum of sexuality. My friends and I use that word as an all-encompassing banner and for every human being. There should be an ongoing question and investigation of who you love and everything that's involved with that very tricky and beautiful thing.
With such open and detailed statements, it seems clear where Miller stands on the sexuality spectrum.