Emily Rebecca Kinney, best known for her portrayal of Beth Greene on the TV series The Walking Dead is an America based actress, singer and a songwriter.
Kinney has also appeared on several other television series, including the critically acclaimed Masters of Sex, Arrow, and The Flash. She also co-starred in the ABC series Conviction, alongside Hayley Atwell, in 2016.
The beautiful blond, who is 32-years-old, is an active blogger and loves to write about her experience as a young actress. Her experience was also published in Unsubscribe magazine. Moreover, she is also well-known for her works in films and TV shows like Papa, Ten Days in the Valley, Love on the Sidelines etc.
Emily Rebecca past relationships and rumors
In 2012, Emily was rumored to have been dating Jon Siebels, a musician also known well as the guitarist of Eve 6 band. It is just a rumor, and there is no confirmation about the two dating.
Meanwhile, in the same year, she was also said to have been in a relationship with Michael Zegen. Despite all the claims, there is no exact evidence that the two are dating, except pictures of them together.
She was also said to be to dating Norman Reedus because they were seen together a lot and many pictures of them together can be found online.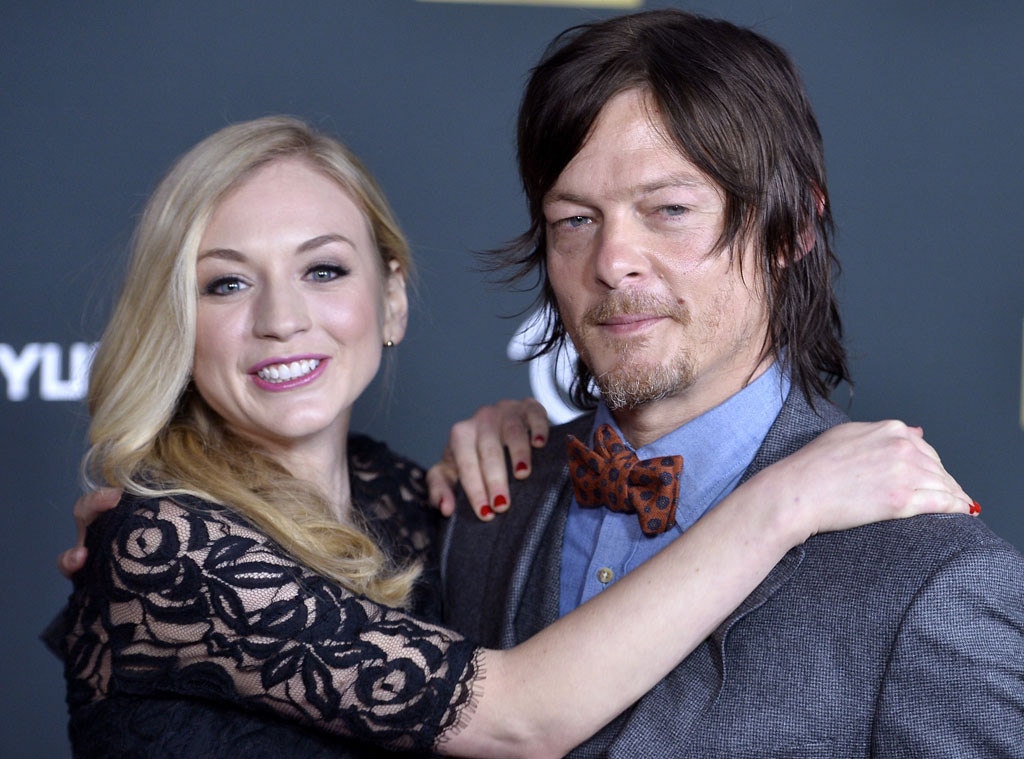 Emily Kinney and Norman Reedus
Source: E! Online
Later in 2015, she was rumored to be dating Ryan Adams, a singer, songwriter, musician, poet, and a record producer. Unlike previous rumors, the actress fueled the fire in this case by mentioning Ryan again and again on her socials and once even wrote on Twitter, "Just drawing lil' doodles of my future boyfriend/husband. Sexy right?" and inked an Instagram picture.However, the Instagram picture has since been deleted.
She also uploaded a picture of herself on Instagram wearing headphones. She captioned the photo saying that she is listening to tall the albums of Ryan.
Despite all the rumors and controversies, she has said time and again that she did not date any of the men. However, we do not know what happens behind the scene.
Is Emily married?
Currently, Emily is not dating any man. She is now single and also not married. However, we will never know when the blonde beauty will surprise us with a new man beside her.