The gorgeous Milan, Italy-born TV star Emanuela Folliero who divorced her husband Enrico Mellano in 2009 was in the news in the year 2015 for her relationship with another Italian Pino Oriccio.
However, recently Folliero, 52, a mother of the 11-year-old son is going low in the spotlight with her personal life. Many of her fans wonder whether the couple is still together or not?
Are Emanuela Folliero and her Partner Pino Oriccio still together or not?
The Rete 4 (an Italian TV station) star Folliero was heartbroken after the separation with her husband of two years Enrico. Folliero who claimed to have lost faith in relationships after the divorce found a break-through in life with Pino.
The couple met each other for the first time while on vacation.
Emanuela Folliero was heartbroken after the divorce with her husband, Enrico Mellano
Source: Instagram
After the wedding with Enrico, the TV star pointed to her relationship with Pino in an interview with the weekly Visto. An Italian site, "il Giornale.it" published an article about her revelations to Visto on May 11, 2015.
Emanuela Folliero found love with Pino Oriccio after her divorce with husband Enrico
Source: TopWeb24
Folliero who has been associated with "I Bellissimi" which means "I Beautiful" for 12 years now, revealed how she fell for Pino.
Pino is a point in my life. When I and Andrea's father left us I no longer believed in the couple relationship [...] Instead Pino was patient. We met on vacation and when we returned to Milan we found to live a short distance away,
She added how Pino managed to win her heart day by day and finally, she was up to for a live-in relationship with her partner. Yes, the Italian-beauty mentioned that she and Pino even looked for an apartment.
Day after day coffee after coffee, managed to conquer my heart and make me change my mind. For now we are close to home but we are looking for an apartment, but it's not easy to find the right one for us. More than a house serves a barracks.
Ever since Folliero has kept her life low in public and the couple hasn't been spotted together in any events and date, and it's obvious for her fans to wonder whether the couple is still together or not?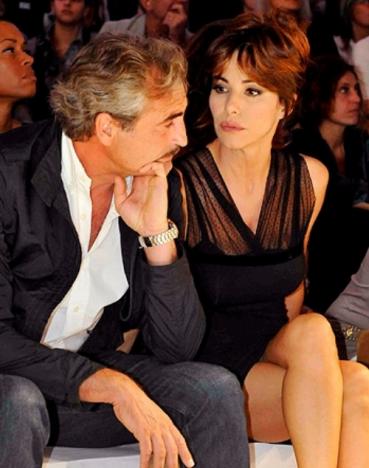 People speculate whether the couple Emanuela Folliero and Pino Oriccio is still together
Source: spettacoli & cultura
Though many of her fans are curious about her personal life, Folliero hasn't spoken about her relationship with Pino and her current relationship status.
Hope the TV star soon reveals about her love life to all of her fans.
Emanuela Folliero and her Failed Marriage with Enrico Mellano
Folliero and her husband Enrico tied the knot in 2007. The couple divorced in 2009 after two years of relationship.
Emanuela Folliero with her ex-husband Enrico Mellano
Source: Gossip excite
Besides this, TV star hasn't revealed about her relationship with Enrico and why the couple separated even after the two had a child, Andrea, 11, who was born in February 2008 together. But as per some sources, the decision of separation was amicable.
For updates, be in touch with Frostsnow.com