Marriage between Chris Hansen and Mary Joan Hansen was once a top story for several news channels. However, almost after 28 years of their marriage, the story about them has reappeared but sadly on a negative note.
A Dateline NBC's journalist, best known as the host of To Catch A Predator, a reality television series which mainly focuses on bringing justice to Pedophiles, Chris Hansen has found to involved in a Sex scandal with a woman more than 20 years younger than him.
The news disheartened millions of his fans such that all of his fans became more curious to know all the details about Chris Hansen as there arise a lot of questions regarding his personal life such as Is Chris Hansen really involved in a sex scandal? How's the behavior of Chris Hansen towards his wife? Don't worry, we are here with all the answers to your questions. Just stay with us for the detailed information.
Married life of Chris Hansen with his wife
Mary Joan Hansen
Chris Hansen got married to his long-time partner, Mary Joan Hansen. Their marriage ceremony was conducted smoothly in the Church, in front of their nearest and dearest family and friends as guests. Chris Hansen and wife Mary Joan have been living together in Connecticut with their two children.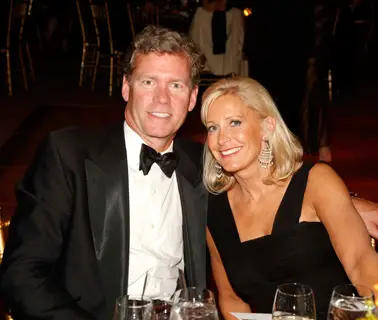 Chris and Mary
Source: celebitchy
According to dailymail.com, despite having a complete happy family, Chris also has an extramarital affair with Kristyn Caddell, a host of Orlando's ABC affiliate WFTV Channel 9. But he had no intention of leaving his loyal wife, Mary Joan as Chris love her too a lot.
Kristyn Caddell believed Hansen's marriage was ending when she began spending time with him. This sounds odd to readers but Chris, Mary, and Kristyn love triangle is vaguer than any usual affair story. Even after the arrival of the third one in their relationship, the married couple has been together for over 20 years.
Chris and Kristyn
Source: gossipextra
Chris Hansen was caught red-handed cheating on his wife when the National Enquirer's cameras caught him on an alleged date with Kristyn Cadell in June 2011. It's really interesting that the team used a hidden camera to catch Chris cheating on his wife, just like they do to investigate and monitor possible criminals.
Video: Chris was caught red-handed cheating on his wife
After that date, they were again caught kissing on the camera and then were seen leaving together Kristyn's apartment after the dinner. Moreover, Rader online has also tweeted the proof of Chris extramarital affair after 2 weeks when it was published.
Mary Joan reportedly had shared that she considers herself equally responsible but still she only did it because Chris told him that the divorce was inevitable, and the wedding ring on his finger was all but only for the show. She also claimed he lied to her that his marriage was filled with misery.
Now, let's see how the journalist is further going to deal with his private affairs, only time will tell us. All we can do is wish him best of luck.