Saoirse Ronan has achieved more than many in the industry, and she is only 22. With an Academy Award nomination at the age of 13 for "Best Supporting Actress", she has been bagging several wins in various award shows for the past decade.
She is a talented actress and a beautiful person, but it is surprising to know that she is still single. Well, let's take a flashback of her past love affairs and current relationship status.
Actress Saoirse Ronan's past affairs
"It is common for co-actors to fall for each other."
Yes. That's Ronan for you. Ronan has actually stated so in an interview. So does that mean she has actually fallen for all of her co-stars till date? Let us make a head count. There was Max Irons and Jake Abel in The Host (2013), Domhnall Gleeson and Emory Cohen in Brooklyn (2015), and George MacKay in How I Live Now (2013).
Irish-American actress Saoirse Ronan
Source: filmstage
Well, we don't know about Ronan's off-screen chemistry with all of these co-stars. But we sure do know who she has been in the news most with.
RONAN AND BOYFRIEND MAX IRONS
Filming of the 2013 romantic science fiction thriller film The Host might have had shown the real chemistry of its lead actors. In the movie, Saoirse Ronan and Max Irons played Melanie and Jared respectively, who are romantically involved in the movie. And their romance was not "acting" because they had been dating off-screen too.
Like Ronan said, when two young actors are in a set for so long together, they share a unique friendship and sometimes the bond turning into something bigger is inevitable.
Irish-American actress Saoirse Ronan with Max Irons
Source: DailyMail
But their affair was short-lived. They parted their ways but the reason has not yet been revealed by any parties.
RONAN'S AFFAIR WITH GEORGE MACKAY
Back in 2013, after few months of news breaking out about Ronan and Irons' hookup, a new buzz was in the town. Irish actress Saoirse Ronan and British actor George MacKay were filming their movie How I Live Now.
According to the director of the movie, Kevin Macdonald, Ronan met and fell in love with her first boyfriend MacKay during the filming. Film boss Macdonald had revealed that the Oscar-nominated actress mirrored the love of her character (who falls in love with McKay on screen).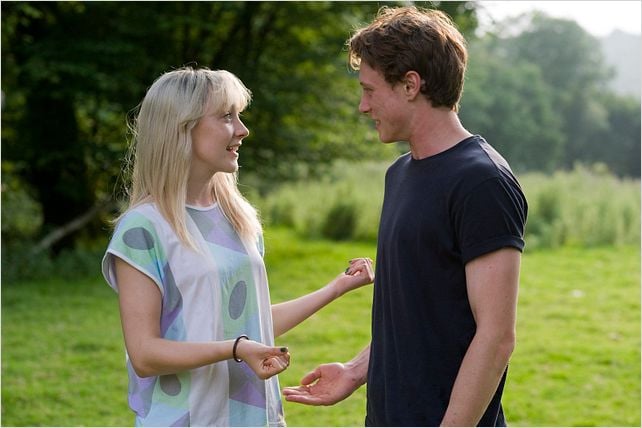 How I Live Now stars; Saoirse Ronan and George Mackay
Source: getty images
Neither Ronan nor Mackay confirmed their relationship but they neither denied. Their break up was also hushed up.
RECENT RELATIONSHIP OF RONAN
During the filming of 2015 movie Brooklyn, 22-year-old Saoirse Ronan was rumored to be dating her co-star (no surprise!), Emory Cohen. She had stated that they were "quite cuddly" and intimate with each other.
Brooklyn stars; Saoirse Ronan and Emory Cohen
Source: Socialite Life
Because nothing more has been confirmed or denied, we are still left hanging on what her current relationship status is.
She has not been actively involved in revealing her personal life in social networking sites but her interviews sometimes reveal some 'things' and we love this amazing down-to-earth personality.
For more information, keep tunning to Frostsnow.