After a malicious meme of "Prison Break" star Wentworth Miller started becoming viral on the internet, the 43-year-old actor posted an extremely honest response that has since been shared by over 150,000 people on Facebook.
The actor took to Facebook to share his reaction to the world, saying, "Today I found myself the subject of an Internet meme. Not for the first time. This one, however, stands out from the rest. In 2010, semi-retired from acting, I was keeping a low-profile for a number of reasons. First and foremost, I was suicidal. This is a subject I've since written about, spoken about, shared about. But at the time I suffered in silence… The first time I tried to kill myself I was 15. I waited until my family went away for the weekend and I was alone in the house and I swallowed a bottle of pills,' Wentworth revealed at the 2013 Human Rights Campaign Dinner in Seattle. 'When someone asked me if that was a cry for help, I say no. Because I told no one. You only cry for help if you believe there's help to cry for.'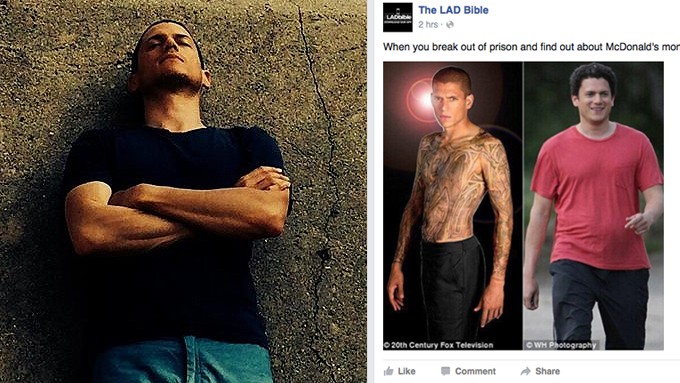 On Facebook, over 80,000 fans have commented on the post with words of support for Miller and to thank him for his candor.
"I feel like an idiot for liking the original post and just moving on with my day," one commentator wrote. "I didn't think too much into the mental and emotional aspects. It's true what they say - there's always more than meets the eye."
Now back to his fit self - this biracial star begins filming the nine-episode Prison Break event series with Dominic Purcell next month in Vancouver. Though openly stating that he is gay, he also revealed that he felt it hard to confess his sexuality. Till now, there is no information about his love affairs and he has never married a wife or divorced
As of 2015, his net worth is rumored to be $40 million.