Victoria Beckham is definitely living every girl's dream. She was the one of the five member of the biggest girl band in the world Spice Girl, and Victoria has it all.
The 42 years old Victoria is an English businesswoman, fashion designer, model, and singer and has tasted success in every field. Also famous for Victoria Secrets, the wife of Legendry England footballer David Beckham, Victoria has become an internationally recognised style icon and fashion designer.
Today, let's find about this multi-talented lady, her married life with husband David, and also about her plastic surgery. Stay with us.
Did Victoria Beckham had plastic Surgery?
Victoria has always been open about most of the stuff she does. So it is no shock that she is pretty candid about her breast implants and has talked about it in various interviews.
But in an open letter that she has written to her 18-year-old self for British Vogue Magazine, she says that she regrets getting them and she should embrace her imperfections and be happy with what she has. In that letter, she also gives advice to herself on how to survive life on spot life.
"And I should probably say, don't mess with your boobs. All those years I denied it – stupid. A sign of insecurity. Just celebrate what you've got."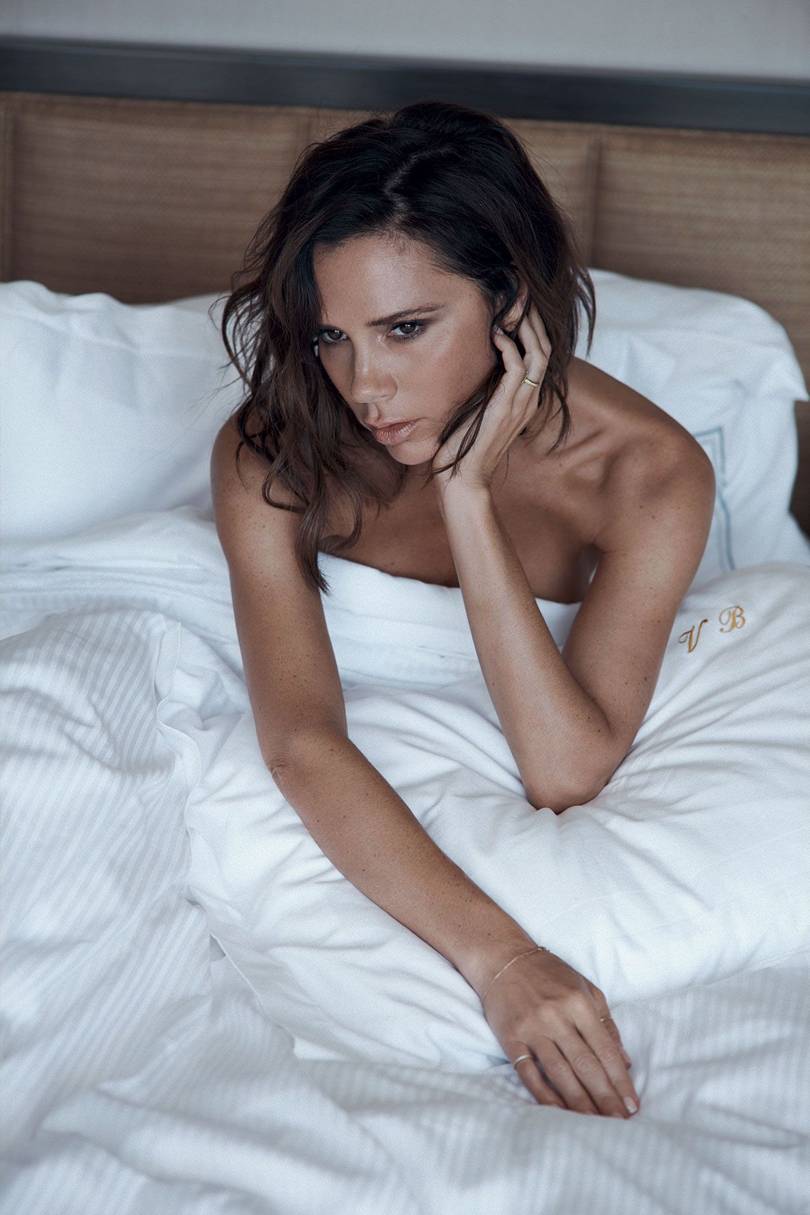 Victoria Beckham for Vogue Magazine Uk
Source:Vogue.co.uk
But since getting her breast implants, she has also removed them. In an interview with the magazine Allure, the fashion icon said as she looked at her old photos when she had plastic surgery,
"I don't have them anymore."
She further explained,
"I think I may have purchased them or they got removed, one or the other."
Caption: The sexy Victoria Beckham.
Source: popsugar.com
I think we all can agree Victoria Beckham is still as beautiful as she was when we first saw her in Spice Girls and she hasn't aged a day since then. She is beautiful just the way she is. No one can tell she is the mother of four adorable children by looking at her.
Here's a video describing Victoria Beckham's open letter.
Victoria and David Beckham: A happily ever after
We all know who Victoria is married to; the one and only David Beckham. The Beckhams' have been actual couple goals since the very beginning and why wouldn't they be; a power couple conquering the world.
In the open letter she wrote, she also mentions meeting David and how it was love at first sight.
And yes, love at first sight does exist. It will happen to you in the Manchester United players' lounge – although you will get a little drunk, so exact details are hazy. While the other football players stand at the bar drinking with their mates, you will see David standing aside with his family. (He's not even in the first team at this stage – you are the famous one.) And he has such a cute smile. You, too, are close to your family, and you will think how similar he feels to you.
Now the couple has been happily married for 17 years and still are going very strong. David gives the credit to their parents for their lasting marriage and told both their parents have taught right values to them. Like any other couple, they also had some minor setback but they have done a very good job to overcome those barriers to lead a happy married life.
Victoria and David with their Kids Brooklyn, Romeo, Cruz and Harper during Burberry show
Source:Justjared.com
Well, they certainly look like a match made in heaven and are blessed with four beautiful children namely Brooklyn, Romeo, Cruz, and Harper. As a matter of fact, Victoria and David recently got their wedding vows renewed in a very private ceremony with only six people present contrasting to their lavish marriage ceremony before.
Check out the video of the couple: From little babies to a world famous celebrity couple
We would just like to wish this couple all the happiness in the world and hope their love for each other lasts for a lifetime. Best of luck Beckhams.