Despite issues and troubles if one couple gets to continue well in the relationship, it's a great achievement, nothing will be greater than that. Unfortunately, one of the cutest actor couples Nick Viall and Vanessa Grimaldi could not save their relationship. An interesting thing it's revealed recently that the couple was already plagued by rumors of relationship issues from the very start.
Five months earlier, Venessa Grimaldi was engaged after The Bachelorette star popped the question to her with $100000 Worth diamond ring on The Bachelor finale, but, unfortunately, the duo recently called off their engagement publicly, and now Vanessa says she is OK with the breakup.
Let's learn this story in detail. Just stay with us.
Vanessa Grimaldi Says "It's Okay To Feel Broken"- Relationship Issues
Taking time to heal!! Vanessa Grimaldi has spoken out for the first time since her separation with Nick Viall. On Monday 28 August, she shared an Instagram picture of herself overlooking a pond while leaning on the shoulder of a friend. Through the post, she expressed her feeling in regards to her split with the caption;
It's okay to feel broken. It's okay to cry. It's okay to lean on a friend. In the end, it will always be okay.
Here's that Instagram post, guys, check it out.
The Bachelor stars Nick Viall & Vanessa Grimaldi Ended Their Engagement
The Bachelor stars Nick Vill and Vanessa Grimaldi (the winner of the 21st season) announced to the media that they had called it quit and ended their engagement.
Nick Viall and his girlfriend-turned-fiancee Vanessa Grimaldi called off their engagement
Source: expressnewsline
In a joint statement, the pair told E! News;
It's with a great amount of heartbreak for the both us as we have decided to end our engagement. We gave this relationship our all and we are saddened that we did not get the fairytale ending we hoped for. We will continue to be there for each other no matter what. This hasn't been an easy decision, however, as we part ways, we do so with lots of love and admiration for each other.
Another source said on Friday;
Nick and Vanessa have wanted to end this for a while now but was trying to figure out the right timing. They could never agree on where they wanted to live. Nick was never willing to move to Canada and that's where Vanessa wanted to be permanently.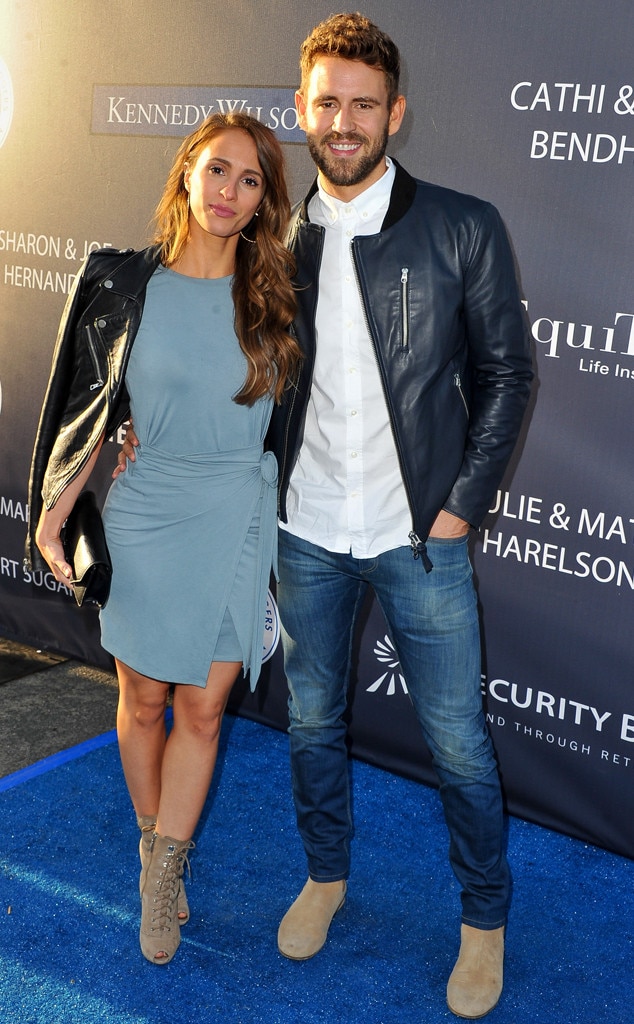 The Bachelor star Vanessa Grimaldi broke up with her boyfriend-turned-fiancee Nick Viall
Source: justjared
The break-up rumors had already surfaced after the couple had spent the weekend in Puerto Vallarta, Mexico, celebrating the wedding of their friends Carly Waddell and Evan Bass.
Must Read - Singer Carly Waddell is Expecting First child with her husband Evan Bass, Know in Detail
Former engaged couple: Nick Viall and Vanessa Grimaldi
Source: Pinterest
After the wedding, while on the flight back to Los Angeles, on June 18, a reliable source revealed that "they looked miserable" and said, "they didn't exchange five words the entire flight."
It further added;
They were angled completely away from each other.
At the time another source told;
Nick grabbed his bag and ran ahead of Vanessa. They really don't seem to like each other.
The Bachelor stars Nick Viall and Vanessa Grimaldi( she is flaunting her engagement ring)
Source: usmagazine
A few days back, sources close to the pair said the breakup was a long time coming. It told PEOPLE;
Their friends knew the relationship wouldn't last,

It was a mismatch from the start. She's super fun, bubbly and outgoing and he's more of a serious personality and more introverted. She would try to bring him out of his shell, but he's just not as comfortable in big groups.
The pair had their first meeting while filming The Bachelor and eventually fell in love. And in the finale, the 36-year-old actor proposed the 29-year-old actress with a stunning diamond ring.
Nick Viall proposed Vanessa Grimaldi with a stunning engagement ring on the finale of The Bachelor
Source: people
Unfortunately, they are no more together after calling it quit, and the exact reason why they split is still a question.
For more updates, stay tuned with Frostsnow.