Usher Raymond IV is an American singer, songwriter, dancer, and actor. He was Born in Dallas, Texas but raised in Chattanooga, Tennessee until moving to Atlanta, Georgia. Michelle Grace Harry is an American music industry professional, working as a Def Jam executive. She is professionally known as Grace Miguel. She worked as the executive chef on the set of The Cosby Show.
Usher and Grace are a married couple now and their love affair has so many spicy stories that people should know. Grace is currently Usher's manager and stylist as well. Grace is best known for being Ushers longtime girlfriend and then fiance.
Now let's get to know the detail information regarding their love story.
Usher and his longtime girlfriend Grace Miguel are married
Grace worked together with Usher for a long time and the couple started dating in 2009. According to the sources, it is said that their affair began right after Usher got divorced from his first wife Tameka Foster.
Also Read: Jamie Foxx, Usher, Jennifer Lopez, Rita Ora all give commentary in Chris Brown's documentary trailer
Do you want to hear an amazing fact? Grace is ten years senior to Usher. We have now and then found a couple who has a huge age difference like Gal Gadot and Yaron Versano who also has ten years of age difference among them. However, in the case of this couple, a girl partner is found to be older, which is quite a rare case.
Also Read: Yaron Versano married Gal Gadot and living happily as husband and wife with their children
Well, love does not see how much is the age gap between the partners. Love happens when two souls meet and Usher met his soulmate in the form of Grace.
The lovebirds dated for six years and finally, in January 2015, they came to a decision to engage. Although they got engaged, their wedding was a mystery to the media. No one got the clue of the couple's wedding as they kept it a secret from the public.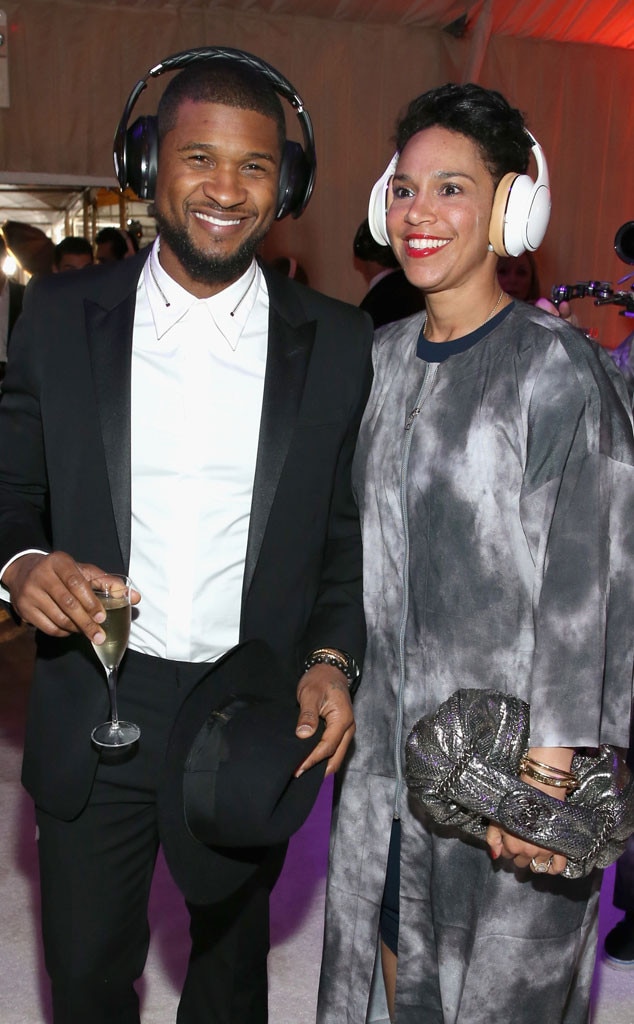 Usher and his wife Grace Miguel got secretly married in 2015
Source: E! News
Later in the Ellen DeGeneres show, Usher confronted about his big day. The couple got married over Labor Day Weekend in 2015 and organized the ceremony in Atlanta keeping it a private one.
Check out the video on the Ellen DeGeneres show where he said that he is a married man!
They are not only partners in their life but are also partners in their professional life. Today, Grace and Usher are the business partners and managers of Coup D'Etat, a company Grace co-founded.
Everyone has the past, in the same way, Usher also had his own past. Grace is his second wife. You guys want to know who he was first married to? Let's find out!
Usher was previously married to Tameka Foster
Grace was not the only Usher's stylist girlfriend but he also had another stylist as his life partner who is none other than Tameka Foster.
The couple began dating in November 2005. She worked as Usher's stylist for several years and later they got engaged in February 2007.
Usher was previously married to Tameka Foster
Source: People
On August 3, 2007, they wed in a civil ceremony in Atlanta. Later it was followed by a larger wedding ceremony on September 1, 2007, held at the Chateau Elan Winery & Resort outside Atlanta.
Usher and Foster also have two sons together: Usher "Cinco" Raymond V, born in November 2007, and Naviyd Ely Raymond, born in December 2008.
Later the couple got divorced in June 2009.
Also Read: 6 Surprising Facts About Yaron Versano That Will Leave You Amazed
After his divorce, he found another love of his life Grace with whom he is still happily married to and the couple is living their life together blissfully.
For more updates about the couple keep in touch with Frostsnow.