The gorgeous Inglewood, California-born TV star/producer/actress, and former model, Tyra Banks broke many hearts as she started dating her boyfriend, Erik Asla in 2013. The pair, Tyra Banks and her boyfriend Erik is already a parent to a year old child. And most of her fans wonder whether the pair is married or not?
But, above all, is the couple still in a relationship or not?
Also Read: Tyra Banks revealed Matt Lauer as her crush, know Matt Lauer married life, children and divorce.
Tyra Baks and her Boyfriend Erik Alsa: Know about their Relationship
Tyra and her boyfriend Erik started dating in 2013. As per sheknows the couple first met on the sets of Norway's Next Top Model.
Tyra Banks and her boyfriend Erik Asla started dating each other in 2013
Source: Romper
Ever since the couple started dating each other, the two haven't missed a chance to spend some quality time together. The couple is often spotted on dinner dates and nights out.
Likewise, in the early stage of their relationship, the couple raised the air with their romantic chemistry. In February 2014, the supermodel, 43, and Erik were spotted kissing in public while having lunch at Pearl's in West Hollywood.
Tyra Banks and Erik Asla shard a kiss while having lunch at Pearl's in West Hollywood
Source: Daily Mail
The couple is very much in love and is often spotted on dates and vacations together. Many of their fans often mistook them as a wife and husband.
But to our surprise, the couple hasn't tied the knot yet, and neither has they revealed whether they have any plans of getting married ever.
Will the couple ever tie the knot? Tyra Banks with her beau Erik Asla
Source: Daily Mail
Will the couple ever tie the knot? It looks like we will have to wait for some time for the answer.
Tyra Banks and her Beau Erik Asla are Parents to their Child, a Son
It is all happiness in the life of the couple ever since they hooked up in 2013. Besides, the birth of their child just added to their joy. The couple was really really excited and happy to welcome their son.
York was born on January 27, 2016, via surrogacy. Tyra has previously spoken about her problems regarding conception, so the couple decided to hire a surrogate mother for their child.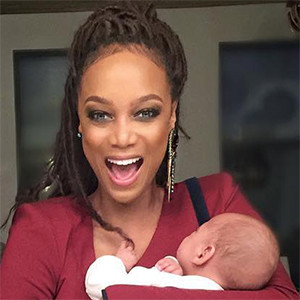 Tyra on smiles as she holds her son York Banks-Asla on her lap on Mother's Day
Source: E!
Though York isn't Tyra's biological child, for Tyra her son is one of the important parts of her life and was extremely happy to have him. She shared her happiness with PEOPLE in an interview back in 2016, She stated,
We are so excited for our new baby boy bundle of joy. The journey to now has not been an easy process, as I've shared before. But there was a beautiful bright light at the end of the tunnel for me and his father, Erik.
York's mother further added,
As I gaze into the beautiful eyes of my son, I think about all the people who struggle with fertility or carrying a child and continue to pray for them every day. My hopes and dreams are filled with well wishes that they get to feel what my little treasure, York Banks Asla, feels like in my arms.
The mother shared her joy with her fans too via her Instagram sharing a picture of the baby. Tyra shared the photo on the Valentine Day with the caption,
"This is the Happiest Valentine's Day of my life. York, Daddy, and I send you so much love."
Tyra and Erik, the couple was thought to make their relationship a long time deal, but not all good things last all along. And the pair's split was totally a shocking news for their fans.
Tyra and Erik, who started dating since 2013, dated four years and also shared parenthood to a child, got separate ways in October 2017. People confirmed the news of their break up.
Let's wish them happy life ahead.
For updates, be in touch with Frostsnow.com