Tyler Garcia Posey who is known for his role in MTV TV series Teen Wolf is an American who has established himself as a renowned actor in the industry. Posey who debuted with Men of Honor came into limelight after he portrayed the role of Jennifer Lopez's son in Maid in Manhattan.
Teen Choice Awards winner, Tyler's charm has always had him girls hovering around. Well, the actor who was in a romantic relationship with Famous In Love's star Annabella Avery Thorne or let's say, Bella Thorne has yet again found love in a different person. The actor who was recently seen getting intimate with mystery women has given rise to question if they have separated. Besides, Bella was also spotted in public getting physical which is also adding to the evidence to the couples degrading relationship.
Well, if you want to know what actually is the scene, come join us.
Read More: Bella Thorne openly bisexual, wishes Kristen Stewart to be her first girl date
Tyler And His Girlfriend Bella Thorne
The first kisser of Miley Cyrus, Tyler started hanging out with Bella in September of 2016. A close source to the actor said:
"Bella really likes Tyler. It's new, but she hopes it will get to a more serious point. She loves being in a relationship and dating one guy at a time; she is really excited about him."
The lovebirds were spotted in many places getting close with each other and were also seen in West Hollywood spending their time together.
Also Read: Kendall Jenner is secretly dating Scott Disick, Know about her affairs and relationship
The couple made their relationship official on Instagram, snap chat, and Twitter as they uploaded the picture of themselves together.
Bella Thorne's tweet,
Tyler replies back on Bella's tweet,
Tyler and Bella were previously rumored to be dating each other back in 2015 however, subsequently, after that, the news regarding Bella dating the best friend of Tyler, Gregg Sulkin started surfacing the internet.
Also Read: Kourtney Kardashian Ex "Sex Addict" Scott Disick Spends A Night With Bella Thorne, Dinner Date
Instagram: Bella uploads picture with Tyler
Well, following Bella and Gregg break-up, Bella and Tyler was again spotted together in the public. See the picture.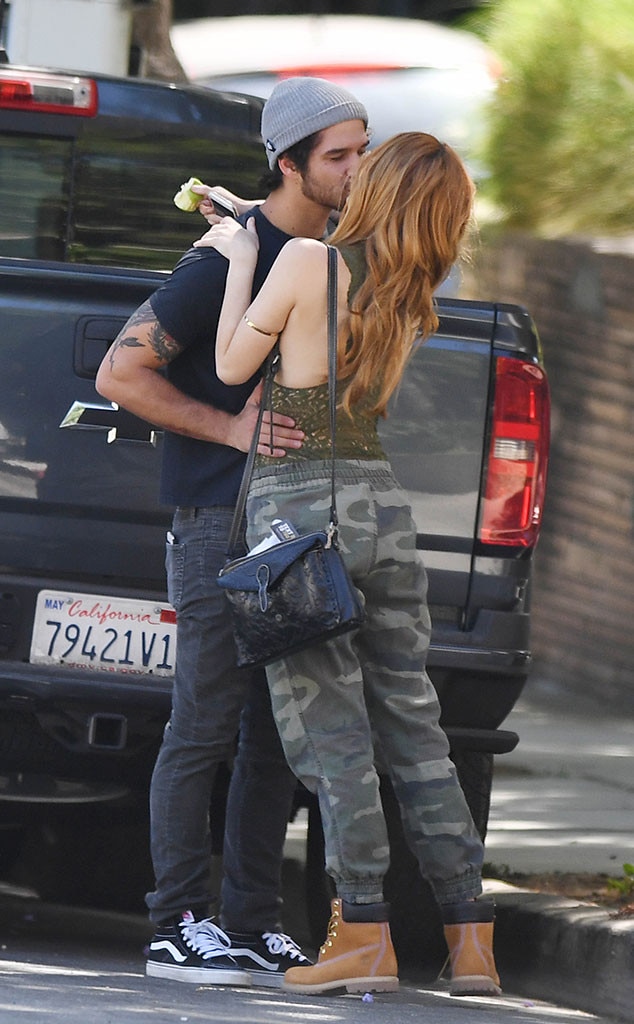 Tyler Posey with his ex-girlfriend Bella Thorne
Source: E Online
Tyler and Bella Break up
Tyler and Bella seemed very happy together but, like their past relationship, even this one did not end well. Following their break-up rumors, Bella tweeted addressing their break up with Tyler . However, she refused all the breakup comments. See what she said:
Bella Thorne tweets about her relationship with Tyler Posey
Source: Daily Mail
Although Bella addressed to be happy in their relationship, they finally broke up on 8th Dec 2016. Later, Bella's infidelity was speculated to be the reason behind the couple's separation.
Also Read: How old is Kourtney Kardashian and Scott Disick's daughter Penelope Scotland Disick? Her latest info
Video: Bella Thorne & Tyler Posey Split? #TylerEndedBellaParty Trends
Tyler is supposedly single right now, however, Bella was lately seen getting intimate with Scott Disick during her trip to Cannes.
We wish both of them Best Of Luck for their future.