Washington post's columnist and celebrity journalist, Charles Krauthammer recently wrote an impressive piece of article on President's recent visit to Middle Eastern countries. Here is the short summary of his impressive article.
The impractical American pursuit of Middle East peace is a perpetual. In every case, it fails, yet every administration feels compelled to give it a try. The Trump administration is no different.
Find out: Charles Krauthammer romantic love life with Robyn Krauthammer. How much is Charles net worth?
To be sure, no great harm has yet, come from President Trump's enthusiasm for what would be "the ultimate deal." It will, however, divert from remarkable progress being made elsewhere in the Middle East.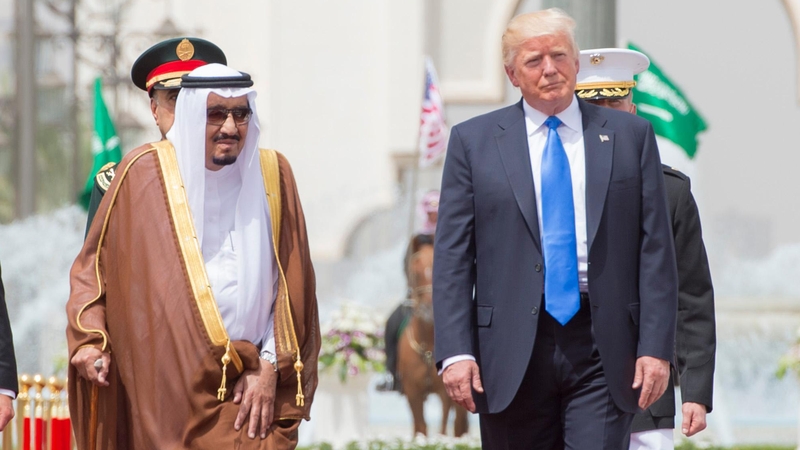 Donald Trump and Saudi king Salman bin Abdulaziz al-Saud
That progress began with Trump's trip to Saudi Arabia — an unmistakable declaration of a radical reorientation of U.S. policy in the region. The appeasement of Iran is over.
Donald Trump's first foreign tour as President of United States had begun in Saudi Arabia on May 21, 2017, which embarked the beginning of peace in the Middle East.
The purpose of the trip was to promote ties between the United States and the Arab world, as Trump was seeking support in ramping up the war against the Islamic State.
During the visit, Trump met with an array of Arab leaders, gave a speech on the threat of Islamic extremism and secured over $450 million in investment for military weapons.
Trump also participated in the opening of the Global Centre for Combating Extremist Ideology, which aims to promote moderation and counter the spread of extremism across the Arab world.
In a speech intended to galvanize Arab and Muslim leaders against threats from extremists and Iran, Trump said, "One goal transcends every other consideration, we pray this special gathering may someday be remembered as the beginning of peace in the Middle East."
Well, It may come one day. But not now. Which is why making the Israel-Palestinian issue central, rather than peripheral, to the epic Sunni-Shiite war shaking the Middle East today is a serious tactical mistake. It subjects any now-possible reconciliation between Israel and the Arab states to a Palestinian veto.
Ironically, the Iranian threat that grew under Obama offers a unique opportunity for U.S.-Arab and even Israeli-Arab cooperation. Over time, such cooperation could gradually acclimate Arab peoples to a nonbelligerent stance toward Israel. Which might in turn help persuade the Palestinians to make some concessions before their fellow Arabs finally tire of the Palestinians' century of rejectionism.
Perhaps that will require a peace process of sorts. No great harm, as long as we remember that any such Israeli-Palestinian talks are for show — until conditions are one day ripe for peace.
In the meantime, the real action is on the anti-Iranian and anti-terror fronts. Don't let Oslo-like mirages get in the way.
— Charles Krauthammer is a columnist with Washington Post Writers Group.