Seems like President Trump's twitchy fingers have found a new target: TV personality Oprah Winfrey.
According to HuffPost, President Trump took umbrage at the 60 Minutes show aired Sunday night which had Winfrey speaking to voters in Michigan voters about their political concerns.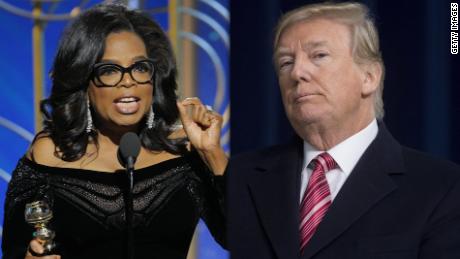 Donald Trump calls Oprah Winfrey 'insecure' on Twitter
Source: CNN
Many had earlier expected Winfrey to bid for the presidential post in 2020. Although Winfrey has dismissed all the speculations regarding the 2020 presidential bid, Trump said in his tweet that he wanted Oprah to run so that she could be "exposed and defeated."
Although Trump has spoken positively about Winfrey in the past, Oprah has presented herself as a vocal critic of the current American president many times, including at the 2018 Golden Globes.
Watch Oprah Winfrey's 2018 Golden Globes speech.
Musician Seal had earlier posted a criticism of Oprah soon after her inspiring speech at the 2018 Golden Globes. Trump, who is currently in Florida after the Parkland school shooting, called the billionaire "very insecure."
Scroll down to see some responses on Twitter following Trump's statement.