Troy Aumua Polamalu, a.k.a. Troy Polamalu is a former NFL football player based in the United States. The player is of Samoan descent and played for Pittsburgh Steelers during his entire 12 years NFL career. He joined the Steelers during the first round of 2003 NFL Draft. Moreover, in 2010, he became the NFL Defensive Player of the Year.
Born on 19th April 1981, the 36-year-old initially played for University of Southern California during his college years. He is one of the most well-known players in NFL. He announced his retirement on 10th April 2015. According to reports, the player was all set to play the season, but he was forced to retire by the Steelers. Looking at his statistics, throughout his NFL career of 12 years, he had 770 tackles, three touchdowns, and 32 interceptions.
Here we are going to talk about the player's personal life, his wife, and his children.
Troy Polamalu's marriage to wife Theodora Holmes. Know more about their children
Troy, who has an estimated net worth of $30 million is currently married to American woman Theodora Holmes. She is best known as the sister of NFL player Alex Holmes. The pair got married in January 2005.
Troy Polamalu with wife Theodora Polamalu
Source: Baller Wives
Together, the pair has two lovely children, Their first son Paisios Polamalu was born on 31st October 2008 followed by their second child Ephraim Polamalu on 16th September 2010. They are still together and have a very strong bond. They are married for the past 12 years. But the details about when the couple started dating is not specified.
Moreover, Troy can be seen sharing pictures of his wife and children time and again on his official Instagram page.
Troy Polamalu past relationships
Troy Polamalu is best recognized for his signature hair which was insured by Lloyd's of London in August 2010 for a million dollars.
Watch Troy on Head & Shoulders commercial
Ther are no records of past relationships and affairs of the NFL player, There are no records of him being in a relationship with any woman before getting married to his wife.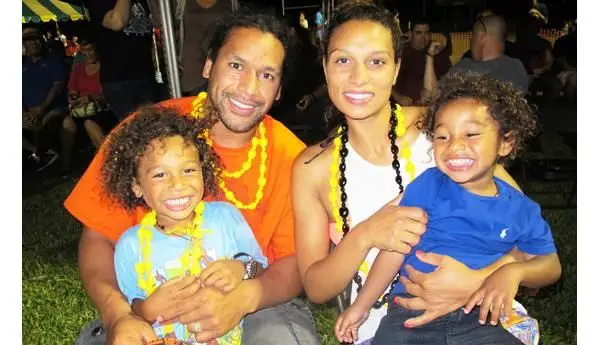 Troy Polamalu with family
Source: Liverampup
Similarly, Theodora also has no records of past affairs except her marriage to the player.
Well, we wish their relationship lasts for ever.