Guidebook author and travel TV host, Rick Steves, is America's most respected authority on European travel. Steves has written a number of books addressing various travels and adventures of his own. He has also written books about media deals and has also penned a guidebook on traveling in Italy. All his books are hugely famous all around the world and have sold thousands of copies all over.
Now this travel guru's son Andrew Steves is on his way to follow his father's footsteps, or even forego him in some matters. Andrew's first book, Andy Steves' Europe: City-Hopping on a Budget, comprises all the tips and tried and itineraries developed for budget backpackers on the classic circuit through Europe. According to Steves, his book picks up where crowdsourcing leaves off, covering the flashpacker skills you need for spur-of-the-moment trips to Europe's top destinations.
Being born into a traveling family, Andy cut his teeth in this passion of his dad's from day one. Heading to Europe each year while his father updated his guidebooks, made TV shows and researched new tours, he came to learn about the industry himself. His father's passion for travel, in-depth cultural experiences and efficient, affordable travel rubbed off on Andy during these family trips each year.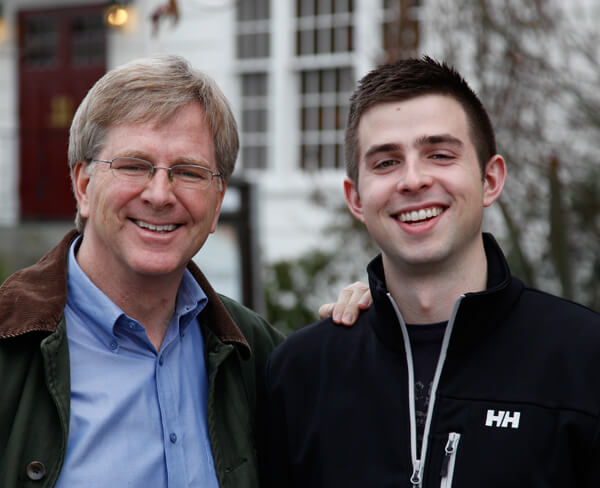 A semester abroad during his undergrad at the University of Notre Dame in Rome opened a whole new vista for Andy. He was fascinated by the world of independent, budget travel and this is when the need for the next generation of travel tips and tricks became clear to him. He then pursued his own entrepreneur venture. At this young age, Andy has already founded Weekend Student Adventures, an organization to give a "unique opportunity for students to fully immerse in the cities they visit by experiencing cultures as a local, rather than merely observing them."
He had won ND's annual business plan competition with this idea for a student tour company. Andy launched WSA in 2010. He now runs award-winning trips, itineraries and travel workshops all across Europe.
This talented and adventurous young man is sure to chase his father's fame. Rick Steves has an estimated net worth of $10 million and it seems it won't be long before Andy reaches to that point.
Though Andy was brought up in a loving family environment, this relationship didn't last long. Rick and his wife broke up their affair in 2010 after being married for more than three decades.