How much you've heard about the Hollywood couples getting along together for 29 long years? Well, you barely get to hear about it right? Tom Hanks and Rita Wilson are one of those couples, who loves to fall in love whether for good times or bad.
Their enduring romance has dazzled the world and they are definitely the couples to look out for!
Tom Hanks reveals the secret to his happy marriage with Rita Wilson
What is the secret behind their amazing long-lasting love? The answer is simple - Honesty!
Hanks mentioned in the interview that they have been able to figure out the secret of happiness with each other by always telling each other the truth.
The couple on the set of the 1993 film, Sleepless in Seattle
Source: TODAY
The couple who first met in the 80s, their love has always grown stronger than before. Tom stated that marrying Rita felt like 'winning the lottery'. On the Ellen Degeneres in 2013, Tom complimented about his wife saying, "I view my wife as my lover, and we have a bond that goes beyond words like wife or girlfriend or mother."
Tom reveals he fell for his wife when he watched her on The Brady Bunch
The greatest love story often begins with the love at first sight. The same case goes through Tom and Rita's love story where Tom mentioned that he fell for his wife from the first time he laid his eyes on her.
Tom and Rita with smiles
Source: msn
Sleepless in Seattle stars, Tom and Rita's story sparkled when Tom had a crush on her for the first time on TV in the 1970s at the premiere of My Big Fat Greek Wedding 2 in New York. Then he became romantically entangled with Rita many years after in 1985.
Tom Hanks and Rita Wilson at their wedding reception in Los Angeles, California
Source: TODAY
They then ended up getting married the following year on April 30, 1988, which seemed pretty soon but for them, their love was just so crystal clear! They have now a beautiful family with two sons; Chet 25 and Truman 20.
Tom's wife Rita says cancer diagnosis brought them closer together
The actress, Rita had a breast cancer and a double mastectomy after being diagnosed and went through her miserable times. But her husband supported her throughout her disease and she felt blessed to have her husband by her side.
Runaway Bride actress, Rita while interrogated by the New York Times, said that her cancer diagnosis has brought them together even closer than ever.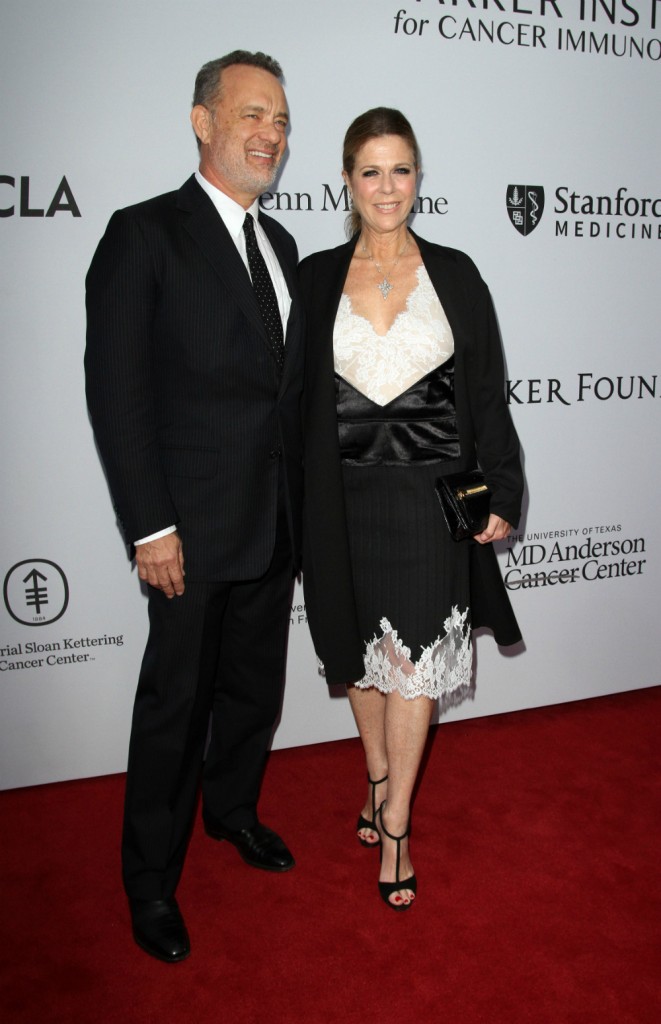 Tom attending the Cancer hospital event with his wife
Source: celebitchy
Rita added she was blown away by the way her husband cared for her. She never thought the support from Tom will be to that level. It looks like Tom has set an example towards all stereotypical fans showing them how to take care your loved ones.
Rita with his husband Tom on the Award program
Source: Pinterest
Oscar winner, Hanks first met Rita on the set of US television show Bosom Buddies from where their romance sparked like a wildfire. They now live blissfully with their sons in their New York and Los-Angeles based homes.