Kyle Chrisley is an American former reality television star and is well known as the eldest son of reality television star Todd Chrisley. Kyle's mother is Teresa Terry. He is best known for his appearances throughout the first season of reality television show Chrisley Knows Best, which centers around the wealthy and prosperous "Chrisley family." The series is now in its 6th season and recently, in 2018, the new season of the show was also announced.
Despite the wealth and prosperity of his family and their regular appearances on the family TV show, 27-year-old Kyle has been through a lot of trouble and has gotten his family into trouble as well.
Today we are going to talk about the troubled life of Kyle, his children, and married life.
Kyle Chrisley's Daughter and Former Girlfriend
Kyle was previously in a relationship with Angela Victoria Johnson. With her, he had his first child, daughter, Chloe Chrisley, who is now six years old.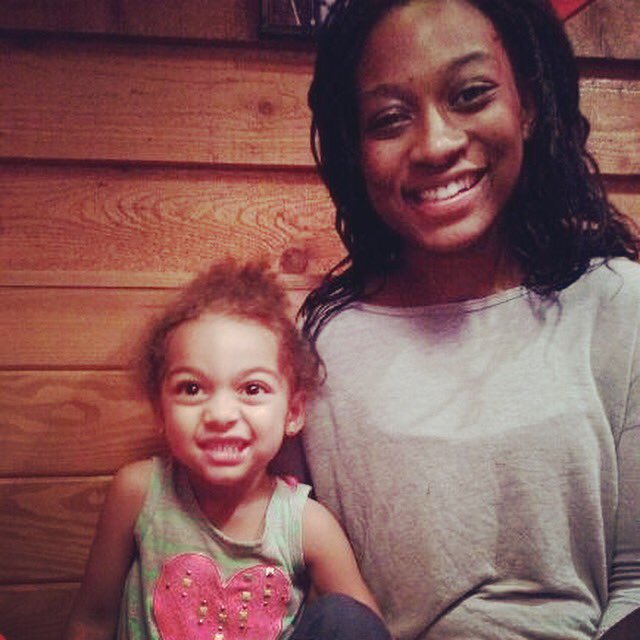 CAPTION: Kyle Chrisley's former girlfriend Angela Victoria Johnson and daughter Chloe Chrisley SOURCE: Twitter
Even though the starting of their relationship was quite good, it went downhill because of Kyle's drug addiction problem and bipolarity. Bipolar disorder has always been one of Kyle's biggest problems from a young age, and although he tried to cure it himself, he had no positive results.
Moreover, because of the bipolarity, his relationship with his father and other family members has not been very good.
As claimed by Angela, Kyle was very abusive throughout the relationship, and he even threatened to stab her when she was pregnant. Once he even threw a bottle that ended up hitting his little daughter.
The two later separated and because both of them had issues, Kyle's father Todd was given the custody of little Chloe. He certainly loved his granddaughter, which can be seen on his Instagram page. He tried as hard as he could not let Kyle come near her.
However, in 2013, Kyle was granted visitation rights and support duties of Chloe after filing a suit against his ex-girlfriend. Meanwhile, Todd still has the custody of young Chole and is taking care of her.
ALSO SEE: Todd Chrisley Reveal His Honest Opinions on Daughter Savannah's Relationship with New Boyfriend
Who is Kyle Chrisley married to?
Kyle is currently married to his wife, Alexus Chrisley. The duo also bought a new dream house in Georgia, and they are all set to start a new family.
CAPTION: Kyle Chrisley with his now-wife Lexi SOURCE: Daily Mail
Kyle and Alexus Chrisley got married in 2014 in a private wedding ceremony. Since then, the pair is living around five years long married life with no rumors of divorce and separation issues. They are often dragged on headlines for inter-racial marriage.
SEE MORE: Todd Chrisley's Wife Julie Chrisley's Financial Status: Details on Her Net Worth, Salary, and Career
Kyle Chrisley' Current Updates; He is Sober Now
Recently, Kyle talked openly about his drug addiction. Kyle Chrisley revealed on 6th July 2017, in an exclusive interview with RadarOnline, that he was hooked on drugs but had given it up and been sober and clean for the last four years. He also said that he was finally ready to move on from his past and start his new life.
Meanwhile, he has also reportedly sorted out all issues with his family. He said during the interview that he could not talk with his family anytime soon but still wished them his very best for their future.
YOU MAY BE INTERESTED: Todd Chrisley's wife Julie Chrisley, How's Their Marital Relationship? Also, Know Their Children