It won't be wrong to say Theresa May and Frida Kahlo occupies opposing ideological positions. Theresa May is the leader of the Conservative Party while Kahlo was a fervent communist.
But this stark political dissonance could not the British Prime Minister from choosing to wear a massive Frida Kahlo decorated bracelet to her crucial Conservative Party conference speech on Wednesday, October 4.
Here's the video.
Nevertheless, viewers were quick to point out the irony in Theresa supporting the late Mexican painter who had an affair with the Soviet politician and Marxist revolutionary Leon Trotsky.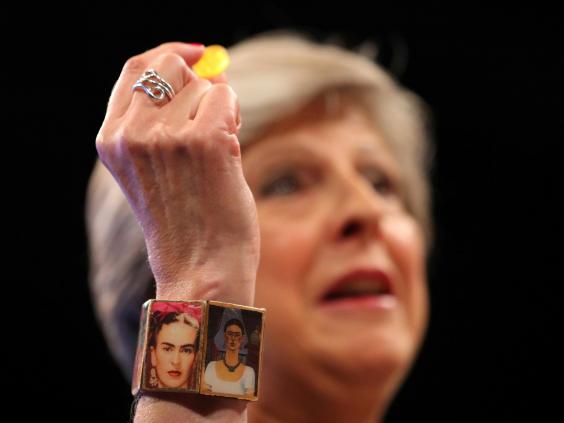 Theresa May Attacked for wearing bracelet Decorated with Mexican painter Frida Kahlo
Source: independent
Critics on social media argued the artist, who used her work to explore questions of postcolonialism, class, gender, and race in Mexican society, would definitely have spurned the British PM if she was alive.
Others joked that Theresa drawn-out bout of coughing, that forced the world leader to apologize after losing her voice, was the result of her Frida Kahlo bracelet.