The gorgeous Erica Rose who rose to fame with "The Bachelor" has a lot to celebrate recently and the reality star is really busy dealing her personal life. While Erica was focused on celebrating her daughter's first birthday on Sunday, September 24, she got an unexpected proposal from her high school friend, Charles Sanders.
Charles got on his knees and proposed her and Erica said "yes". The couple is now engaged. The TV star's fans are really excited with the news of her engagement and her Instagram is filled with wishes.
Find more about the couple's engagement here in Frostsnow.
Erica Rose is now Engaged: Find more about Erica's Engagement with Charles Sanders
"The Bachelor" contestant since 2006 was "over the moon", during her daughter, Holland's first birthday. In addition, she witnessed a big surprise when her high school friend Charles proposed her at the Houston Zoo on Sunday.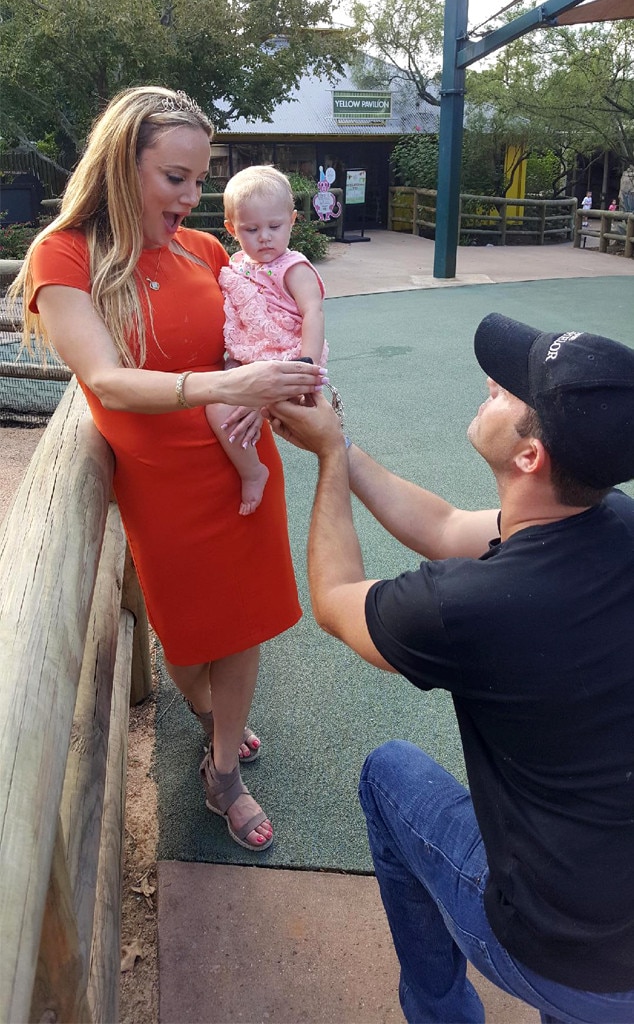 Charles Sanders proposed Erica Rose while she was celebrating Holland's first birthday at Houston Zoo on Sunday
Source: E! News
While her high school friend got on his knees and asked her to marry him with a pear-shaped diamond ring on his hand, Rose said "yes" in front of her daughter, family members and few friends who were at the celebration of Hollan's first birthday.
The reality star shared her happiness with E! News. On the same day, she stated to the E! News,
We got engaged today at the zoo at my daughters first birthday! Charles proposed in front of all our friends and family asked Holland's permission. He didn't want to take attention away from Holland but wanted all of our family and friends to be there so he took me outside and did it, and then we came back in and did her birthday cake and put a baby diamond ring on there for her.
Erica further added,
He is so amazing with Holland and it meant so much to me that he asked her permission to marry me too and presented her with her own tiny diamond ring.
A day after the proposal on Monday, September 25, Erica shared a snap of the couple with her child via her Instagram with the caption,
"@hollandrosegentry and I said yes!!. So happy to be engaged to the man of my dreams who is so kind to the baby of my dreams. #engaged#fiancè #bridetobe #Cherica" along with few emojis of rings.
Really, Charles is a kind heart. Charles who isn't Holland's biological father seems to be very much in love with the child.
So, who is Holland's father, find it out below.
Erica Rose and her Daughter Holland: Know about Holland's Father?
Erica welcomed her daughter Holland in September 2016 with her fiancee Galen Gentry, who no longer is together with the mother and his child. Erica and Glen started dating each other in early 2016.
Erica was really happy that the couple was going to have a baby few months after their relationship. She shared her happiness with Daily Mail,
We were trying, but I didn't expect it to happen so soon,' the beautiful blonde gushed. 'It's something that I've always wanted and feel ready for, so we can't wait.

Erica Rose gave birth to her daughter, Holland in September 2016
Source: Entertainment Tonight
A source revealed to the PEOPLE in February 2017 that Rose was expecting her first child with ex-fiancee Galen. Erica who appeared in "The Bacher" in 2006 was very much excited about the coming of the baby. The source stated that,
She is super excited about the baby.
The source further added,
She's so happy to have found a good guy (Galen) to share this journey with her.
Erica and her ex-fiancee Galen with their child Holland Rose
Source: Pinterest
However, her happiness didn't last long as the couple broke up after few months to Holland's birth. The couple hasn't revealed the reason for their separation.
Now she has found a perfect partner for herself and a caring daddy to her child.
We congratulate the couple on their engagement.
For more updates keep on visiting Frostsnow.