An American actress, producer, and entrepreneur is now a fashionista. She launched her new summer collection based on Southern-inspired brand named Draper James, which she started in 2015. Her collab contains feminine looks that all girls adore.
She is none other than Reese Witherspoon. You should recognize her from her hit movies like Walk The Line from which she achieved a BAFTA Award, Academy Award, Golden Globe Award, and even Oscar Award. She is also best known for the film Wild and TV series Big Little Lies.
Reese's collaborated her new collection with Net-a-Porter recently in 2017 with outfits showcasing gingham dress vibe, off-shoulder tops, a printed romper and much more.
Aren't you all curious to look at her collections? Let's see girls!
Reese Witherspoon's Draper James Launches an Exclusive Capsule Collection at Net-a-Porter
The 39-year-old Reese's brand is considered as the best street style this summer. Pieces of her collection are not only fresh and stylish, but they are also highly reasonable. Although if you try to buy stuff from head to toe, it might cost you a little heavy.
Reese Witherspoon launched her collection collaborating with Net-A-Porter in summer 2016
Source: People Style
We see her now and often all pretty and lovely on the street of Los Angeles. It's all because she is wearing Draper James, her brand. She is completely flaunting and also advertising her collection. Well, why shouldn't she? If they are so damn good looking, it never harms anybody.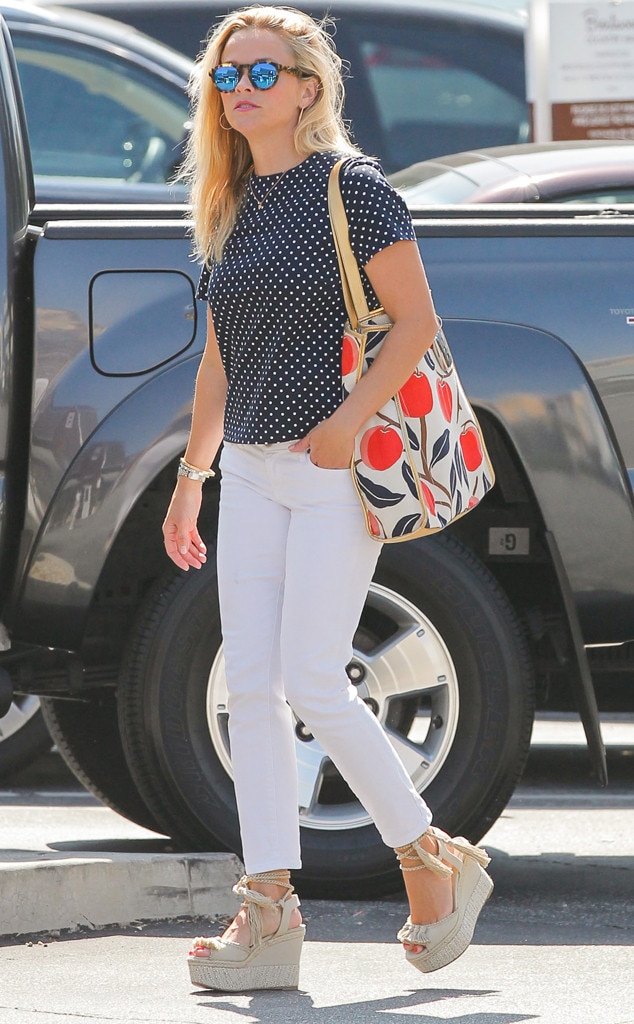 Reese Witherspoon and her famous brand collection Draper James
Source: E! News
Here she is wearing her collection. Reese is sporting her polka dots black and white blouse which comes in $145 and her crispy white jeans in $175.
We can see her nude wedges complimented by cute laces though they are not a budget-friendly shoe. It rings in at a hefty price $375. Her Draper James tote bag surely is adding a pop of color to her ensemble and costs $165.
Sky blue sunglasses, Reese's shades on the picture, are already worn by stars like Beyoncé, Cara Delevingne, and Vanessa Hudgens. These Ilesteva Leonard mirrored sunnies comes at $177.
Reese Witherspoon's Draper James store
Source: Draper James
Now let's have a peek at her fashion stuff in detail!
1. Clothing
Reese Witherspoon emphasizing on floral print dress on her new summer collection
Source: Draper James
The Nashville native Reese is definitely going for the Southern girl taste as they (southern girls) have affection with flowers. S,o here she is with Draper James floral printed top and bottom with simple, classic white sandals.
Also Read: Lemonade singer Beyonce graces the red carpet at 2016 Met Gala without her husband Jay Z
Reese Witherspoon in her Draper James bag, t-shirt, and sunnies
Source: Draper James
Another thing Southern girls adore, Cherry! Reese's brand showcasing lovely look definitely needs a cherry on top. Her top has a cherry plum. Not the real one though! Her outfit is paired with the cherry color Draper James sleek bag. Cherry, Cherry, everywhere.
Also Read: Does Cara Delevingne have a Boyfriend? Find out Relationship and Dating Rumours
Classy Reese is making us want to wear floral pants all summer. It looks fresh and vibrant, and any tops can go with it. Our time is largely saved when we don't have to think about what to wear on top which matches with pants right? Thanks, girl!
Reese Witherspoon in floral print pants made by her own brand Draper James
Source: Draper James
Now here's a classy white pair!
2. Classy and Vibrant shoes
Not only on her dresses, but she also plays with colors on her shoes too. Every outfit needs a little bit of drama or color if you want to make an interesting look.
Reese Witherspoon flaunting her Draper James shades, dress and shoes
Source: Draper James
You see a color yellow and you step back a little bit. But, if you pair it with a simple white dress, it makes a total sense! In the same way, Reese is looking all pretty and fresh in a getup shown in the picture above.
Reese Witherspoon in a Draper James Jack Roger shoes
Source: Draper James
This is Draper James Jack Roger Shoes. Don't it look so comfy and cute? It's perfect for your sunny day when you are out with your girlfriends.
Reese Witherspoon's Floral and Valentino "Rockstud" Pumps by Draper James
Source: Draper James
Here it is Reese's rocking Floral and Valentino "Rockstud" Pumps. It definitely is one of the unique collection she has.
3. Bags
Another most important and 'can never be forgotten item' of girls, Bags! Yes, Witherspoon has also favored girls making handy bags and not to mention a stylish one.
Reese Witherspoon showcasing her basket bag by Draper James
Source: Draper James
You can see a basket bag carried by gorgeous Reese in a picture. A basket was used by women in the old times where they would carry them to fetch vegetables, fruits, and other food items. Now we can see a basket bag in a completely modified and cool version becoming a modern basket bag.
Reese Witherspoon in her new summer collection with white mini dress, basket bag, and red sandals
Source: Draper James
A tisket, a tasket, y'all need a basket!
Looking at this bag, it looks like you can carry your baby in it or even your puppy. Right? Well, it is one bag that comes in handy during an emergency when you want all of your important stuff with you. Reese's tote bag looks stylish too.
4. Accessories
Accessories are valuable assets for girls. They are girl's weapons and time and often need to carry accessories with them. So, understanding this fact Reese has also created some excellent accessories for girls.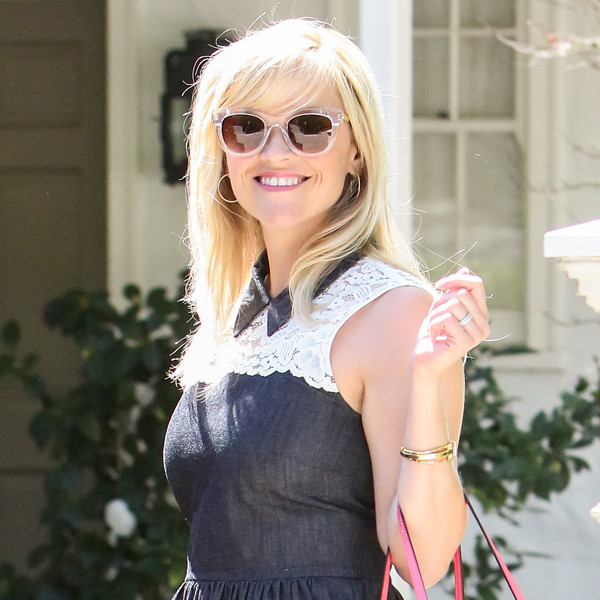 Reese Witherspoon with her Draper James shades
Source: Draper James
For the summer, she has launched these cool and playful shades. Reese can never go out without her sunnies, and so she suggests for everyone.
Reese Witherspoon with Draper James tote bag, t-shirt, summer hat, and sunnies and locket as accessories
Source: Draper James
Have a peek at her Draper James summer hat which is perfect for a beach and also her locket; simple yet cool.
Reese Witherspoon with her Draper James collection
Source: Draper James
Here's the clip of Reese's Southern-focused clothing company Draper James and how she interprets opening a store following her tradition.
Congratulations, girl on your flourishing brand business. And hope girls could get much help from her Draper James items in their fashion styles.