Daisy Fuentes is a Cuban-American television host, comedian, and model. 51-year-old Daisy is married twice in her life and is famed for her failed relationship with her former husband actor Timothy Adams.
Currently, Daisy is living happily with her second husband Richard Marx. Likewise, it was Marx's second marriage as well. Let's find out more about the couple's gorgeous wedding, relationship, and past affairs. Stick tight!
Daisy Fuentes and Richard Marx's Relationship: Their Marriage
Fuentes and Marx began dating in 2014. Later, they decided to turn their affair into a beautiful marriage. Marx also starred Daisy on his single, 'Beautiful Goodbye' in 2014.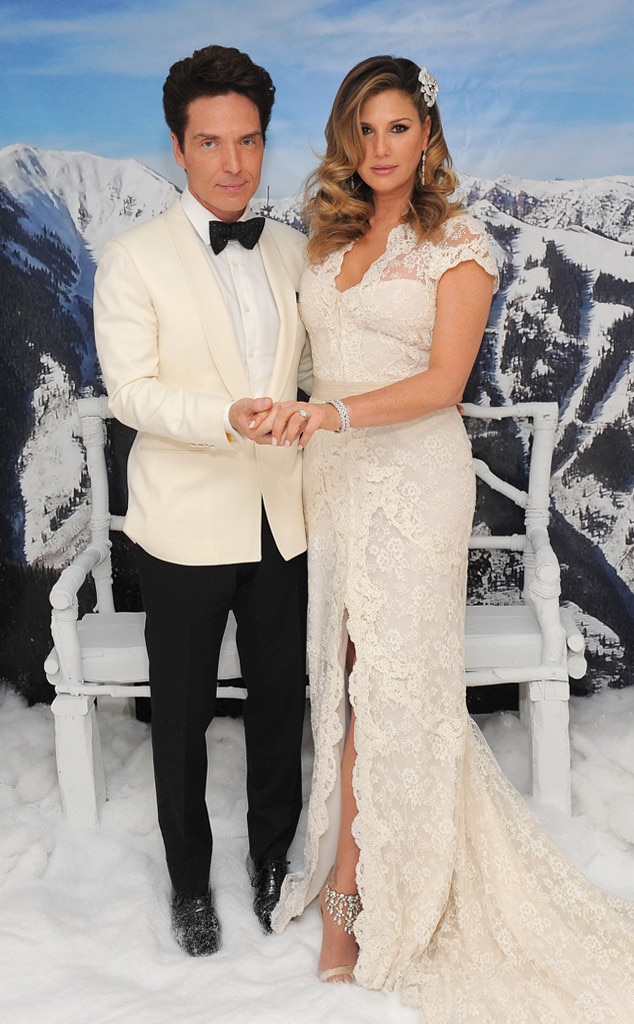 Fuentes and Marx tied the knot on 23rd December 2014 in Aspen. Well, the reception was held later among their friends and family at The London Hotel in Los Angeles.
Despite the fact that they had already exchanged the vows, the pair was dressed like they were getting married at the exact moment. All of the guests wore the Aspen outfits except the bride who was dressed in a traditional wedding dress. Similarly, Marx also looked great in a white tuxedo.
Source: E! Online
One of the guests Karent Sierra told E! News that the reception was really gorgeous. She said: "This was a reception for everyone. They wanted us to feel like we were right back in Aspen with them, so it had a Winter Wonderland theme. There were lots of music and dancing. It was a magical night"

We agree with Sierra's opinion. Fuentes and Marx's reception looked really magical. It was all decorated with winter accessories such as a snowmaking machine.
Another eyewitness said: "There were romantic touches throughout—the couple played a loop of their Aspen nuptials on a big screen in the London Penthouse's Media Room. They also had framed pictures of their wedding day on bookshelves in the suite."
Even after nearly 3 years of marriage, the couple free from divorce rumors is yet to share children, probably the happy news will be out soon.
Now, let's take a look at flashback.
Richard Marx was married in the past
Talking about Marx's past relationship, he was previously married to Cynthia Rhodes. They got divorced in 2014 after 25 years of togetherness as a husband and wife.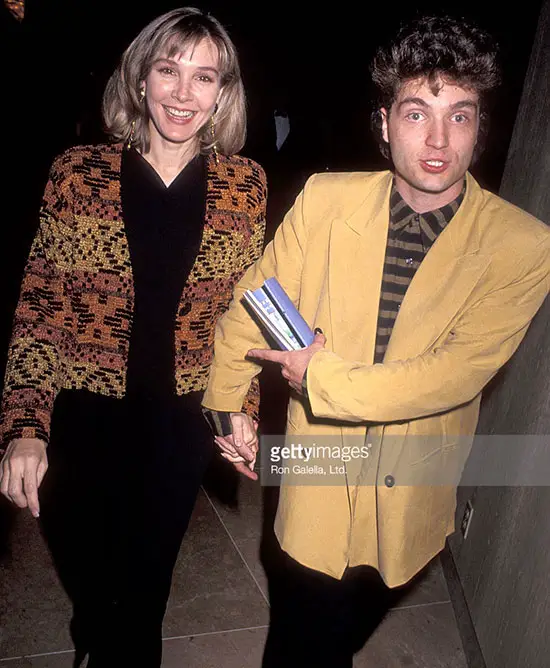 Image: Richard Marx and Cynthia Rhodes
Source: Getty Images
Well, the reason for their divorce was never disclosed.
Daisy Fuentes's relationship with Ex-Husband Timothy Adams
Similarly, it's not Fuentes' first marriage as well. She was previously married to Timothy Adams. She tied the knot with Adams in 1991.
However, the broke up in a quite divorce in 1995. After her divorce, she also dated Luis Miguel in 1995, before dissolving their relationship in 1998.
Image: Daisy Fuentes and Timothy Adams
Fuentes was also engaged to Matt Goss in 2001. However, their story didn't go beyond that as they never got married.
Also Read: Is Rebecca Ferguson currently Dating Matt Goss?
As for Daisy's ex-husband Timothy Adams, he has not married since after his divorce. But, Adams was dating Sherri Saum for 6 years from 1997 to 2003. Currently, as of 2018, he is alleged to be single.
Nevertheless, everything that happens, it happens for good, we wish them best for further.
Stay in touch for updates!