Teen Wolf star Colton Haynes is officially off the market. This might appear as a sad news to all the ladies out there who don't have any idea about Haynes' sexual preference. Well, Haynes is actually gay and he recently said 'YES' to his boyfriend Jeff Leatham.
Leatham and Haynes' love affair is pretty amazing. Just a few months after being engaged, Colton Haynes proposed back to his beau in his own way. Let's get the details:
Colton Haynes engaged to boyfriend Jeff Leatham
Haynes took to Instagram in March to reveal that he got engaged to his lover Jeff Leatham. He posted a very cute photo where the couple was seen kissing each other just beneath magnificent fireworks.
He captioned the photo: "I SAID YES!!!" That was followed by the cute ring emoji that you might have or wish to own someday.
Colton Haynes with fiance Jeff Leatham
Source: ET online
ET online reported that Leatham popped the big question at Las Ventanas al Paraiso located in Cabo San Lucas, Mexico. Leatham first presented a video message which was accompanied by the pair's favorite song "I Got You Babe". It also consisted of messages and blessing from their friends and family.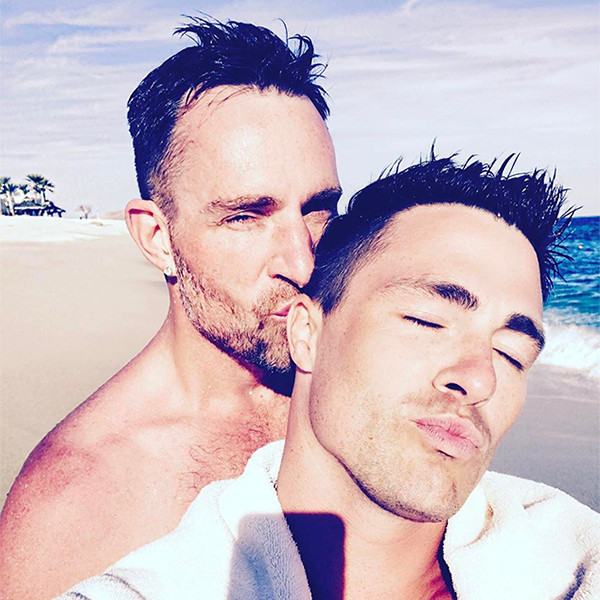 Colton Haynes with fiance Jeff Leatham
Source: E online
Hynes couldn't hold his happiness but explain that he is so blessed and happy for the future and his life together with Jeff.
Colton Haynes proposed back to fiance Jeff Leatham
When Leatham proposed his boyfriend in such a touchy way, Hynes could barely stay without proposing him back. On the last week of May, Hynes asked Leatham to marry him with his own engagement ring along with a champagne!
Leatham also revealed the happy news on his Instagram as he wrote:
"I SAID YES !!! Not a bad day when you find YOUR engagement ring in a glass of vintage #domperignon and of course with Cher's "I Got You Babe" playing in the background – I Love YOU @coltonlhaynes – Now we are both engaged baby!!! Let's get married – I Love you – Love You – Love You"
Watch E! News report - Colton Haynes and Jeff Leatham Are Engaged:
We couldn't just disagree with the fact that the lovey-dovey pair looked super happy with each other. The "double engaged' couple look like they are crazily in love with each other. Considering their chemistry and craziness we assume that they will never split.
For now, all we can do is wait for the pair's wedding which might happen anytime soon despite the fact that the couple hasn't shared any marriage plans.