Getting married may be simple but staying in the marriage is not as simple as it looks. It needs a real courage to sacrifice and compromise, which is most needed, in order to create a happy marital relationship.
In some cases, things don't work out for the couple and they opt for a divorce. When things get out of control and you feel you are not with the person with whom you can spend rest of your life then end of the relationship is a near future.
Today we are going to talk about the similar American personality Steve Harvey who has not one, but two unsuccessful marriages. After two divorces with his wives namely Marcia Harvey and Mary Lee Harvey, Steve is living a happy married life with his third wife Marjorie Bridges-Woods.
Let's dig in to know about her personal life. Just stay with us.
Must Read - With the net worth of more than $100 million and high salary, Steve Harvey one of richest Television celebs
Steve Harvey's Married Life With His Ex-Wives Marcia Harvey And Mary Lee Harvey: Happily Married To Third Wife Marjorie Bridges
Steve Harvey first married Marcia Harvey. They got married in 1980 but their relationship didn't last forever and after 14 years of their marriage, they got divorced. No much information about his first wife is mentioned.
After a couple of years of his divorce with Marcia, the now 60-year-old actor as well as a stand-up comedian, Steve Harvey tied the knot with his second wife Mary Lee Harvey. Their wedding ceremony was conducted in 1996 in front of over 200 guests including some renowned Hollywood celebrities.
Former husband and wife Steve Harvey and Mary Lee Harvey
Source: nydailynews
Steve and Mary first met back in January 1989 while he was in Arlington, Texas for a comedy show. They eventually fell in love and after dating for seven full years, they married.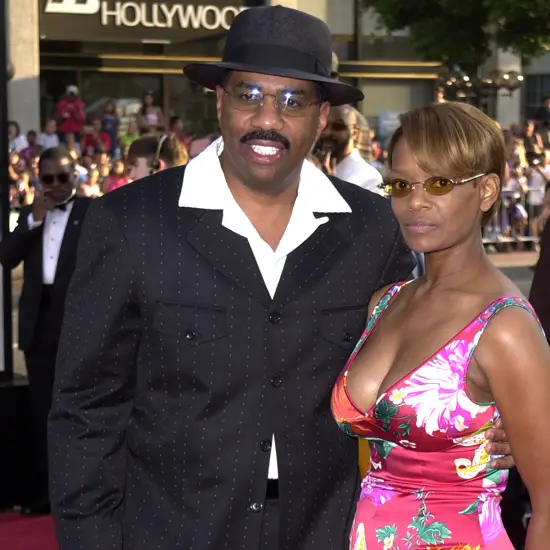 Steve Harvey with his second wife Mary Lee Harvey
Source: Pinterest
Within a year of their marriage, the couple welcomed their first child: a baby son in 1997 and they named him Wynton. Besides, Steve also has four children (including twin daughters) all from his first marriage.
Happy family: Actor Steve Harvey with his children
Source: blackcelebritykids
Everything was going perfectly but, unfortunately, their marital relationship later ended in a divorce. The divorce papers of the 17-year long relationship were finalized in 2005. Because of the contract in assets, Steve had to follow some legal process. Mary Lee was given three of Harvey's homes and $40000 amount per month until 2009.
Steve Harvey with his ex-wife Mary Lee Harvey
Source: cdnize
The exact reason why they broke down their marriage is not disclosed yet, however, Steve reportedly was in an extramarital affair at that time that ultimately became the reason behind their separation. After the finalization of the divorce, the custody of Wynton was given to his father.
Since their divorce, Mary Lee never got involved in any kind of relationship, neither she got married. Steve, meanwhile, got married to his third wife Marjorie Elaine Harvey in 2007, within a couple of years of his separation with Mary and ever since they are living a happy married life together.
Marjorie has three children of her own from her previous relationship and all the three children now live with Steve Harvey. He treats all of them as his own kids. Not only that, Steve is already a grandfather. Steve and Marjorie have three grandkids all together.
In total, Steve is a father of seven children, including three step kids. He has three children from his first marriage and one child from his second marriage, however, he doesn't have any child together with his third wife Marjorie, but takes care of Marjorie's three children.
Happily married husband and wife: Steve Harvey and Marjorie Bridges
Source: Heavy
We wish this happy couple all the very best for their future and we hope Steve won't go through a divorce again. Do you think it will happen for the third time? Drop your views in the comment box below.
For more updates, stay connected with Frostsnow.