Steve Doocy is an American television personality. Currently, he is on the Fox News Channel. This reporter is also a best-selling author. He is popular for being the co-host of Fox & Friends on the Fox News Channel. He is also well known for his first book, The Mr. and Mrs. Happy Handbook. The journalist can be taken as an inspiration by all modern day families as well as he is happily married to Kathy Gerrity for more than 30 years which is really sweet.
Born Stephen James Doocy on October 19, 1956, in Algona, Iowa, he was raised in Abilene, Kansas. He is of American nationality but of Irish, English, and German descent.
Caption: Steve Doocy in action
Without further delay, let's take a look at his personal life. Steve met Kathy Gerrity, his current wife, at WRC-TV in Washington DC. That was when Steve was a junior member of the news section for the network and Kathy was working for the sports team there.
Formerly, Kathy was a model and a struggling actress working at WCR TV and was working her way into movie industry; but after the handsome reporter, Steve started to talk to Kathy, they fell in love quickly and their life took another turn.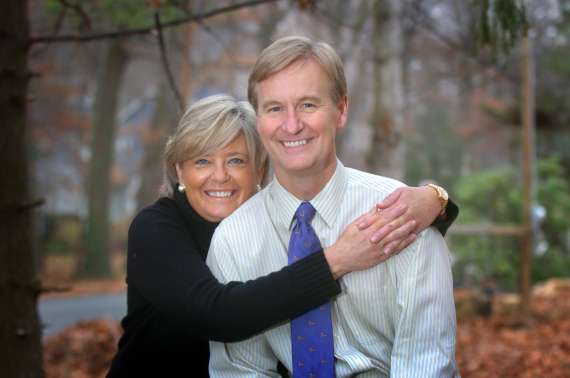 Caption: Steve and Kathy
After several romantic dates, Steve popped the question to the love of his life. Following their engagement, Steve got married to Kathy in 1986.
The next year, on 21 July 1987, the happy couple welcomed their first child, a baby boy. They named him Peter. Peter Doocy is currently a general assignment reporter for Fox News Channel and following his parents' footsteps is proving to be very beneficial for this young and handsome lad.
Steve and Kathy have two other children other than Peter- Mary Doocy and Sally Doocy. 28-year-old Peter and his two younger sisters all seem to have a very affectionate relationship with their parents.
Being active on social networking sites, Doocy senior has shared his moments of joy with his kids and wife.
Even after almost three decades of marriage, this duo seems to be going very strong. No rumors of any foul play or external affairs have been witnessed in their relationship.
Although a controversy recently sparked in July 2016, when Steve was allegedly involved in sexual harassment of fellow co-host, nothing has been proved so far. This controversy seemed to have ignited another rumor of a divorce of Doocy couple but this has been nothing more than a case of foul mouthing.
But we have to give it up for the Dorcy couple who has been together for more than three decades and have set an example of being a perfect couple as well as parents together. Despite all the rumors that surrounded him his family stayed together and are still going strong. We hope all the happiness to the family.