Stephen William Hawking is an English physicist, cosmologist, author, and Director of Research at the Centre for Theoretical Cosmology within the University of Cambridge. Hawking was the first to set out a theory of cosmology explained by a union of the general, theory of relativity and quantum mechanics.
Stephen Hawking is one of the talented scientists, and he is widely recognized due to his numerous scientific researches. His marvelous intelligence has already made a mark in the world. What about his married life? We are known for the fact that people like him suffer a lot trying to balance their love and professional life. Let's look deeply his personal life.
Stephen Hawking married Jane Wilde
Jane Wilde was the friend of Stephen's sister. So his sister was the gateway to his love life.
On a sad note, Stephen had a motor neuron disease which is being worse and worse and affecting his personal and professional life. Shortly before the diagnosis, he met Jane.
From their very first meeting the, the couple fell in love with each other. Even though Stephen was suffering from health problems that did not separate the pair. Their love grew more and they announced their engagement.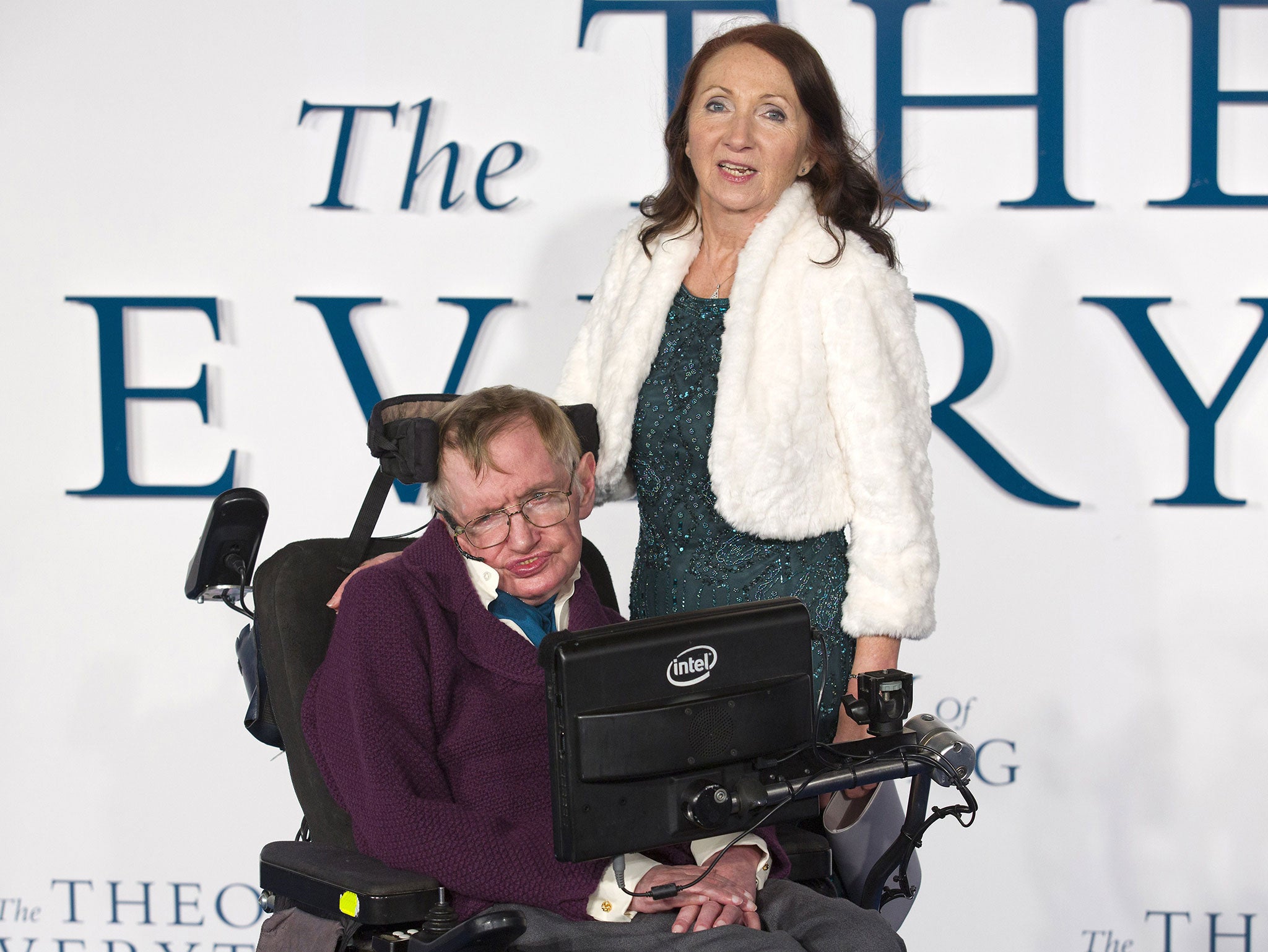 Stephen Hawking with his first wife Jane Wilde
Source: The Independent
Stephen and Jane engaged in October 1964. After the engagement, Stephen emotionally gave a statement that their engagement gave him "something to live for".
Later the lovebirds tied their knot on 14 July 1965 and officially became husband and wife.
They are blessed with three children; a son, Robert; born on May 1967, a daughter Lucy; was born in 1970, and their third child is Timothy who was born in April 1979.
via GIPHY
Although Stephen had many health problems and physical challenges, he didn't let that to affect his courtship with his wife Jane.
In December 1977, Jane met organist Jonathan Hellyer Jones in a church while she working as a choir. He became close to Stephen's family. Later Jane and Jonathan started getting close, however, they stepped their feet back due to the fair of breaking relation with their family.
via GIPHY
On the other hand, Stephen was also getting close to one of his nurse Elaine Mason. The affection grew more and later he decided to divorce Jane to be with Elaine.
Thus Stephen and Jane got divorced in 1995 after thirty years of their long married life. He then married for the second time with Elaine. Let's know about his second marriage in detail!
Also Read: Stephen Hawking's son Timothy Hawking reveals he couldn't understand his father until he was five!!
Stephen Hawking's second marriage to Elaine Mason
Elaine is one of his nurse who looked after him for a while as he was suffering from a motor neuron disease.
The couple's romance sparked and soon they got married in September 1995. He even stated that he had married the woman he loves.
Stephen Hawking and his second wife Elaine Mason
Source: Daily Mail
After he married his second wife, he was totally excluded and marginalized from his first family, which is one of the tragic parts of his life. Later he and Elaine divorced in 2006 and ended their 11 years of married relationship.
Now Stephen is back with his first family and enjoying with his children and grandchildren.
Stephen Hawking with his wife Jane Wilde and their three children
Source: Quora
Jane, Stephen's first wife has published two journals as a memory about her life with Stephen, Music to Move the Stars, and Travelling to Infinity: My Life with Stephen.
For further updated and more information stay connected to frostnow.com