Stephen Curry is An American professional basketball player for the Golden State Warriors of the National Basketball Association (NBA). He got married to his longtime partner Ayesha Curry who is an author named Ayesha Alexender before getting married.
They were dating each other for about three years and then decided to get married. The spouse is living very happily with each other. Moreover, Stephen also has two daughters named Riley and Ryan together with wife Ayesha.
Stephen Curry met wife Ayesha in Charlotte and soon started Dating
Stephen Curry first met Ayesha Curry as Ayesha Alexender when they both were teenagers. They had their first meeting at the Central Church of God in Charlotte, North Carolina. At that time they were spending their times together, but just as friends. Due to some circumstances, they soon got separated with each other.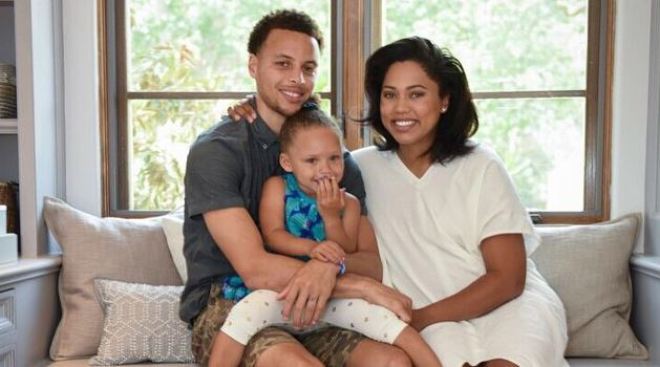 Caption: Stephan with pregnant wife Ayesha Curry and daughter Riley
Source: Heavy
A few years later, they again reconnected while Ayesha was in Los Angeles, pursuing an acting career and Stephen was at his basketball camp. They met there and started dating each other when she moved back to Charlotte. At that time, Stephen was a student at Davidson College and was playing for the Wildcats basketball team.
Must Read: Stephen A Smith annoyed Ayesha Curry; wife of NBA player Stephen curry.
Stephen got married to Ayesha in front of 420 Guests
After nearly three years of long time relationship, the couple decided to get married to each other. They did not face any troubles regarding their marriage as everyone was happy with their relationship. Thus, they finally got married on 30th May of 2011 in the traditional way.
Their marriage ceremony was conducted in front of 420 guests including their family and friends, at the same Church where they grew up together. Just after their marriage, the duo planned to go for the honeymoon Bora Bora which is a small but very beautiful South Pacific island in French Polynesia.
They are living a very happy married life that there never came the rumor of their divorce.
Stephen and Ayesha became proud parents of Riley and Ryan
Just nearly after one year of their marriage, they became parents as Ayesha gave birth to their first daughter Riley in the year 2012. It brought an unconditional happiness to Stephen and Ayesha as they became parents for the first time.
Caption: Stephen with his daughter Riley and mother Sonya
Source: gospel herald
Ayesha and Stephen were again expecting their second child. After a year of Riley's birth, Ayesha again became pregnant and gave birth to their second daughter and named her Ryan Curry. They are living a very happy life together as a family and loves each other a lot.
No family is perfect, we argue, we fight, we even stop talking to each other at times, but in the end family is family, the love will always be there. We wish these happy people all the very best for their future and hope we hear your success news every now and then.