" Fashion" is the armor to survive the reality of everyday life. Well, count down to warm weather is on and we have officially got summer wardrobe on the brain. Starting from bra tops to "sheer" dresses and the cold shoulder are the spring new and modern trends you can wear in real life this spring and summer.
Starting from musical heat maker Rihanna to beauty queen Angelina Jolie, everybody is excited for this spring and summer of 2017. These divas are trying out their best to look fabulous and embrace their magnificent beauty via their summer and spring fashionable attire resulting in higher demands of their audiences and fans to buy and carry out the same designer clothes and look awesome.
Fashion birds need to know the following run-down
We have for you the looks that will majorly influence your summer 2017 wardrobe, especially for early fashion birds. The cold shoulder trend still remains enormous with deconstructed shirt, 80's party wear and the slogan T-shirt. These should be your new-go-to wardrobe essential.
But what about trying something new? You can even try the full on florals and the ruffles. Do you dare to wear that?
Also Read: Secrets: Latest Fashion, Designers, Brands, and Make Up of Angelina Jolie
Run down to see different catwalk trends that will most influence your wardrobe choices this year and you can take best decision to choose the looks that will make a greater impact on your wardrobe this summer.
Cold Shoulder: For this summer, cold shoulder is the best attire you can carry out to look fabulous
This summer is all about a single, "Flashdance" inspired cold shoulder, while last summer was ruled by an off-the-shoulder outline. Cold shoulder dresses and tops are the key silhouettes of 2017 for summer and spring.
Must Read: Top 5 Best Dressed in Met Gala 2017 Red Carpet Fashion
If you are not sure regarding what to wear for your big night out, then you can simply wear cold shoulder, like the very famous celebrity "Kendall Jenner" wore on "Fendi Couter show."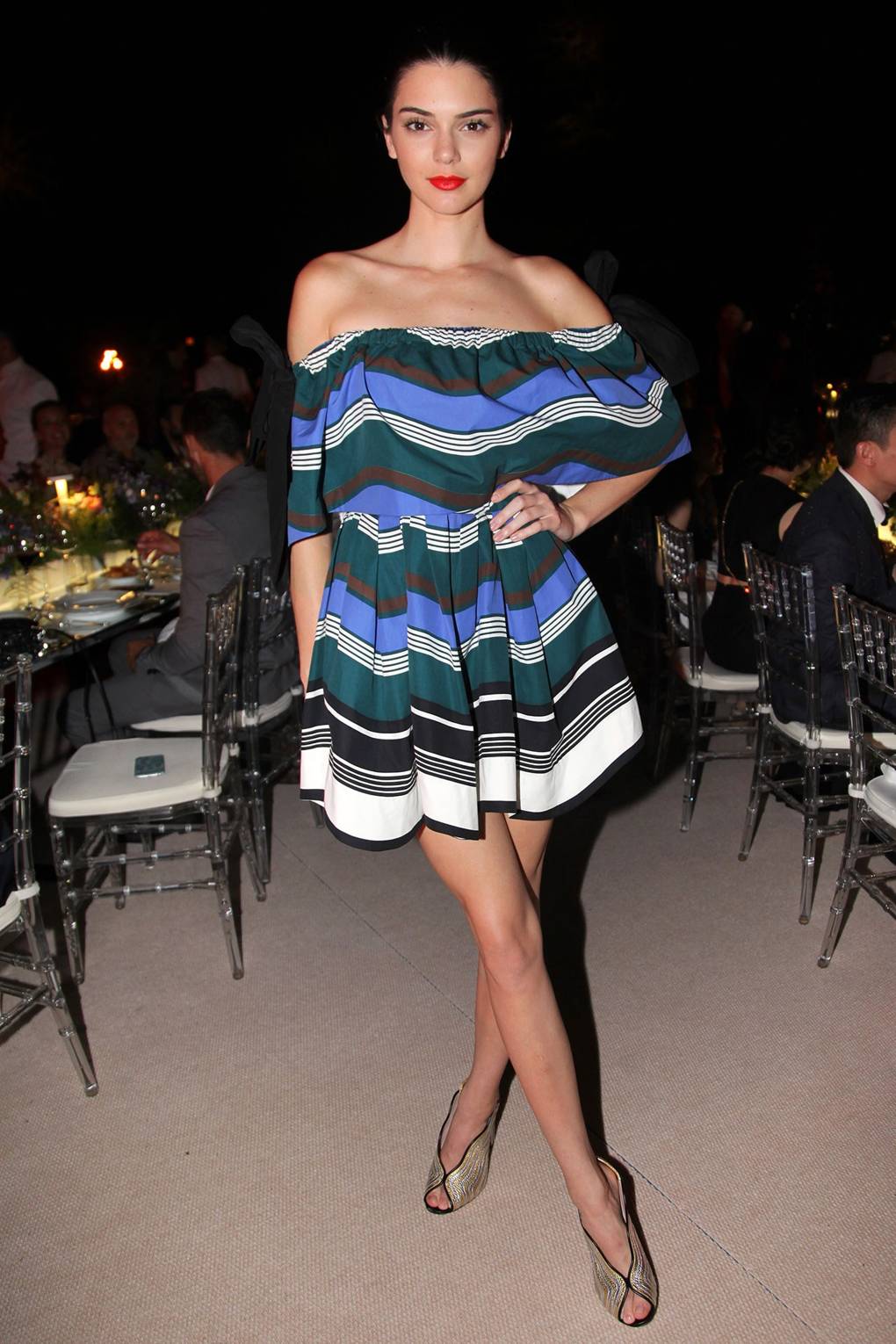 "Kendall Jenner" looked spectacular on "Fendi Couter show" with cold shoulder attire. If she can look beautiful why not you?
Source: GLAMOUR
"80'S Party Style": Happiness is being back to the 80's
80's is back folks. Disco leggings, one shoulder dress and Think metallics are the exact night time attire, and to look sexy you can even carry out 80's attire by wearing short minis and neon spandex. Celebrity stylist Thomas Atkins looks outstandingly adorable on royal blue with 80'S Party Style attire.
Photo by K. Smith Celebrity stylist Thomasina "Goo Goo" Atkins.
Source: bestofneworleans
NEW UTILITY: New utility biggest fashion trend of this summer 2017
New/Modern utility wear proves to be one of the season's most significant trend, where "Fashion with Function" is all the rage for 2017. Designers have cottoned on to the fact that they have shit to do, so their workwear inspired pieces were big on the catwalks, with relaxed shapes and muted shades.
Well, Selena Gomez is often spotted wearing new utility during the spring and summer season, where her fan and followers follow her dressing sense.
SLOGANS AND LOGOS: If Robert Pattinson can wear why not you?
It's time to let your t-shirt do talking. Nowadays, it is a prevalent trend to show off your t-shirt with logos of either your favorite series dialogue or movie sayings and so on. T-shirt with different slogans and logos is mainly preferred by youths as they take it as a super cool fashion trend for this summer.
Handsome Hunk Robert Pattinson is showing off his t-shirt with a satirical slogan. Don't he look too cute?
Source: Pinterest
These are the spring-summer fashion trend as mentioned earlier for the year 2017. For more updates and new fashion attires, keep in touch with Frostsnow.
To know more about Robert Pattinson, you can also read:
Robert Pattinson man with a long dating history; Know about his Current affairs and Relationship
Robert Pattinson and his Ex Girlfriend Kristen Stewart got Stuck in Same Flight; Know details