English actor and dancer Tom Holland has gained popularity and has become a heart-throbbing icon over a short period. Having experience in theatre, television, and cinema, Holland is best known for starring in the Marvel movie Spider-Man: Homecoming alongside co-stars Zendaya Coleman and Marisa Tomei.
As many of his movies have been major hits, most of us want to know about Tom Holland' net worth. So, let's kick the beehive and make the information honey flow out.
Tom Holland's Net Worth: His Salary In Movies
The How I Live Now actor Holland has managed to earn a huge fortune from his acting career. For his $880.2 million-grossing movie Spider-Man: Homecoming, he was paid $1.5 million. His salary from Captain America: Civil War was $250 thousand.
He was also a part of Billy Elliot the Musical for which he earned $500,000. Similarly, his income from The Arriety was $55,556, and The Impossible was $71,249.
SEE: Are Zendaya And Actor Tom Holland Dating Each Other? Know About Their Affairs And Relationship
Holland in Captain America: Civil War Source: Pinterest

Many major websites expect his earnings to rise as he been selected to play roles in the movie adaptation of the best-selling video game Uncharted and Chaos Walking along with roles in Beneath The Scarlet Sky and Spies In Disguise. Most of these works will be released in 2019.
Well, to sum up, in total, Tom Holland' net worth is $4 million and is living a lavish lifestyle.
SEE: Is Tom Holland Single or Married? His Long List of Rumored Girlfriends, Dating History And Affairs
Tom Holland Properties; House and Cars Collection
Holland recently bought a flat for himself in Kingston-Upon-Thames, 5 minutes away from his mom, for $1 million. He owns an Audi and sources also say that he owns multiple other cars including BMW, Range Rover, and Jaguar.
Rumors were saying that he is moving into Zendaya Coleman's $1.4 million Northridge mansion, but the stories were shut down when he claimed that he has no recent plans to move to LA.
Also Read: Zendaya Coleman and Trevor Jackson Rumored to be Dating; True? Know their Affairs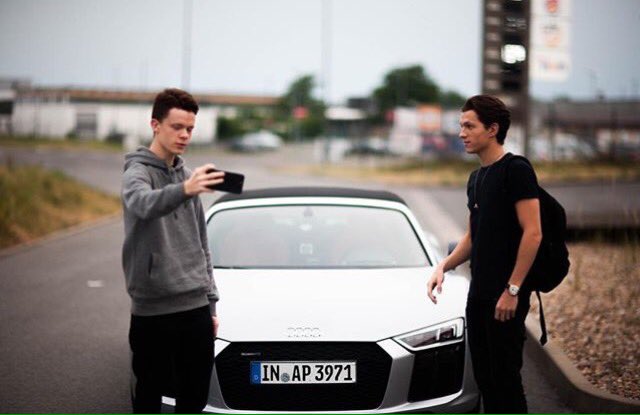 Tom Holland, His Brother, and His Audi Source: Twitter

Along with his brothers Sam, Harry, and Paddy Holland, he has Launched The Brothers Trust. All of their proceeds go to the charities 'who struggle to be heard.' The trust funds many charities each year.
In their first year, they have made grants to LunchBowl, Debra, James Dunn's #Flight EB and Momentum Children's Charity.
Tom Holland' Career Flashbacks
Although not officially, but Tom Holland career had started the moment he developed an interest in dancing, which eventually modified into an actor in him. Holland began dancing at a hip-hop class in Wimbledon. His potential was soon spotted, and he was made a part of Billy Elliot The Musical.
YouTube: Tom Holland in Billy Elliot the Musical
Holland later appeared in four episodes of BBC's Two's Wolf Hall and an episode of Lip Sync Battle. After being cast in the animated film Arriety, he made his first feature film debut when he played in The Impossible.
Likewise, he has played in many other films including Edge of Winter, The Lost City of Z, and Pilgrimage. Finally, he had his breakthrough as Peter Parker in Spider-Man: Homecoming.


Tom Holland in Spider-Man: Homecoming Source: Nerdist

Tom Holland's career is growing without a doubt, and we can feel it that a stream of blockbusters is yet to come.