Korean superstar Park Hyung-Sik has grasped massive attention at the moment, all because of his amazing role in Hwarang. It is quite harsh to deny that Hyung-Sik is charming, and fans go gaga over him. A lot of people loved Park's chemistry with his co-star Park Bo Young in Strong Woman Do Bong Soon. In fact, the pair's affair and kissing scenes in the movie were so real that a majority of the viewers thought that they were dating in real life as well.
How true is that? Well, we will soon reveal the answer. Keep reading to know Park Hyung-Sik's relationship with Park Bo-young, and his other affairs and relationships.
Park Hyung-Sik accepts that he loved Park Bo Young
The fans of the Korean series Strong Woman Do Bong Soon went head over heels when Hyung Sik admitted in an interview that he loved Park Bo Young.
Park Hyung Sik with rumored girlfriend Park Bo Young
Source: Pinterest
The two stars portrayed every romantic scene perfectly as the chemistry between them built up naturally. They performed the kiss scenes so flawlessly that it became hard for people to distinguish between them and real-life couples.
Well, Hyung Sik complemented Bo Young by saying that she is skilled at sweet, romantic scenes as well as an expert at kiss scenes. Park Bo Young has also explained her thoughts on her co-star in an interview with X Sports News,
I had my eye on Hyung Sik he was an idol in ZE: A. I know all of the title tracks by heart, and Hyung Sik personally quizzed me to see my knowledge of the songs.
Looks like both of them are fond of each other!
Park Hyung-Sik affairs and thoughts on dating
Neither Hyung Sik nor Bo Young gave any hints of their affair outside of the set, and neither of them has confirmed any of the speculations. Thus, we don't think they dated for real despite the amount of love and respect they have for each other.
Video: Watch Park Hyung Sik & Park Bo Young on Strong Woman Do Bong Soon
Hyung Sik accepted that he had a girlfriend in middle school, and also revealed that he doesn't have any girlfriend since his debut in 2010.
I don't think it's time to date yet. I still have a long way to go. There are a lot of things I want to show so after I do everything that I can for sure; I think I'll be able to date.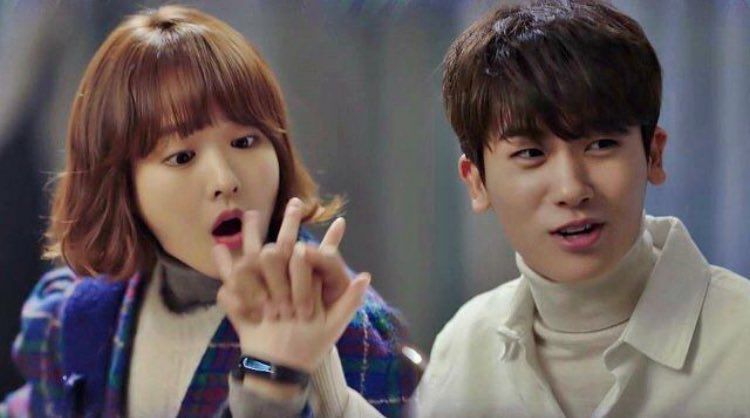 Park Hyung Sik & Park Bo Young
Source: Korean Portal
Hyung Sik is thought to be a hopeless romantic as he says that he hasn't met the right girl yet, and it's going to continue in the future as well. He says; he feels like his love cells are disappearing.
Well, we don't think Park Hyung Sik should be pessimistic about dating and relationships. He will definitely find the right girl for him in the future.