These days South Korean movies are as likable as the Hollywood films. Also, the South Korean actors are grabbing more attention in every passing day.
If you watch the Korean movie regularly, you might have seen the two actors Song Joong Ki and Song Hye Kyo sparking a passionate romance in most of their films. These two love birds who have been dating for last few months, reportedly are going to be a husband and wife officially as they are soon going to get married.
Today we are going to recite this story in detail. So, just stay with us.
Song Hye Kyo And Song Joong Ki Are Going To Hold Their Wedding Soon
A legendary Korean drama/romance is now going to be true in real life!!
Recently, the Korea's dream couple Song Joong Ki and Song Hye Kyo are announced to become husband and wife officially in the coming October.
Soon-to-be husband and wife: Soong Joong Ki and Song Hye Kyo
Source: asianjunkie
The joint agencies of the two co-stars of 2016 hit drama series Descendants of the Sun, Blossom Entertainment and United Artists Agency (UAA), have shared a joint statement on July 5.
It reads as follows:
Hello. This is Blossom Entertainment and UAA.

First of all, we give our thanks to the Korean and international fans who have shown a lot of interest in and love for Song Joong Ki and Song Hye Kyo. Also, we ask for your understanding as we convey this surprising news.

Song Joong Ki and Song Hye Kyo will be holding a wedding ceremony on the final day of October, 2017. A marriage is not only a private matter but also a meeting between two families, so it was a delicate situation in many ways.

There was no choice but to be cautious prior to marriage, and so we are at last conveying this message.

We ask for everyone's understanding.We ask for you to send the couple best wishes for their beautiful future together, and the two actors will be conveying the news to their fans separately. Thank you.
Other sources like TeennPinky revealed the couple's soon-to-be wedding through Twitter. Here's one of those Twitter posts. Check it out.
Congratulations Song Joong Ki And Song Hye Kyo!!
Pregnancy Rumor of Song Hye Kyo
The set of the hit drama Descendants of the Sun is the first meeting place of the two actors Song Joong Ki and Song Hye Kyo. Weeks after they first met, the dating news between them started emerging. Last month, these two lovebirds were spotted vacationing in Bali that fuelled the rumors of their affair.
Boyfriend and girlfriend: Song Joong Ki and Song Hye Kyo
Source: dramafever
In 2016, Song Hye Kyo was once rumored to be pregnant. However, the UAA agencies of the two actors completely denied this story on 30 September and stated:
It's definitely not true (that Song Hye Kyo is pregnant). It's ridiculous. We're just laughing about it,
Recently, TeamPinky also falsified the rumor of her pregnancy through Twitter. Here's the tweet, check it out.
So, it is confirmed that the actress is not pregnant, but we hope we will soon get to hear the news "the couple is expecting a child after their marriage."
Past Love Affairs And Dating History
Now, if we talk about the past relationships of the couple, we would find Song Joong Ki not carrying any dating history while Song Hye Kyo had a love affair with a pair of boyfriends.
Song Hye Kyo reportedly dated a South Korean actor Lee Byung-hun, which they declared to the public in April 2003. However, after a year of dating, the couple split up in June 2004.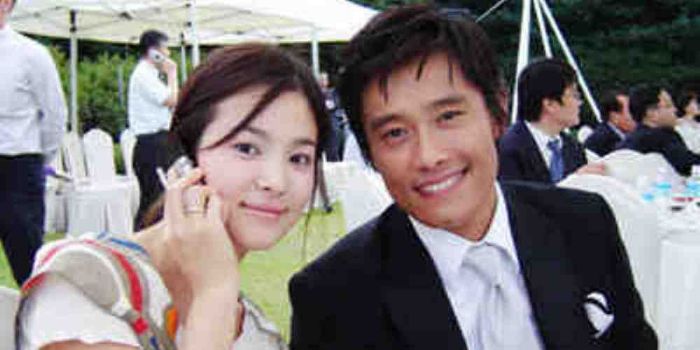 Former boyfriend and girlfriend: Lee Byung-hun and Song Hye Kyo
Source: whosdatedwho
After five years of separation with Lee, Son started an affair with actor Hyun Bin which they confirmed in June 2009. But unfortunately, in March 2011, their agencies announced that they have split up early 2011.
Former boyfriend and girlfriend: Song Hye Kyo and Hyun Bin
Source: soompi
After a couple of troubled relationships, Song Hye Kyo is now engaged to Song Joong Ki and soon to get married. We wish all the very best for the both.
For more updates, stay tuned with Frostsnow.