Tina Turner is a legendary American-Swiss singer, dancer, actress, and author and she is one of the best-selling artists of all time in the world. Throughout her career, the 78-year-old has been in quite a few relationships and controversial marriages.
Giving birth to her first child at the age of 18, she has been through a lot from physical abuse to not being able to gain a single work in the industry.
Here we are going to share some information about the R&B star's marriages and children. Let's find out more.
Tina Turner's first child, her failed marriage with Ike Turner and their children.
Tina who was born as Anna Mae Bullock started dating from a very young age and got pregnant at the age of 18 with her boyfriend. Her first child Raymond Craig was born on 20th August 1958. The 59-year-old is the son of King of Rhythm's saxophonist Raymond Hill whom she dated back in 1958.
Tina Turner with ex-boyfriend Raymond Hill
Source: Playbuzz
However, she first got married to American Composer Ike Turner who supported her in her career and helped her in many ways. Ike even kept Tina and her first child with himself after she was kicked out by her mother treated her like a sister. Tina also though out of him as a brother and did not find him attractive in any way as at the time; she preferred white men.
Tina Turner with ex-husband Ike Turner
Source: Pinterest
However, things soon took a drastic turn as they had their first sexual encounter in 1959. After the incident, one thing led to another and Tina got pregnant with his child. Their first child, Tina's second, Ronnie Turner was born on 27th October 1960. Just two years after the birth of their child, Tina and Ike got married to each other in Tijuana. Their wedding took place in 1962.
Tina's physical abuse and ill-fated divorce.
Before the marriage, Ike had already started physically abusing her. The first time Ike hit her with a wooden shoe stretcher on the head and later on even had intercourse with her.
Watch Tina and Ike perform live
With time, the abuse started getting more intense as he would hit her when she got the lyrics wrong and tortured her in many other ways. When asked about the incident, Ike said that he did beat her, but he never admitted to abusing her.
Watch Tina Turner talk about her physical abuse experience
Abuse was not the limit, Ike even cheated on her numerous times, and Tina aborted her second child with Ike in 1968 after finding out that another woman was pregnant with Ike's child.
The abuse was so severe that Tine tried to commit suicide and she finally realized that water had gone over the head as on27th July 1976, she filed for divorce. Even though she was free of abuse, she faced a lot of problems financially later on because of the separation.
Tine Turner with ex-husband Ike Turner
Source: Pinterest
She did not only provide half of her share of studios, publishing companies and other stocks with Ike but she almost went broke as promoters sued her for loss and were denied to be provided work. Moreover, Tina also adopted two children of Ike from his previous marriage Michael Turner and Ike Jr. Turner. She raised all four kids on her own despite not being provided with any child support.
Tina Turner with ex-husband Ike Turner and all four children
Source: dodoodad
She indeed go through a lot and despite their divorce which was finalized in March 1978, after 20 years of marriage, Ike made many attempts to relocate them and mentally tortured the family.
Tina Turner's controversial second marriage
Tina has a tough time with her life after the divorce as we have already shared above. The problems were financial, but she also had a hard time getting into a serious relationship afterward.
After the divorce, she did date quite a few men which she has revealed herself, but things were not serious. But in 2013, the R&B singer made headlines again after she got married to her boyfriend of longtime, German record executive Erwin Bach who is 16 years younger than him.
Tina Turner with her husband, Erwin Bach
Source: Metro
The pair started dating back in 1986, eight years after Tina divorce. They met in 1985 during a record label party conducted in London and in 1994, they even moved to Switzerland for Bach's work.
They dated for a massive 27 years until they tied the knot on 21st July 2013. The wedding ceremony took place in a private ceremony in Kusnacht. The ceremony was attended by 120 guests including Oprah Winfrey, David Bowie, and many others.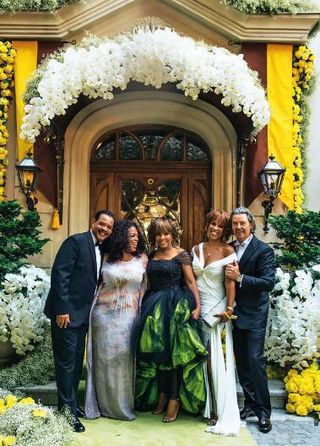 Tina Turner and Erwin Bach wedding photo
Source: joelbruffin.typepad.fr
It has been more than four years since they got married and there are no rumors about them splitting or getting a divorce. Additionally, they also do not have any children together.