Tamala Jones is an American actress and is popularly known for her roles in the movies like Booty Call, The Wood, The Brother, Kingdom Come and Two Can Play That Game. Jones is also famous for her role as Lanie Parish on the ABC crime drama Castle and Bobbi Seawright on For Your Love.
Well, that was a brief about her professional life. Now let's move on to her personal life and affairs. There were rumors flying about Tamala getting back with her ex-boyfriend Teodoro Nguema Obiang Mangue, but as far as we know that is all false. Jones dated Teodoro till 2013 and they broke up after rumors swirled about reality TV star Porsha Stewart having an alleged affair with Teodoro. Jones even poured some of her anger on Stewart via Twitter.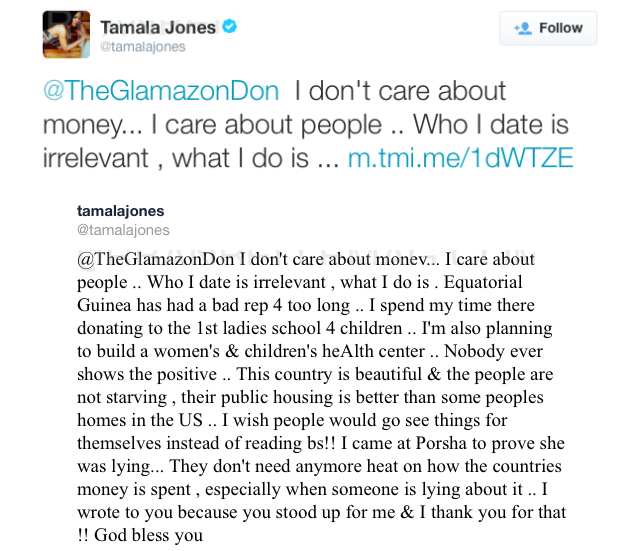 Source: Twitter
After her split with Teodoro, Jones in an interview with Sister 2 Sister said that she was too busy for the billionaire and believes that she was too strong of a woman for her ex-boyfriend. Tamala explained, "I'm not always going to be available for relationship stuff, but you can come with me and we can grow this together."
Jones is currently dating rapper Big Gipp who is best known as a member of Goodie Mob. The pair started dating since May 2006. However, Jones hasn't officially announced about their relationship yet. Maybe Jones' nasty breakup with her ex-boyfriend is the reason she wants to take things slow with her new beau.
Source:fenomlife
As far as the rumors go about her being pregnant, it's all a hoax. Just take a look at her recent pictures, does she in any way look pregnant? Your answer is obviously No and we guessed the same. In a photo she posted on Instagram a week before, there are no hints whatsoever that suggest Jones is pregnant. She looks beautiful as always and wearing a cheetah print shirt with no baby bump. Jones in her interview has said, "I consider myself a humanitarian, and I try to do as much as I can to make a change in the world."
It suggests that she is a career oriented woman and has a lot of goals to achieve before having a family and settling down. Jones at the present is working with George Lopez for a social cause to provide education to those people who are deprived of this right. She has also donated to build the first ladies school for children in Equatorial Guinea (a small country located in Central Africa). She is definitely a beautiful lady with a heart of gold indeed.
Well, we just like to wish this lady with all the luck for her upcoming project regarding social work. And also hope for her happiness in her new relationship with Big Gipp.
Please, leave your comments below.