Richard Ramirez was a famous Mexican-American serial killer. Yes, not a businessman, not an actor, or director, or a rich personality, but a brutal serial killer who did nothing than killing innocent people in his entire life. It did not matter what age they were, and gender, but kept on killing people he wanted until he was arrested and sentenced to death.
Richard died at the age of 53 of complications secondary to B-cell lymphoma. He was a divorced man who did not have any children. Richard's life sounds scary and interesting, isn't it? Want to know about the life of a serial killer and what was the reason he chose to be a murderer?
Read the full article to know all about Richard Ramirez, his married life, and his life as a murderer.
Richard Ramirez was a child of simple and religious mother, Julian
No one is born evil but it's the circumstances that change a person's perception.
Likewise, Richard also wasn't a serial killer by birth but all the circumstances changed his mind. According to his mother and childhood friends, he was a sweet, innocent, and hard-working child. But, he suffered from two major head injuries in his childhood and experienced frequent epileptic seizures. So, he was not allowed to play outdoor games.
Caption: Richard Ramirez as a child Source: Pinterest
Richard used to visit a church every second day with his mother, Julian and was very religious and also had the full faith in God as Julian.
Richard Ramirez' father was violent temper
Unlike Richard's mother, his father, Mercedes was very aggressive and violent person. He was a Mexican national and former Juarez policeman who was very hard working man with aggressive nature.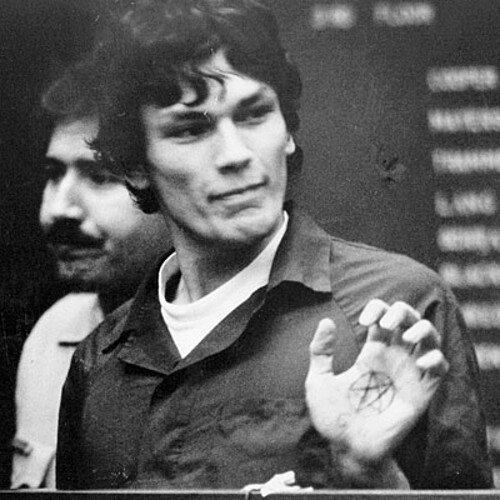 Caption: Richard Ramirez with a satan symbol in his hand Source: Twitter
Richard, his mother and his other four siblings used to be physically abused by Mercedes. So, Richard was mentally disturbed and to escape from his father's torture, he used to sleep in a local cemetery.
Richard Ramirez's Murders were influenced by his Cousin
Richard Ramirez's dad cited marijuana as the source of his son's radicalization, but the true culprit was his older cousin, Mike Ramirez. Mike was a decorated U.S. Army Green Beret combat veteran who boasted to Richard about his stories of the torture and mutilation he had inflicted on several Vietnamese women actions during the war.
Video: Serial Killer Richard Ramirez Rare Interview Inside Edition
Richard, who smoked marijuana since the age of 10 was fascinated by Mike's stories and horrific Polaroid pictures. Mike also taught him some of his military skills. Richard witnessed Mike shooting and murdering his wife, Jessica at the age of 13.
After Jessica's death, Richard became sullen and started to skip school and use drugs as much as he could. And from there, as we all know, his criminal resume would only expand.
Richard Ramirez Murdered thirteen people
On April 10, 1984, 9-year-old girl Mei Leung was found murdered in a San Francisco hotel basement. She was raped, beaten, and stabbed to death, and her body was hanged from a pipe. The cruel murderer of Mei was none other than Richard and she was his first victim.
Caption: Mei Linda Leung - the First victim of Richard Ramirez Source: SF Gate
At the moment, Richard was not even suspected of the crime and he was more motivated and it was the start of the dark period. Richard murdered total thirteen people and raped eleven women.
Richard Ramirez: The Night Stalker
Richard killed his victims in nights, he used to stalk the house where there was only one or two family member. He did not attack the city and crowded area but targeted the people living in suburbs.
Richard did not have any pattern to kill people but he did this in different ways. Sometimes he shot the people to death and sometimes he slashed their throat, beat them to death and sometimes even rape them.
Here's the list of the victims Richard murdered and sexually assaulted.
| | | |
| --- | --- | --- |
| Date | Name/Age | Note |
| 10 April 1984 | Mei Leung, 9 | Raped, Beaten, Stabbed to death |
| June 28, 1984, | Jennie Vincow, 79 | Throat Slashed |
| 1985 | Dayle Okazaki, 34 and Maria Hernandez, 20 | Shot to death |
| March 17, 1985 | , Veronica Yu, 30 | Dragged from her Car and Shot |
| March 27, 1985 | Vincent Zazzara, 64 and his wife Macine, 44 | Stabbed and Mutilated |
| May 14, 1985 | Bill Doi, 66 | Shot to death |
| May 30, 1985 | Carol Kyle, 41 | Broke House, prolonged Rape, but did not murder her |
| June 1, 1985 | Mable "Ma Bell" Bell, 83, and sister, Florence "Nettie" Lang, 80 | Bludgeoned to death, satanic symbol were scrawled everywhere and robbery |
| July 2, 1985 | Mary Louise Cannon, 75 | Throat Slashed |
| July 5, 1985 | Whitney Bennett, 16 | Attempted to murder but Bennett escaped |
| July 7, 1985 | Joyce Lucille Nelson, 61 and Sophie Dickman, 63 | Nelson was Beaten to death and Dickman was raped but not murdered. |
| July 20, 1985 | Max, 68, and Lela Kneiding, 66 and Chainarong Khovananth, 32 | Max and Lela shot to death and Khovananth was shot to death, while his wife and son were both raped |
| August 8, 1985 | Elyas Abowath, 35 | Shot while she was sleeping |
Satan worshipper, Richard did not think once before killing anyone. He did not think they were children or old age. Just kept on killing people without any feeling of humanity.
Richard Ramirez was sentenced to death
After the rise in series of murder and brutal rape attacks, Richard was hunted by cops and government like hell. Richard's face was seen by escaped victims, who gave the facial structure to police. So, Richards' picture was all over the media, new papers, and walls. People around the state were aware of his face and his activities.
Richard Ramirez got captured
On 30 August 1985, Richard was on the way to Tuscon Arizona to meet his brother. Unaware that he was stalked by cops and was the headlines all over the media, he was walking around freely.
All of a sudden when people around him started to stare at Richard, he realized that he was followed by the cops. And he started to run across and attempt to carjack a woman but did not succeed.
Caption: Richard Ramirez held captive Source: Pinterest
After attempting two more carjackings, he was eventually subdued by a group of residents, one of whom had struck him over the head with a metal bar in the pursuit. The group held him down, relentlessly beating him until police arrived and took Ramirez into custody.
Death Sentence to Richard Ramirez
On September 20, 1989, Ramirez was condemned of all charges: thirteen counts of murder, five attempted murders, eleven sexual assaults, and fourteen burglaries.
Caption: Richard Ramirez being taken to the court by police Source: Daily Mail
During the penalty phase of the trial on November 7, 1989, he was sentenced to death in California's gas chamber. He stated to reporters after the death sentences,
Big deal. Death always went with the territory. See you in Disneyland.
Richard Ramirez got married to Doreen Lioy
By the time of the trial, Richard had fans who were writing him letters and paying him for visits. Doreen Lioy wrote him almost 75 love letters from 1985 and in 1988, Richard proposed Doreen.
Caption: Richard Ramirez and wife Doreen Lioy Source: Pinterest
Richard and Doreen happily got married on 3rd October 1996 in California's San Quentin State Prison. Doreen was deeply in love with Richard that she always warned that she would commit suicide if Ramirez was executed.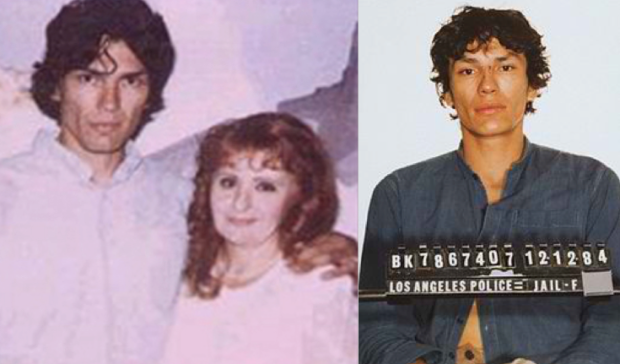 Caption: Richard Ramirez and wife Doreen Lioy Source: Bossip
Richard Ramirez died at 53
Richard was already sentenced to death but due to a long procedure of California government, he wasn't executed. On June 7, 2013, Richard, 53, died from complications related to B-cell lymphoma.
According to San Quentin corrections officers, Ramirez's death came shortly after he was taken to Marin General Hospital in Greenbrae, California.