Reese Witherspoon is 41-year-old Oscar-winning actress who is married to talent agent husband Jim Toth. This couple has been married for years, and even today their relationship is going great without divorce rumors.
\Whenever they are spotted in public or in any event, they are barely seen taking their eyes off each other.
Reese Witherspoon and Jim Toth married
Gorgeous Witherspoon and Toth tied the knot on 26th March 2011. They got married at Witherspoon's ranch in Ojai, California. Their auspicious wedding ceremony took place among family and friend. Toth and Witherspoon's wedding was attended by celebrities such as Gwyneth Paltrow, Chris Martin, Sacha Baron Cohen, etc.
Before getting married to Toth, Witherspoon was married to Ryan Phillippe in the year 1999. However, her relationship with Phillippe did not work out. Thus this duo got divorced in 2007.
Image: Reese Witherspoon and Jim Toth
Source: Pinterest
You guys might be wondering, who Resse Witherspoon's husband Jim Toth is? Let's find out about the lucky guy!
Reese Witherspoon's husband Jim Toth
Witherspoon's husband Jim Toth is not as famous as his wife, but he is quite a powerful personality in Hollywood. Toth is a Loyola Marymount University graduate. He is a talent agent who is the head of motion picture talent at Creative Artists Agency (CAA) in Los Angeles.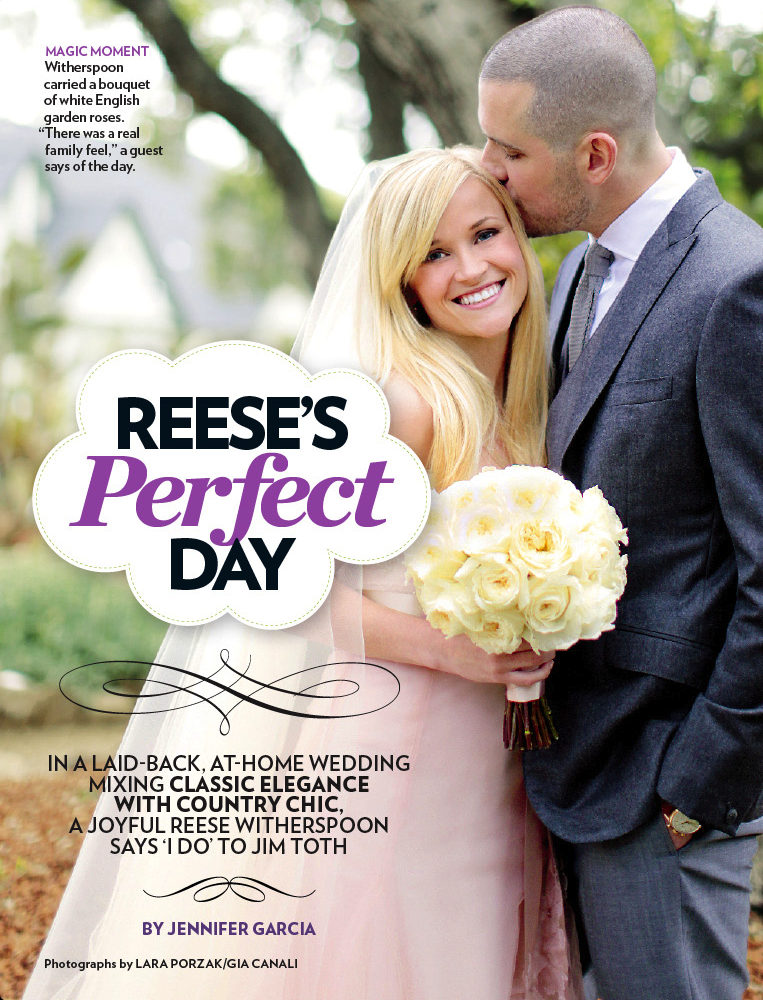 Image: Reese Witherspoon and Jim Toth's wedding
Source: Daily Mail
Toth seems to be a very loving and understanding husband. Witherspoon is frequently seen posting about her husband through her social networking. Last year she wrote on her Facebook: "Every day, I'm so thankful to have this amazing man as my partner. I would not be where I am in this life if I didn't have his constant encouragement and complete support. He changes diapers, makes carpool runs and always has time to give me a much-needed pep talk...(He makes a really good latte too!)"
Reese Witherspoon and Jim Toth's divorce
Witherspoon's relationship with her current husband is going really well. Due to her failed marriage in the past, many people believed that she will not be able to work out this marriage as well. However, it has already been five years of Witherspoon and Toth's marriage, and there are no rumors of divorce between this couple.?
Reese Witherspoon and Jim Toth's children
Talking about Toth and Witherspoon's children, they have a son named Tennessee James Toth, together. On 27th September 2012, Witherspoon gave birth to Toth's first child. Baby James is 4 years old already.
Image: Reese Witherspoon and Jim Toth with their baby boy
Source: Just Jared
Besides, Witherspoon has two angelic daughters named Ava and Deacon from her previous marriage. Ava is 18 year and Deacon is 14-year-old already.
Witherspoon and Toth's do not only look good together, but they are actually made for one another. In March 2016, this pair celebrated their fifth wedding anniversary. Witherspoon posted a photo on her Instagram with caption:
Happy anniversary to my sweet husband! I love you, JT! #5years.